Laws and regulations are vital pillars holding up the world economy, with the legal services domain being so massive. However, there needs to be a well-functioning legal services provider that seamlessly facilitates the implementation of the required laws and regulations. Going a step further is Jotwani Associates, headquartered in New Delhi, that are thoroughly gratifying both its customers and employees. Their ongoing efforts to make the process of providing services easier and to create a sense of satisfaction and delight for both clients and employees set is what sets them apart from the competition.
While most legal departments receive copious amounts of legal service requests across various industry verticals, resulting in lost or mishandled requests, thus increasing costs, Jotwani Associates' team of 42 expert attorneys addresses these challenges with round-the-clock superior-quality global legal services at a low cost. The firm leverages its extensive experience and rich expertise to create immense value for its clients.
The firm's journey began in 1995 with a vision to improve the lives of ordinary people by altering the Indian legal system. The firm was founded to serve as a one-stop destination for all clients' problems and needs. Jotwani Associates has offered its comprehensive suite of services to its clients for over 25 years. Today, they cater to a broad spectrum of clientele hailing over fifty countries: the US, Canada, Australia, India, Europe, Singapore, China, and Japan. It envisions expanding its client base in the years to come. The team of professionals at Jotwani Associates has devised a strategy for expanding the company's presence in worldwide marketplaces. "The journey has been amazing so far, as we have grown our client base and enhanced the quality of our services. The trip was fraught with difficulties and unknown circumstances. Still, we met them head-on with optimism, a world-class team of professionals, and a drive to bring the project to fruition," reveals Dinesh Jotwani, Co-Managing Partner, Jotwani Associates.
End-to-end Legal Services Provider
Jotwani Associates is a law firm specializing in corporate, intellectual property, government relations, taxes, litigation (civil and criminal) in Indian courts, trademarks, and educational law in these jurisdictions. The firm is fully equipped to assist clients in all cases involving government and regulatory affairs, intellectual property rights (IPRs), corporate cases, anti-piracy and copyright, technology laws, transactional laws, employment laws, cyber and IT laws, and international litigation.
Assuring Complete Customer Satisfaction
As previously mentioned, ensuring clients are pleased with the services extended is one of the critical elements of the entire work process at Jotwani Associates. Keeping this in mind, the firm uses the feedback approach to ensure that expectations are fulfilled, and clients are satisfied. Every stage of the process is loaded with feedback surveys and critical analysis. While some organizations strive for essential customer satisfaction, Jotwani Associates strives to consistently meet and exceed customer expectations by going above and beyond and bringing the client delight and joy. "Working on feedback and taking it seriously allows us to get more work by spreading positive word of mouth, bringing back old clients, bringing in new clients, and most importantly, gaining the clients' trust," elucidates Dinesh. While the company primarily focuses on the software industry, various industries such as pharmaceuticals, medical devices, healthcare, and FMCG are also given priority.
The second element the company believes plays a fundamental role in the success of any law firm is assuring a smooth and content employee experience for all. The company handles all of the essential aspects of an employee's experience, including providing incentives, allowances, insurance, and travel packages, along with organizing employee engagement programs, training, seminars, and meetings. Expert lawyers are what Dinesh believes is a valuable asset to any law firm and, as such, has invested in the same. "We place a high value on our workers' growth and advancement. When it comes to encouraging innovation inside the business, we use a variety of approaches to bring fresh ideas to the table. Employees filled out a weekly form with fresh ideas, thoughts, adjustments that need to be made, new policies, etc. The manager sifts through all forms, selecting the finest suggestions to work on or execute," explains Dinesh.
Bringing in the A-team – a Force to Reckon With
He tells us how he and his team always aspire and work toward staying ahead of any trends or issues encountered as a strong single unit. So suffice to say, while the unfortunate pandemic put quite a large dent in the progress of several legal companies, Jotwani Associates rose above it. With the onset of the Covid19 pandemic, many law firms were confronted with challenges such as fewer inquiries, interrupted operations, stagnant cash flow, increased fixed expenses, the risk of business closure, and stress and low morale. While most firms responded with sheer panic and an inability to rise above the situation, the workforce at Jotwani Associates addressed the matter as a team. The focus was on the employees' well-being and the company's survival. Initially, lawyers and other company workers were allowed to work from home to combat the widespread Coronavirus. Dinesh adds, "We were fully committed to providing a tender hand of care to our employees. We continued to support our employees financially and provided all medical, emotional support, and guidance to those affected. Although all courts, legal authorities, and business sectors were closed, the staff at Jotwani Associates was counseling clients (often pro bono) to assist them in overcoming legal issues."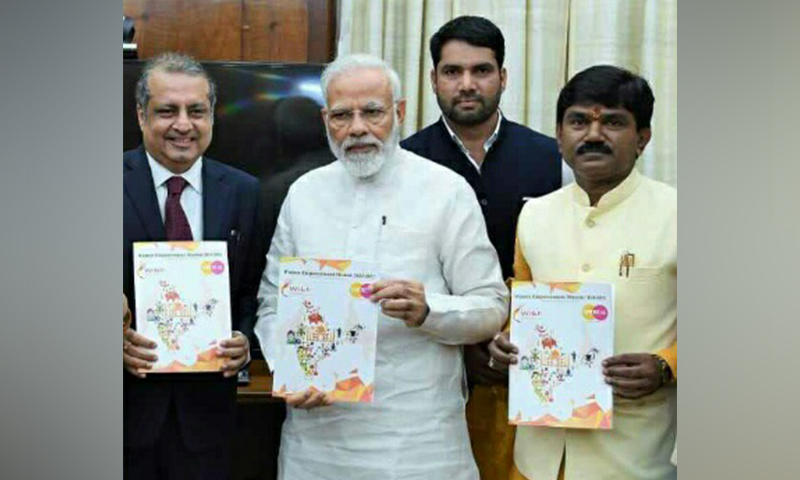 Onward and Upward
Jotwani Associates has always endeavored to stay ahead of the growth curve. One of the firm's significant achievements this year has been the inclusion of Jotwani Associates on the official website of the International Trade Administration, Department of Commerce, Government of the United States of America. It assists corporations and legal firms looking to conduct business in India. In conjunction with this, Jotwani Associates has again been named a top law firm by Forbes India (2021) in Intellectual Property Rights and Technology laws. Dinesh concludes with the company's trajectory for the next few years, "Going by the futuristic approach of Jotwani Associates, we believe that the world is now moving towards modern technologies, such as artificial intelligence, machine learning, data privacy, and cryptocurrency. The future looks more challenging and exciting, so the firm is now focused on advising the government of India on the policies concerning cryptocurrencies, Artificial Intelligence, Machine Learning, and Data Protection Laws."
 For More Info: https://jotwani.com/
Dinesh Jotwani, Co-Managing Partner, Jotwani Associates
Dinesh Jotwani has an in-depth experience of close to 25 years in policy, law, technology, litigation, and government relations. Dinesh has been an in-house Counsel, Partner in Law Firms, and has also been an Independent Consultant to several technology companies. The notable names include NCR Corporation, Techorneys LLP, Microsoft, Symantec, and Evalueserve.
He has held executive positions in trade coalitions such as the Federation of Indian Chambers of Commerce & Industry ("FICCI"), The Indian Legal Foundation (earlier called NBAI Foundation), and the Business Software Alliance ("BSA"). Dinesh also holds two US Patents (7831544 & 8380687) on e-discovery processes used in litigation/ investigations and has authored a book, "Interface between Competition Law and IPRs: A global perspective," published by GIIP (2012). Dinesh regularly appears in the Supreme Court of India and argues matters related to Corporate, IPR, Civil, Criminal, and Public Interest.
Related Articles