Davielle Jackson is an award-winning entrepreneur, innovator, and the Founder & President of Femi Secrets. As a young black CEO, she has spearheaded Femi Secrets to become the world's #1 feminine care brand. However, when Davielle infiltrated the fem care market, there were hardly any major brands thinking about fem tech. She then went on to create entrepreneurial history by entering into Wal-Mart in a record period of 6 months after the invention of her patented product, "The Pretty Panty." Today, Femi Secrets is recognized as a global brand, revolutionizing women's wellness.
Femi Secrets' success mantra has been its Founder's resilience, perseverance, and vision for the brand. "With hard work, dedication, sacrifice, and perseverance, anything can and will be accomplished," states Davielle in her book 'Ready, Set, Go.' This multitalented, creative genius is indeed an inspiration and a force to be reckoned with.
A journey from an Aspiring Doctor to a Millennial Business Mogul
Since childhood, Davielle has been an exceptionally bright student and a go-getter. She spoke less but observed everything around her. Born to very talented leaders and entrepreneurial parents, she constantly desired to lead and be #1 at everything. In high school, Davielle excelled in academics by standing 1st in the class and outshone at basketball. She did everything from scoring 43 pts in one game to winning the MVP title twice.
Later, Davielle's constant and tedious focus and strive for greatness led her to college, studying her second love of basketball, science. "I lovveedddd science," exclaims Davielle. If the number of v, e, and d didn't reveal her passion for science, then what would, right? After completing her bachelor's degree in biology from the University of Louisiana at Lafayette, she moved to Atlanta to pursue a medical career. However, it all changed when a friend of Davielle's told her about her PCOS condition that produced prolonged, heavy periods. Her friend was in distress with no efficient sanitary products in the market to help her condition. For Davielle, this was a turning point in her career. She would go on to disrupt the fem tech market and become the CEO and President of a feminine hygiene brand – something she must not have foreseen at that time.
The Inception Story of Femi Secrets
After knowing about her friend's condition, Davielle decided to take matters into her hands. Having done an internship at a hospital, she remembered the panties given to new mothers in the maternity wing. They were easy to use and breathable but unavailable in the markets. Using that as a reference model, Davielle invented the first disposable period panty, 'The Pretty Panty, ' which later gave birth to Femi Secrets, a brand dedicated to creating healthier and happier women via education and the healthiest fem care products.
"It is my mission to ensure every woman on the planet has access to healthy feminine hygiene products and create happier and healthier women every month," says Davielle. "I also look to a future where fibroids, PCOS, and all other feminine hormonal-induced diseases will be minimized by the preventative effects of Femi Secrets."
What Makes Femi Secrets the #1 Feminine Care Brand in the World?
Currently, Femi Secrets leads the innovation space with its patented period panty called 'The Pretty Panty.' As its number one seller, the leopard print bikini empowers customers to say, "I forget I'm on my period when I have the Pretty Panty on." And why not? The Pretty Panty is the healthiest, easiest, and most cost-efficient product. It is also eco-friendly and biodegradable. Likewise, the brand offers a Premium Femi Box, which provides a woman with everything she needs during her periods, in one box, one shipment, directly to her doorstep.
Furthermore, Femi Secrets launches 5 to 10 new products to make a woman's life easier. Inspired by Femi Secrets' innovative product offerings, other brands have also tried their hand by introducing similar products but failed to make an impact in the market. As a result, Femi Secrets not only stands out from the crowd but also successfully creates a sustainable and innovative source for period protection. "We are the only company who services the woman first," passionately states Davielle.
Growing from Strength to Strength
"We have continued to scale gradually and meticulously," reveals the Founder and President of Femi Secrets. In the initial years, Femi Secrets invested in achieving the product market fit. Next came the customer research phase, followed by retention. Traditionally, customers were not used to purchasing products for periods online. Davielle and her team had to train them of that ease, and now they can't keep Femi Secrets' products in stock.
During the pandemic, Femi Secrets experienced its highest growth years. With most of its employees working remotely, keeping them inspired and productive was hard for Davielle. She adds, "As we move back into the office, my goal is to inspire them but also hire people who are self-inspired."
When it comes to motivating her team members, continuous positive reinforcement usually is her goal and method. She implements this by announcing and praising someone who reached a milestone, found a new customer, or excelled in KPIs during a team meeting or on a team call. In turn, the other team members of Femi Secrets also get motivated and aspire to become the next team member recognized on the team call.
Yesteryear's Business Strategy that No Longer Works Today
In the past, outsourcing work, such as hiring digital marketing firms and mechanizing firms, worked well. "I learned that because our product was so new, it had never been done before. We were literally creating a new way of doing everything," mentions Davielle.
Today, however, it is an entirely different scenario. Davielle prefers to have her team at the office who are dedicated to the brand's success and putting their hearts and passion into every strategy they formulate. Firms with multiple clients from diverse industries tend to implement the same algorithm to sell every product, for instance, from toothpaste to feminine hygiene products. As a result, what worked out as a marketing strategy in the past is no longer effective today.
Making a Mark in the World with Success Milestones
One of the biggest mileposts of Davielle's career was winning the 43North Start-up Competition, not once but twice. Numerous companies had applied for the Buffalo-based 43North entrepreneurial competition, but only 8 were selected. Femi Secrets was one of the 8 shortlisted companies. As the Founder and President of Femi Secrets, Davielle's pitch for creating an international movement and changing the face of feminine hygiene stood out and really impressed the judges. Therefore, in a world where less than 2% of women, and out of them, for a black woman entrepreneur to receive funding for her business was a huge achievement.
"It lets the world know, no matter how black or small of a town you are from, you can get things done," says Davielle. "Keep the faith, be willing to outwork anyone, make huge sacrifices, and it can be done!"
A Day in the Life of a Multitalented CEO
At work, customers, sales, innovation, and content creation are the order of Davielle's day. This is her secret to staying focused, in control, and ahead of the curve.
Moreover, as a millennial business mogul, there is massive pressure on Davielle to beat and meet deadlines on a daily basis. "I deal with the pressure by compartmentalizing business and personal life," reveals Davielle. She also uses two phones, one for business and one for personal, to stay sane. Her idea to unwind and unplug from work is to spend time with her daughter and family, travel, and work out. In addition, meditation and praying keep her centered.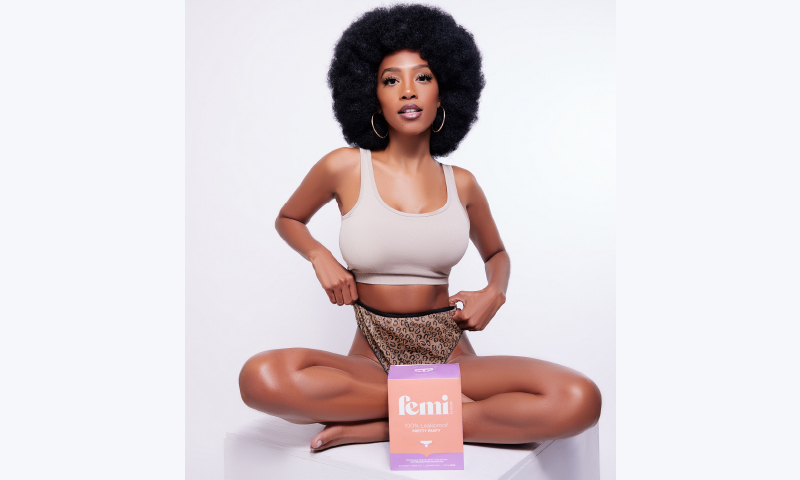 A Message for Aspiring Female Leaders
Davielle suggests aspiring women leaders surround themselves with people who believe in them and can actually be led by women. She says, "I struggle every day with people (men) who just don't think I should be leading. They can't grasp and won't understand it unless it comes from a man." Hence, let go of people who can't be led by women. She further points out that being in a healthy, mental space allows individuals to thrive sufficiently in both personal and professional life. Moreover, women shouldn't be afraid to say no on some days, as even superwomen need a break from time to time. She further says, "Being a leader comes with plenty of sacrifices, but the payoff is exceptional!"
Aiming for the Stars
As a globally recognized brand, Femi Secrets plans to take over many global regions in the next 2 years, launch new and innovative products, and continue to be the healthiest and most trusted brand for women. In this way, Davielle's relentless pursuit of giving women everything they could ever think of to be happy and fulfilled will continue with Femi Secrets.
For More Info: https://www.femisecrets.com/
Related Articles