Nancy Najm is an accomplished professional with a passion for empowering women through their professional and personal journey. As the co-founder & CEO of Cloudhoods, an edtech platform that supports, connects & empowers women to reach their full potential through access to like-minded women & expert resources on professional growth, mental health & parenting, Nancy is committed to creating a more inclusive and equitable world, where women are supported and empowered to reach their full potential. Nancy is an active member of the community, serving as a steerco member of Female Angels 2022, and her adventurous spirit and philanthropic efforts have led her to climb Mt Kilimanjaro for charity in October 2022. Nancy is not only driven to succeed in her own endeavors, but also dedicated to helping others reach their goals.
Prior to launching Cloudhoods, Nancy held senior positions in regional ad agencies, where she honed her skills in design and branding. In addition to her professional experience, Nancy has also spent five years teaching and coaching university students, further demonstrating her commitment to helping others. She believes that networking is about forming trust and helping one another towards reaching a specific goal. Her personal mantra of "we rise by lifting others" is one that she not only strongly believes in, but also actively lives by.
In an exclusive interview with Digital First Magazine, Nancy Najm reveals her thoughts on diversity and inclusion, her EdTech platform, Cloudhoods, challenges faced by her with launching women-led start-up, pearls of wisdom for aspiring women leaders, and a lot more. Following are the excerpts from the interview.
What are your thoughts on diversity and inclusion? How important is it to have authentic conversations with leaders, professionals, and changemakers to create more acceptance across the globe?
Diversity and inclusion are crucial components of a healthy and thriving society, as they promote fairness, equality, and respect for all individuals, regardless of their background or identity. Having a diverse and inclusive workplace, community, or any other social environment, can bring a variety of perspectives and skills to the table, which can lead to more innovative and effective solutions to problems. These steps cannot be achieved without engaging in authentic conversations with leaders, professionals, and changemakers because it allows for open and honest dialogue about the challenges and opportunities involved in promoting diversity and inclusion. They could then gain a deeper understanding of the experiences and perspectives of those who are traditionally marginalized or underrepresented and develop strategies to overcome systemic barriers and biases.
According to you, why is women's entrepreneurship important for women's economic empowerment and overall socio-economic development?
It is crucial to point out that having more women in the workforce (in general) is already an important aspect of diversity and inclusion. Women bring unique perspectives, experiences, and skills to the workplace, and their presence can have a significant impact on both the workplace culture and society as a whole. Studies have shown that companies with greater gender diversity actually have higher financial performance & better decision-making. Imagine the impact women will achieve when they launch their own businesses. Women's entrepreneurship is an important driver of women's economic empowerment and overall socio-economic development as it provides women with greater control over their economic lives by offering an alternative to traditional employment opportunities, which are often limited by gender-based discrimination, biases, and barriers. Through entrepreneurship, women can create and grow their own businesses, pursue their passions and interests, create, and impact and gain financial independence and stability.
Through their own businesses women will also address gender inequalities and promote gender equity by challenging traditional gender roles and stereotypes, empowering more women to take on leadership roles, and promoting more balanced participation in the economy. By breaking down gender-based barriers and biases, women entrepreneurs can help create a more inclusive and equitable economy that benefits everyone.
Could you please tell us a bit more about Cloudhoods and the women empowerment network you are building? Why did you build it and what are its objectives and vision?
Cloudhoods is an EdTech platform that connects women to professional experts and to other like-minded women sharing similar experiences, to get the support that they need on professional growth, mental health and parenting.
Once you join the community you can choose from a list of experts to have a one on one consultation, mentorship or coaching, and once you subscribe you can unlock closed support groups with like-minded women sharing similar experience but moderated with an expert, to have group therapy, mentoring or coaching.
As for our 'why': We want to create a supportive ecosystem that help women reach their full potential and empower them through all of their key life stages to improve gender equity, drive greater diversity and inclusion in the workplace & facilitates women's socio-economic and professional growth.
Why have you chosen to focus on the pillars of professional growth, mental health & parenting?
Well, what's better than one's own pain point to start a business with, right?
I'm sure a lot of your readers will relate with what I'll say but a woman encounters many heavy changes in her life, specifically after becoming a mother.
She gets affected physically, mentally, and professionally. The physical & emotional changes that she goes through, in addition to the lack of support from society & the corporate world specifically, have led to overwhelming stress & burnout amongst women holding back gender equity & causing negative impact on families & society.
For instance, 43% of highly skilled women leave their corporate jobs after becoming mothers. 74% of women returning to the workforce get affected by burnout.
The struggle is real, and the problem is universal.
Cloudhoods' goal is to create a supportive and inclusive community of women who can have access to all the support they need from one another & experts to empower them and achieve their full potential.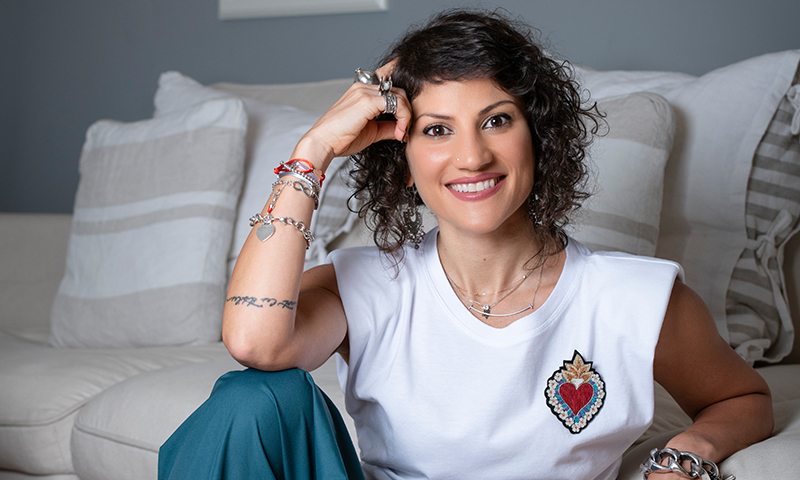 What were the challenges you faced with launching a women-led start-up?
There are so many challenges that women led-start up faces, and here are the most prominent ones. Firstly, there's a lack of access to funding. Women-led start-ups often face difficulty in securing financing and it is facts proven. In 2022, while startups in MENA had a 24% rise in investment value compared to 2021, only 1.3% of the total funding amount were allocated to women led startups! Second, there's a lack of representation and visibility. Women are underrepresented in the start-up ecosystem, and may struggle to find mentors, investors, VCs and support networks that can help them succeed. Thankfully it's starting to change a bit but there is still a lot of work to do.
This is exactly what led me to be an active member of the steering committee of the 2022 female angel movement alongside many other amazing women. It is time to engage in new discussions to change the current narrative and get more women to step into angel investing so we can achieve gender equity in the investment ecosystem and diversify the investment landscape.
What advice would you give in terms of how to succeed as a female entrepreneur?
Believe in yourself, don't succumb to societal pressure and don't be afraid of challenges, just embrace them!
Be Patient and confident, follow your instincts, don't be afraid of pursuing an unexpected path, and network with other women business owners.
Let go of the guilt. You're an exceptional human being who is trying her best to make it through the day. Launching a business is not selfish; it teaches your children great life values such as believing in themselves, pursuing their own happiness, having a sense of initiative, earning their own money, and confronting adversity.
Entrepreneurship is not a race, it's a marathon. You need a lot of stamina, resilience, and grit.
In your academic or work career, were there any mentors who have helped you grow along the way? What's the best piece of advice you have ever received?
I don't have a specific mentor yet, not specifically. On the other hand, I tend to learn from each encounter and connection I make. I actually admire numerous women and achievers around me and get inspired by a lot of them. Women who are constantly thriving, opening their businesses, hustling while having a family or not to watch over. Achievers and powerhouses societal changemakers, all those awesome women are a source of inspiration and reference for growth.
Where do you see yourself in the next 5 years?
I would love to be able to say that I've contributed in creating an impact, even if it's a small one, that I've helped change someone's life for the better.
What is your secret to striking a work-life balance?
I have no secrets! And there is no magical formula in my life, there will be days where work will take a bigger chunk of the time and there will be other days where life will take this place. As long as you try to maintain this balance in general, and not during the course of a specific day, then I think you would have managed this balance. It is crucial to know when one should stop, step back and take a break in an entrepreneurial journey. But in general, as few tips that I try to live by:
Set priorities: Make a list of your most important work and personal tasks and prioritize them. This will help you focus on what's truly important and avoid feeling overwhelmed.
Be realistic: Set realistic goals and expectations for both your work and personal life. Avoid overcommitting or taking on too much at once.
Learn to say no: It's okay to decline invitations or responsibilities if they don't align with your priorities or if you're feeling overextended.
Make time for yourself: Set aside time each day or week for activities that you enjoy, such as exercise, reading, journaling, meditating, or spending time with friends and family.
Use technology wisely: Technology can be both a blessing and a curse when it comes to work-life balance. Use it to your advantage by setting boundaries, such as turning off notifications after work hours, to minimize distractions and stress.
Seek support: Don't be afraid to ask for help from coworkers, friends, or family when you need it. Having a supportive network can make a big difference in maintaining a healthy work-life balance.
Remember, work-life balance is a personal and individual concept, and what worked for me may not work for you. But the key is to find what works best for you and to make adjustments as needed to ensure that both your work and personal life are fulfilling and satisfying.
One piece of advice you would like to give to aspiring women leaders.
No door will be closed unless you close them yourself. Stay humble and hungry to learn. Take each challenge as an opportunity.
Related Articles