An app a day keeps worries at bay. Do not have time to run to the store and get that dress you have been eyeing for some time? You have about 50 online shopping apps at your fingertips. Hungry? App. Banking? App. Fitness? App. One would think apps grew on trees, given the number of apps that the playstores keep adding to the list. So, what makes an app click? The major reason why an app hits the success mark would be because of customer experience and interaction. These apps are often the face of a company. The bigger the company, the bigger the expectation from the app.
Earlier in 2015, Namrita Mahindro, and the Digital Transformation team she was then heading, were shouldered with the responsibility of creating an app for a USD$20bn+ company. The app would stand as the customers' preferred destination for information discovery, engagement, and transactions. Following an agile methodology and design thinking approach, the team had completed the first two phases of design. However, when they took it for user testing, before the third and final phase, they received critical feedback on the user experience front, which they had not received earlier. Namrita and her team estimated that the changes required would set them back by at least by a month or two.
The problem?
The app launch was scheduled in two months; the date already communicated to the Group Chairman.
Back at the drawing board, the team debated their different options. However, all routes took them back to the same point—postpone the launch. So Namrita got to work. She spent time convincing everyone that they needed to be true to the company's core values of being a customer-centric organisation and do the right thing even if it meant some pain in the short term. Namrita had made her point clear and concise and the CEO backed her and her team completely on her recommendation and its logic.
Did it work?
Well, under Namrita's leadership her team took prompt actions and the app was realized, albeit the initial postponing. The app won not only customer hearts and appreciation but also enabled the whole company to set new benchmarks in customer satisfaction. The accolades did not stop there. The group was also the centrepiece for several external recognition and awards and consecutively became the benchmark for future transformational work in re-imagining the customer experience.
Who is Namrita Mahindro?
Felicitated with the IDC Digital Transformer Award for 2 consecutive years for Club Mahindra (2017) and Mahindra Auto (2018), Namrita serves on Advisory Boards and as a Jury Member across various industry forums. She joined Aditya Birla Group earlier this year and is currently the Chief Digital Officer at Aditya Birla Chemicals, Fertilizers & Insulators.
To the question, 'Why Aditya Birla?', her response is clear and straightforward; "The leadership team, their vision for the future and purpose of leveraging chemistry for a greener world was what attracted me to the Group. I saw great synergies in my prior experience of building customer-centric organisations, driving operational excellence and fostering a culture of growth and innovation with their vision to be a premium global business that delivers safe, sustainable and profitable growth through focused commodity and specialised platforms and offers a superior customer experience".
She says that with the advent of Industrial Revolution 4.0, customers are embracing digitization and are making better decisions and becoming more demanding of manufacturers for transparency, quality, and customizations. India had already changed its way of operating to adopt Industry 4.0, a couple of years back. The challenge thus far has been that it has been adopted in a piecemeal fashion. The key question remains around ROI and scale. In the post COVID world, as circular economies and digital take centre stage and business priorities pivot towards enabling greater customer-centricity, health and safety of workers, driving cost/operational efficiencies, supply chain innovation and strengthening competitiveness, there is an opportunity for this adoption to get accelerated.
To leverage this opportunity India needs to invest in building capabilities which can help accelerate the execution of this transformation as well as build a culture that supports the sustainable change. Although COVID-19 has accelerated the urgency for digital transformation in India, the actual adoption by India's businesses has so far been uneven. She says "For companies to completely digitally transform themselves, they must ensure that their digital strategies are aligned with their overall business strategy. Secondly, they need to examine how their businesses can be disrupted and consider potential new business models. Third, they need to invest in digital capabilities."
She continues to remark that Digital transformation is not about technology, but it is about talent, so it involves hiring the right talent, upskilling existing talent, building a culture of fast fail and embracing agility. This transformation also needs much greater investment in R&D and building IP by Indian organisations as well as encouraging international organisations to set up their R&D hubs in India. Additionally, the collaboration between government, industry, academia and Startups needs to improve. For example, by building public–private partnerships in advancing technological innovation, training tech talent, and incentivizing it to stay in the country. Besides programs like Make in India, Digital India and Start-Up India, government and the private sector need to partner to build up digital ecosystems beyond the one that has been built for digital payments, be it in the areas of agriculture, healthcare or retail.
A keen observer of all things tech, Namrita says that IoT and data analytics provides an opportunity for an organisation to gather a lot more information than ever before which can be used to help improve processes, drive innovation, and enhance the customer experience.
"At the beginning of 2020, the digital universe was estimated to consist of 44 zettabytes of data, and we are already living in a world with 14.2 billion connected things. In my specific context, I see lots of opportunities for leveraging IoT and data analytics to enhance real-time visibility into the end to end supply chain. Additionally, there are opportunities to leverage artificial intelligence and machine learning to simulate and enhance operations/productivity as well as assist and augment humans from a health and safety perspective. Similarly, robotic process automation can support non-value-add labour-intensive activities.
To enable embracing the change requires creating a vision and communicating the same; a deep understanding of current business challenges; an investment in evangelising the benefits of the new; being empathetic towards the pace of adoption and delivering incremental results to build credibility and strengthen trust. This can potentially result in building a culture of openness to change" comments Namrita.
What are Corporate Guv'nors Made of?
For Namrita, being a true leader, in whatever field it may be, is 1% talent and 99% hard work. "I have tried my best to imbibe, besides hard work, discipline, perseverance, curiosity and a seeking spirit is core to my DNA. To stay on top of my game, I ensure that each year I add a new skill or sharpen an existing one. The diversity of subjects helps me connect the dots in unique ways which often gives me a creative lens to view everyday business issues as well as more strategic matters with a difference," she says.
Watching Namrita lead and manage her team is like watching the quote by John Quincy Adams, the sixth President of the United States come to life, 'If your actions inspire others to dream more, learn more, do more and become more, you are a leader'. Namrita points out that while living in a fairly disruptive time and age of perpetual change, one must also possess a few other traits to be a stand-out Leader. These include authenticity, adaptability, empathy, communication, agility, collaboration, vision, a creative mind, and resilience.
"As far as my leadership style is concerned, I think that it is a combination of being a transformation, participative and a laissez-faire leader," she smiles.
One characteristic trait that sets Namrita a class apart from her peers is that she believes in self-disruption. 'One must have the ability to create environments for intellectual stimulation & innovation. She also believes in fostering a participative culture to facilitate the exchange of ideas, generates creative solutions and contributes to higher employee engagement. I am also that kind of a leader who gives a great deal of autonomy to my teammates so that they can learn by taking risks and making mistakes. I want my teammates to have a safe environment, where it is okay to commit a mistake out of which you can learn a valuable lesson; and that is where the laissez-faire style fits in".
Apart from a long array of managers, from whom she learned the ropes of being a good manager, she holds Daisaku Ikeda as her mentor. Daisaku Ikeda is a Japanese Buddhist philosopher, educator, author, nuclear disarmament advocate and third president of the Soka Gakkai, the largest of Japan's new religious movements. She stands strong by Daisaku Ikeda's guidance over the years as they have enabled her to transform herself and strengthen her contribution towards building a value-creating society.
Namrita spends her time and energy focusing on how technology can be made more meaningful and useful and advices several boards and board members to become more digitally and technology savvy. She often muses on how to mentor and guide new business and operational models that leverage technology as well as help them become more conversant with the different technologies to ensure that their businesses are not missing an opportunity or exposing themselves to undue risk.
A Titan in The Making 
Reflecting on her years of experience Namrita says that one must be a lifelong learner, keen on re-inventing oneself. "I believe that one must embrace a growth mindset and also find your purpose in life. Another fact, which I have learned, that constitutes a complete human being is giving back more than what you receive. I have had the fortune of having worked with some great organisations and people across my career who shared their knowledge and experience without ever holding back and went out of their way to help others rise. Outside of work also, my varied interests put me across people who gave selflessly and showed how altruism is a key ingredient to leading a more enriched life," she says.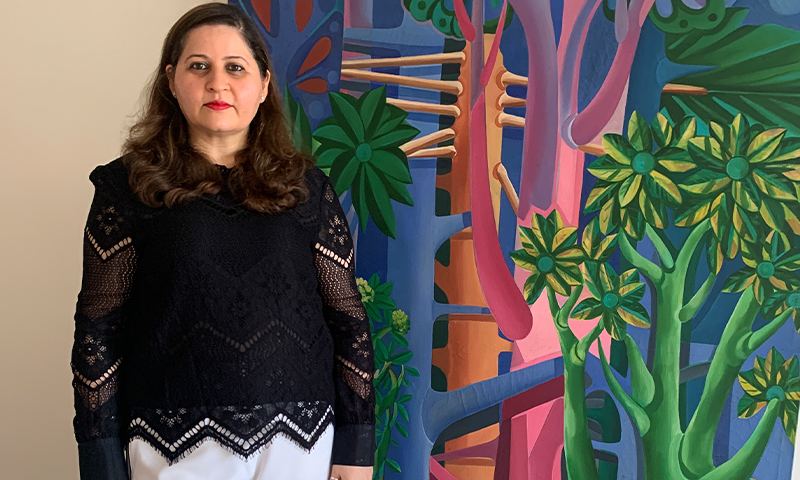 Sticking to her life lessons, Namrita has strived to do her bit of "giving back" by mentoring start-ups and individuals and strengthening the larger ecosystem through government and industry associations and participation to enable them to leverage digital and technology for innovation and transformation.
Taking inspiration from Clayton Christensen book that she read back in 2012, Namrita concludes with a stirring question, 'How will you measure yourself?' She concludes by answering her own question, 'By introspecting on what is really important to you in life and evaluate what gives you true happiness. For only if the self is satisfied and fulfilled can you inspire to help those around you to achieve their goals.'
Currently Reading
Namrita is currently toggling between two books 'Meditations by Marcus Aurelius, a book on Stoic Philosophy and 'Out Innovate' by Alexandre Lazarow, which shares how global entrepreneurs from emerging markets are re-writing the rules of Silicon Valley's success with an alternate approach to business models given that their challenges are very different to Silicon Valley's.
At the Moment
Namrita is focusing on how we can reinvent ourselves to build sustainable competitive advantage for our organisation leveraging digital and technology, create value for stakeholders and drive a culture of innovation. On the personal front, she is giving fitness its due importance. Apart from yoga and transcendental meditation, she is also devoting her time to learn about Chakras, the energy system in the body and how to channelize that energy for increased consciousness and an improved sense of overall wellbeing.
Related Articles