Oyo Hotels & Homes is one of the largest and fastest-growing hospitality chains of leased and franchised hotels, homes and living spaces, and currently has thousands of employees globally. The company has been making smart investments in monetizing collected data, generating intelligible insights and ultimately putting them into action by creating personalized experiences through careful identification of issues, following regular customer insights like their orders, likes, dislikes, and gauging preferences.
Why go the extra step? After all, it is just booking a hotel room, right?
OYO understands that the essence of hospitality does not end at meeting the customer's needs, it is to delight them. This is the oldest, yet often ignored, rule in the book, 'Put the customer first and they'll last'. For instance, OYO recently launched 'OYO Wowcher', a customer-centric initiative, that doubles its value for the customers and flexible redemption.
What makes it a delight for OYO patrons?
In unprecedented times like this, 'Wowcher' offers value for money and flexibility in booking for customers. Furthermore, since safety is the top priority for customers today, OYO has also rolled out 'Sanitised Stays' initiative across its properties, thereby, implementing standard operating procedures for higher hygiene standards, minimal contact service and enhanced credibility.
When Anil Goel joined OYO in 2016 as the Chief Technical and Product Officer, he came with nearly 20 years of experience and helped build the world's leading and first true technology-driven hospitality company, OYO. He was responsible for providing strategic direction and strengthening the technology infrastructure, powering the company's business operations.
It is often said that instead of hiring people to fill a position, it is wise to select people to fulfil a dream and to serve a purpose. When Anil was welcomed into the OYO family with open hands by Ritesh Agarwal, Founder, OYO, the company just earned itself a ticket to experience major tech developments.
Although OYO has been creating history through a revolutionary and disruptive business model that had not been attempted anywhere in the world, the complexities in delivering end-to-end stay solutions for guests and innovative and intuitive partner-management-systems along with the strong reliance on tech to drive business can still be bettered. Along with furthering his career graph, Anil found OYO as a great opportunity to contribute to its growth and evolution
"Investments in building technologies that assure efficient and reliable security systems, complete transparency, innovations in CRM, POS tools, hotel inventory management software and more enables a seamless and delightful consumer experience. At OYO, we have a threefold digital strategy to enhance customer experience, on-ground team/employee operating efficiency and asset owner support. Backed by innovative technology, we plan to upgrade all forms of real estate and thereby provide quality living spaces to travellers around the world. We expect a lot more consumers to adopt new technology methods like Contactless payments via QR Codes / Online payment, Online check-in check-out at hotels, App-based in-room services, lot more preference for self-service—packed foods, vending machines and self-cleaning mechanisms, among others in the hospitality industry. To achieve such a feat, our diverse team of engineers, data scientists, tech experts, coders, people with design backgrounds are working together to introduce technology-based solutions to help manage end to end operations, improve customer experience, enhance capabilities for remote working and on-ground operations in the current world of heightened cautiousness" informs Anil.
Tech, Tech and More Tech
Dabbling in technology, Anil observes that the overall technology and start-up environment in India, albeit fast evolving, is still in its nascent phase and that there is a lot of unlearning and learning to do. He further says that the service industry is at the forefront, bringing about disruption to create (brand) preference by personalizing unique experiences for every customer through the power of new-age technologies like Artificial Intelligence (AI), Machine Learning, and Automation among others.
"Technology is deeply embedded in our DNA at OYO Hotels & Homes. We leverage the power of AI & Machine Learning to predict guest behaviour, how they interact with our search results and app, and the interactions they carry out while staying at our hotels.  For example, if you prefer a certain kind of hotel and amenities, relevant hotels matching previous preferences will appear on top of the search results. We also have a Centre for Excellence for OYO's Machine Learning and AI initiatives that powers many of our consumer offerings," he explains.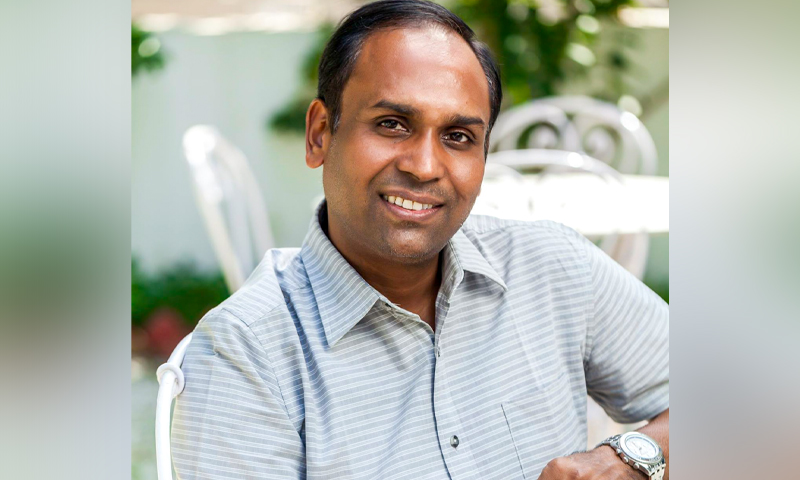 With a nimble and adaptable yet practical leadership style, Anil encourages his team to innovate, think big and push boundaries. "At OYO, we instil the value of entrepreneurial spirit among each team member, so they do not just think like coders, or engineers, or analysts but entrepreneurs. Being responsible to drive tech at the company, I often try to think about the big picture and bring all ideas together under one umbrella to ensure that tech runs through the length and breadth of the organisation to make things easier, rather than complex," he comments.
Never one to shy away from challenges, Anil was faced with the task of building a great technology culture, early on at OYO. "We had a fairly smart but very junior team with not enough leaders to guide them. While the company was growing and each of these team members were quite smart, the cultural reset required us to have a more focused team that can be effectively managed. I was able to gain support from both my partners as well as team members at OYO, by showing them a clear short term and a mid-team roadmap on how we will evolve our products, architecture, processes, team maturity and overall culture that gave everyone confidence."
Expect the Unexpected
'Prepare for the unexpected' is the motto by which Anil goes by. "It's not what you know today that will make you successful in future; it's your ability to understand and adapt to the changing environment quickly. During my career, I have had the fortune to work with several great leaders that I have learnt a lot from. Early in my career at RealNetworks, I learnt from my manager David Poole on how to set clear goals for a high performing team and give them maximum autonomy to achieve the best outcome. At HyperQuality, our CEO Chris Coles taught me how to be both gentle, kind and firm while getting the message across clearly and respectfully. At OYO, I have learnt from Ritesh on when to use data vs. anecdotes to sell your viewpoints effectively. Technology is a very fast-changing industry and in my career, I have gone through many complete paradigm shifts. There is hardly any technology among the hundreds of technologies that were in use at OYO that even existed when I started my career." he says.
As a parting note, he adds that he is hopeful that Indian companies can leverage AI and Machine Learning to drive greater product variety, with increased personalisation, attractiveness and affordability over time. "By harnessing the power of AI-enabling technologies like Predictive Analysis, among many other emerging innovations, companies can cater to the discerning needs of the new-age, digital consumer. After all, Customer is King!"
Currently Reading
At present, Anil is investing his gift of time and resource into two main areas, best practices in the Information Security Arena and IoT. Under Information Security, Threat Hunting has got his special attention, as although it is a relatively new area, it is a very crucial part of a comprehensive information security regime.
Accolades
Anil is someone who believes that the impact your work creates is the best kind of award. In this regard, Anil Goel has an amazing repertoire of accolades. "The technology my teams have conceived and built has helped us rapidly scale to 80+ countries across the globe delighting our guests, hotel partners and employees alike," says Anil, "At Amazon, I was fortunate to lead the conception and initial implementation of many parts of their Global Transportation Network, Amazon Logistics, which is now not only serving a large part of Amazon's needs but disrupting a century-old global industry. The positive impact on tens or hundreds of millions of customers that technology developed by my teams has created is the best accolade I can even imagine winning."
Related Articles