Founded by Raghav Belavadi and co-founded by Vijaya Belavadi, Hype Luxury Mobility is a technology company building mobile platform for premium customers that seeks to ride luxury cars, yachts and jets which has made Hype an icon of the elite class club across the country. Starting from Bangalore in 2017, Hype has managed to spread its wings to over 19 major cities in India for one reason – they could provide people with hassle-free bookings of their choice of cars, yachts, or jets without making compromises on quality and delivery. The chief who involves in the envisioning of Hype's technology blueprint for the business applications, innovation and solution architecting is its CTO, Subrahmanya S M. "At Hype, we made sure that Design, Development and Distribution should follow the modern architecture, platforms, guidelines in each process with rapid application development without compromising on quality, performance, more importantly, UI, UX of the App," shares Subrahmanya.
A graduate in Computer Science Engineering from Visvesvaraya Technological University, Subrahmanya understands the importance of selecting cutting-edge technology that solves the majority of the problems with rapid application development. Moreover, he loves to be a part of the emerging startup world where he can endeavour solve bigger problems with a small team. Subrahmanya says, "We will get all hats to wear, that is the greatness of the startup ecosystem. Here, we will be getting the real-world experience of how to build a startup while working closely with the founder who is striving perfection at every step," Subrahmanya is a hands-on architect and prefer to dig deeper to troubleshoot. This sets the precedence to the team that vision and execution are the two sides of the same coin.
"With my past mobile application development experience, I found out that the main reason for the failure of application development in many of the cases is the decision-making while choosing the right framework, poor backend APIs with no automation, less teamwork and lack of vision to understand the importance of adoption of trending newer technologies," opines Subrahmanya. Taking failure as a steppingstone always helps. As a CTO at Hype Luxury Mobility working under the guidance of Raghav Belavadi, Subrahmanya has more freedom of choice for adopting the latest technologies and responsibility.
Under the leadership of Raghav Belavadi and Subrahmanya, Hype has built a seamless online booking system and offers customizable plans according to the needs and demands of their customers. "Niche market segment can be defined by its own unique needs, preferences, or identity that makes it different from the market at large. Other than the technology, we are using and making sure digital marketing, SEO other strategies work together," says Subrahmanya. Sometimes, user feedback also becomes a game-changer for Hype. Subrahmanya adds, "We do iteration on at each stage and change the process if something is going wrong. It is more a hybrid of agile and classic process management to get the best of both the worlds."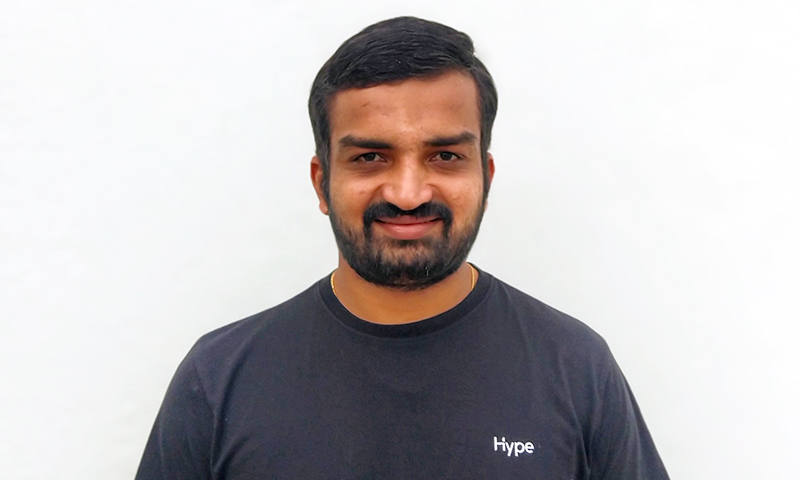 Updating to Be the Best
Technology keeps changing every day. Subrahmanya is passionate about helping his team to adopt newer technologies to solve more significant problems more efficiently. For instance, he is a strong advocate of serverless technologies and Cross-platform Application frameworks that can offer a tremendous native mobile App user experience. However, Subrahmanya will not go behind a newer technology because it is trending in the industry. He explains, "Artificial intelligence, blockchain, IoT and Automation are the most trending lately. But we are also trying to adopt only and whenever whatever is needed and simply not for the fact that it is trending. At the end of the day, the customer is the king of the market, and we need to offer the best of all the mobile app user experience."
At Hype, UI/UX is the most critical component, as they begin their vision from the user and work backwards to build the right technology platforms or solutions. "We heavily invest in time and efforts to understand the user experience and user behaviour for our product. It is a great responsibility as the entire industry looks up to us as the best user experience platform," pinpoints Subrahmanya. Being one of the biggest luxury industry platforms in India, so the customer data and privacy is even more critical for Hype. That makes cybersecurity an important and a high priority task for Subrahmanya and his team. We cannot afford to avoid cybersecurity flaws 100 per cent. However, we can make it most difficult for hacking. If we select cutting edge technology while architecting, it has its own built-in solutions to face all cybersecurity issues and allows us to add all layers of security to safeguard the user Information," explains Subrahmanya.
Adopting the latest technologies and best practices in the industry have their perks. For instance, Hype Luxury Mobility team has been practising remote work culture even before COVID-19 hit the world. Subrahmanya shares, "I always wanted to live in my Native town/village with my family, and I see most of my team members share the same synergy. Key to successful execution is communication." With more people work remotely, Subrahmanya regularly does team building meetings to make sure that his colleagues mingle with each other very well. He adds, "I not only think but also believe that remote working is a far better solution to work-life balance and better productivity."
Today, Subrahmanya is leading the complete digital transformation of Hype Luxury Mobility. "In our product's user journey, there are a few places where we are still using pen and paper, but, we are planning to make it completely technology-driven. Apart from that, we work smartly with past learnings from product development failures which feed into our next-gen vision for technology innovation," says Subrahmanya. Hype Luxury Mobility is also planning to release their apps in as many cities and countries as possible with a far more improved user experience. Besides, the company is going to invest more in training and development to share the new knowledge that they have learned from the product development life cycle. "As I work closely with our founder Raghav Belavadi, I have learned many things by wearing many hats in the Hype. Today, it is one of the most successful startups, because of our vision on the backbones of technology and user experience," concludes Subrahmanya.
Related Articles