Like Job's garage where the first Apple computer was built, Vineet Bajpai's business saga started in a small generator room. It was in the early 2000s. Napster had arrived on the Silicon Valley landscape, and NASDAQ became the new buzzword for investors and entrepreneurs alike. Two rented computers and three people were enough for 22-year-old Vineet to start a small company called Magnon on a terrace shed. Today, Magnon is among the largest advertising groups in the subcontinent and part of the Fortune 200 Omnicom network (NYSE: OMC). Vineet has also led the global top-ten advertising agency TBWA as its India CEO. This made him perhaps the youngest ever CEO of a multinational advertising group in India.
Vineet has won several entrepreneurship and corporate excellence awards, including the Asia Pacific Entrepreneurship Award 2013, the CNBC Mercedes Benz Young Turks Award 2014 and the Entrepreneur of the Year Award 2016. He was recently listed by Business World among the 100 Most Influential People in India's Digital Ecosystem. Vineet's second company Talentrack is disrupting the Media & Entertainment industry in India. It is the fastest-growing online hiring and content-crowdsourcing platform for the US$ 21 billion sector.
Apart from being a multinational CEO and an entrepreneur par excellence, Vineet is also a national bestselling author with eight books to his credit. He has written three bestselling management and inspirational books – Build From Scratch (2004), The Street to the Highway (2011) and The 30 Something CEO (2016). His fiction novels, the Harappa Trilogy and the Mastaan Trilogy are national bestsellers. The books have won rich critical and literary acclaim. The screen-adaptation rights of the Harappa Trilogy have been acquired by one of the largest film production companies in the country. The Times of India has called Vineet – '…undoubtedly India's new literary superstar'.
In an exclusive interaction with Digital First Magazine, Vineet talks about the most important values he demonstrates as a leader, his journey so far in the corporate world, his books and much more.
Being a bestselling author and a successful entrepreneur, what are the most important values you demonstrate as a leader?
First up, working as a collective rather than an individual is something that has been a core value for me as a leader. And it is this central belief that I have worked for over two decades to establish as a management culture in my teams. In the context of the current environment, the contemporary leader today needs to balance several human and organizational goals – client value, business profitability, management continuity, employee welfare and mental health, digital transformation, continuous innovation, seamless communication, and a lot more. It is a matter of pride that at both my companies, Magnon Group and Talentrack, we have always nurtured a strong culture of intrapreneurship, because of which this leadership responsibility gets shared. We encourage and empower our employees to be entrepreneurs within the company's ecosystem, who in turn become ambassadors of our people-centric value system. It is a beautifully virtuous cycle that spawns trust, leadership development and business growth.
Another value that I personally try to embody is the power of incessant, continuous effort. Whether it is leading a large multinational advertising group like Magnon, driving a tech start-up in the entertainment space like Talentrack, or simply writing books, I am a great believer in and propagator of persistent human endeavour. I have witnessed spectacular success stories that have been fueled by a leader with sheer, unstoppable diligence. It is this conviction that I personally live by, and also the belief that I try to inculcate in my leadership team.       
From starting your career with General Electric and setting up your first company, Magnon Solutions, in a small shed, you have come a long way to become a business Guru. Tell us a bit about your journey so far in the corporate world?
Thank you for the title of a business guru. The reality is that I am still a student of business and entrepreneurship. As for my journey, I developed a strong orientation towards building and managing my own enterprise back in the early days of my B-school education. I joined GE immediately after I completed my postgrad in management. The experience of working with one of the most respected companies in the world played a key role in developing my early understanding of a wide range of business areas, especially those of corporate ethics, professional integrity, process-based management, and an overall international perspective. I can say that it was in GE that I completed my management education in the real sense. However, even in that enriching environment, my thirst for building my own organization remained.
In the year 2000, when Napster had arrived on the Silicon Valley landscape, and NASDAQ became the new buzzword for investors and entrepreneurs alike, I started a small company called Magnon – three people, two hired computers and a terrace shed. We spent the next ten years working with a razor-sharp focus, with only one goal in view – to emerge as one of India's largest digital agencies. By 2010 we were indeed counted among the leaders in our space. In 2012, Magnon became a part of the Fortune 200 global media corporation – Omnicom (NYSE: OMC). Today, Magnon is among the largest advertising & digital groups in the country, with close to 400 employees and working with several Fortune 500 clients. We have also brought in global advertising & marketing agency brands like eg+ and designory into India.  
It was in 2015 that I launched Talentrack – India's first mobile app and digital platform for talent casting & user-generated content in the entertainment sector. We also own and host the annual Talentrack Awards, the country's pioneering awards for OTT and digital content. Today, the platform has 4,00,000+ artists and nearly 20,000 registered recruiters, including casting agencies, filmmakers, ad agencies, production houses, Bollywood producers, TV channels, casting directors, event companies and more. 
What lessons have you learned in your childhood or college days that helped you become the leader you are today?
Hailing from a middle-class family and living in a city like Delhi with all its commercial pomp and show, did imbue in me a deep ambition for material success. No doubt that inherent hunger for growth has manifested itself into the way I lead my companies, where the quest for progress and profitability is a way of life. A wonderful by-product of that fervour has been the cutting-edge, ever-evolving value we deliver to our global and Indian clients and the employment opportunities we have been able to generate for hundreds of people.

Today, we contribute heavily to CSR initiatives and invest continuously toward employee growth & welfare. All of this has been made possible by our laser-sharp focus on creating value continuously.   
Tell us about companies that you are leading today. What are the services they offer, which makes them unique?
Today, Magnon Group is among the largest and most respected advertising groups in the sub-continent. It comprises three award-winning agencies, namely Magnon eg+, Magnon Designory and Magnon Sancus, with nearly 400 professionals across Delhi, Mumbai, Bangalore, and Hyderabad. Our marquee clientele includes ten out of the Fortune Global 500 brands. 
Magnon integrates specialized verticals like digital, production, advertising, media, analytics, language services and content marketing into pillars of a new-age agency to deliver world-class marketing solutions to our clients. It is the organic journey of Magnon towards becoming a truly 360-degree agency group that sets us apart. Currently, most conventional creative agencies are making an attempt to go digital. On the other hand, a lot of digital agencies are trying to integrate backwards into traditional advertising. These are mostly quite laboured, inorganic efforts toward being seen as a bundled, integrated service offering. However, this often ends up creating fragmented working structures that deliver fractured campaigns to clients. The edge that Magnon has is that for 12 years, we were an independent, hardcore digital agency. Thereafter, in 2012, once we became part of Omnicom and a part of the eg+ and TBWA networks, we swiftly inherited the most sophisticated knowledge capital in advertising, digital, production, media and linguistics, that too from the biggest names in the world. So, it has really been a ground-up, organic, and experiential metamorphosis into emerging as perhaps India's foremost and almost pioneering fully integrated agency offering under a single umbrella.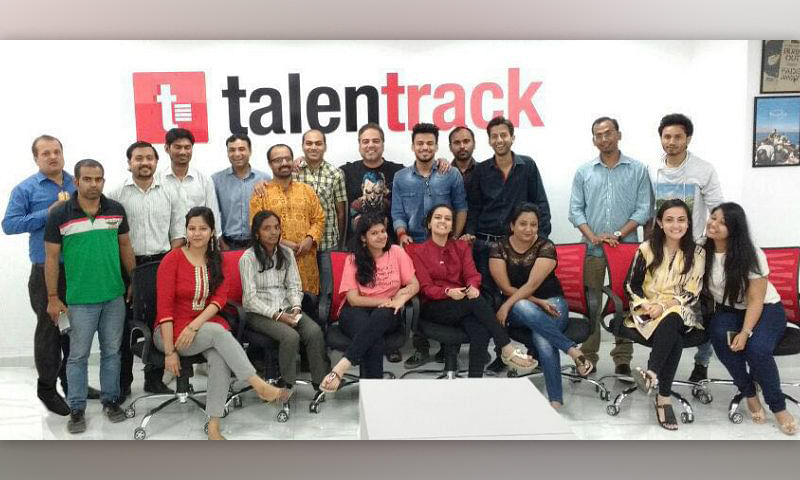 Coming to Talentrack, it is one of the most exciting tech start-ups for casting and content in the media & entertainment space. Within a short time, it has emerged as India's leading online talent-hiring and content-sourcing platform for the sector. Talentrack is also the go-to destination for brands and marketers looking for professional user-generated content. With over 4,00,000 artists and over 20,000 industry recruiters on board, the company is disrupting and revolutionizing creative hiring in India.
Your first two books, Build from Scratch and The Street to the Highway, are for budding entrepreneurs and owners of small businesses. What inspired you to write those books?
The central driver behind these two books was my strong desire to give something back to the entrepreneurial and SME community, as a part of which I had spent the first decade of my career. I wrote these books because, over my organization-building journey, I felt I had gathered a few truly precious learnings that ought to be shared with budding entrepreneurs, start-ups and the business community at large. Why should every entrepreneur have to reinvent the wheel from scratch? Why should every start-up team make the same mistakes? It was with this in mind that I wrote about the vital elements of starting a business (Build From Scratch) and then building it into a respectable company (The Street to the Highway). 
Tell us about your other works of fiction. As a writer, what is more satisfying for you, fiction or non-fiction?
After writing three well-received business books, I felt a strong urge to express the creative storyteller in me. I wanted to write about India's ancient mysteries, our rich heritage, our way of life, our profound myths, epics and more.
Writing a business, management, or inspirational book is a completely different ballgame as compared to the creation of a fiction novel. Being a management 'guru', so to speak, is a very different role from that of being a storyteller. And it was during the writing of Harappa that I discovered the intensity with which the storyteller in me was waiting to emerge.
It was only when I spent nights and days in penning down the manuscript of Harappa (my first and spectacularly successful fiction novel) that I understood the emotional connection needed between a fiction writer and his work. Not to say that writing a business or management book takes no emotional energy. Of course, it does. But after having written three of them and then writing the Harappa Trilogy and Mastaan Trilogy, I can assure you that a storyteller has nearly an umbilical cord connected with his work. I know this might sound silly, but every time I read some of the more intense parts of Harappa, especially the last four or five chapters, my eyes well up. I could not believe that I was crying every time I was reading what I had myself created and written! But believe me, that is the intensity of a fiction writer's relationship with his work.
But I must confess that the love and popularity I have been showered with after the Harappa Trilogy and now Mastaan, are unparalleled. Thousands of readers are sending me emails, social media messages, tweets, and reviews. It has been one of the most gratifying phases of my life.
What has been significant milestones during these years of your journey as a business leader? Why?
While there have been many exciting high points through the years, the most significant milestone has been Magnon's becoming a part of the global giant, the Omnicom Group. We started out as an independent agency back in the year 2000 when the whole internet wave had only just started in India. It was in 2012, when Magnon became part of this Fortune 200 multinational corporation, that we suddenly transformed into a global player via the eg+ network, one of the largest advertising and creative production companies in the world.
Being invested into and embraced by a globally respected multinational behemoth like Omnicom was a powerful validation of the quality of the organization we had been able to build from the ground up. It was a big day for us when Magnon's name was up on the homepage of NASDAQ! 
How do you unplug from work?
To be honest, the quest for an optimal work-life balance has been one of the frustrating failures of my life. I must confess that I am immersed in my work almost every waking minute. It is either the exciting responsibility of leading Magnon into the next orbit of success, or the unflappable enthusiasm of building Talentrack into a profitable enterprise, or simply the writing and marketing of books – I invariably have a lot of balls in the air at any given time. And the truth is, I love it that way! 
Having said that, I do have some ways to unwind. I love reading, cooking, spending long evenings with close friends, and strumming the old guitar once in a while.  
And, of course, writing books. It not only brings out my personal creative best, but it also helps me connect with millions of readers directly. What can be more satisfying than that?
Related Articles