Zack Oates is a multi-faceted individual, wearing hats as an author, a dedicated husband and father of four, a seasoned entrepreneur, and an aficionado of hot tubs (although not necessarily in that order). His journey from growing up in the restaurant industry to becoming a prominent figure in the startup world is a fascinating tale of dedication and passion.
Zack's early years were spent in the vibrant atmosphere of restaurants. As he fondly recalls, "My first job was crafting milkshakes and sundaes while manning the cash register at Friendly's. During these formative years, I grasped the paramount significance of the guest experience. I saw the smiles on people's faces as they enjoyed their meals, and I understood the magic that restaurants could create."
Later in life, Zack embarked on an extraordinary journey, embarking on over a thousand dates before finding his life partner. This unique experience provided him with profound insights into the art of connecting with people. Zack says, "Going on so many dates taught me the hows and whys of connecting with people. It's about creating a genuine connection, a spark, and I carried this knowledge with me into my entrepreneurial ventures."
As someone who shared a profound love for dining out (having married a fellow food enthusiast), Zack couldn't ignore the glaring issue plaguing the restaurant industry. There was, and still is, a strong desire on both sides —restaurants yearned to forge meaningful connections with their patrons, and diners were eager to engage with their favorite establishments. Yet, the existing methods were far from efficient. Zack passionately points out, "No one wants to take a long survey, and online reviews give too little too late. That's when the idea for Ovation was born—a 2-question survey with real-time communication and comprehensive analytics. It was the missing link the industry needed."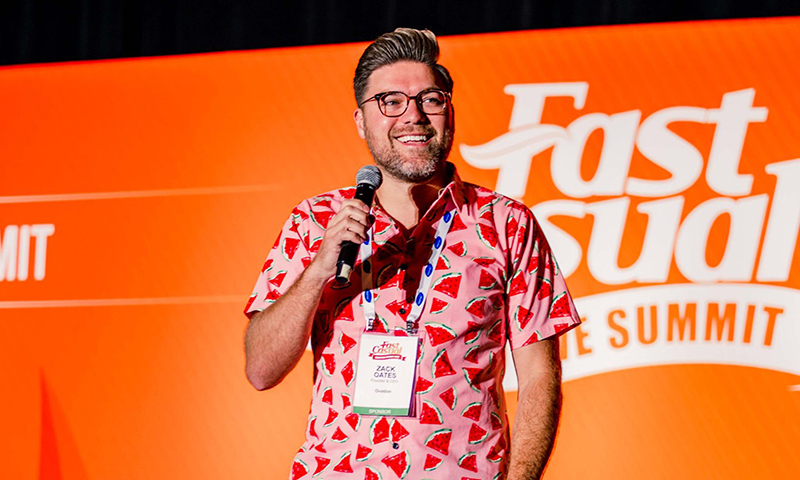 The spark that ignited Zack's passion for Ovation stemmed from a profound realization. He recognized that, at its core, the restaurant industry revolves around delivering exceptional guest experiences. As he passionately asserts, "At the end of the day, the entire reason restaurants exist is to deliver a great guest experience. It's about the feelings you get when eating somewhere you love with the people you love. It's why restaurant owners are so passionate about what they do. But with anything in life, to improve at something, you have to be able to measure it."
Zack, a two-time recipient of the Top 100 Entrepreneurs accolade, who rang the NASDAQ bell, a globetrotter who has explored 50 countries, and the founder of three companies, including an international NGO dedicated to assisting domestic violence victims in Eastern Europe, embodies the spirit of entrepreneurship and philanthropy. His remarkable journey, which included over a thousand dates and the authorship of "Dating Never Works…Until it Does," inspires all.
Currently, at the helm of Ovation, the leading restaurant feedback platform in America, Zack continues to make waves. His recognition as one of the Top 50 Most Influential Leaders by Nation's Restaurant News and his role as the host of the illustrious "Give an Ovation: A Podcast for Restaurants" with over 250 episodes testify to his enduring commitment to enhancing the restaurant industry. "I've secured over $7 million in funding for Ovation! But I have to admit. Nothing brings me more joy than being a parent to my four amazing kids and having an incredible wife as a partner. They light up my world and have taught me so much about life. I'm grateful to have them in my life and it's made me a better person. I'm also so lucky to be part of such a wonderful team, and I couldn't ask for a better partner. Family truly is forever, and I feel blessed to have such a supportive network around me," shares Zack.
Ovation's Innovative Feedback Approach
In the realm of restaurant feedback, Zack and his team at Ovation have revolutionized the game, ushering in a new era of guest engagement that transcends traditional methods. Let's explore how Ovation's approach differs from the conventional feedback methods used by restaurants, which include table touches, online reviews, and lengthy surveys.
1. Table Touches: A Well-Intentioned But Flawed Tradition
Zack starts by shedding light on the age-old "table touch" practice, where a manager or server approaches your table, inquiring, "How was everything?" This gesture is well-intentioned, but it faces two inherent challenges. Zack says, "People aren't always honest in these situations. Whether the meal was delightful or disappointing, the usual response tends to be 'It was good!' – I've done it myself."
The second issue lies in the scalability of the information gathered through table touches. While servers may relay a guest's complaint to management, recording and acting upon this scattered feedback often becomes challenging. Enter Ovation, where guests are invited to take a concise 2-question survey that kicks off with the fundamental query, "How was your experience?" This digital platform fosters an environment of openness, encouraging guests to express themselves freely. Zack explains, "We've found that people tend to be much more honest when providing feedback digitally. Our platform then synthesizes this valuable input, enabling restaurant owners and franchisors to put it to practical use. This is precisely why we've coined our core product the Digital Table Touch™."
2. Online Reviews: A Limited Spectrum of Feedback
While online reviews on platforms like Google and Yelp can be valuable, they tend to attract only the most polarized opinions. Zack points out, "Typically, the individuals motivated to leave online reviews are those who had exceptionally good or bad experiences. The majority of guests fall somewhere in between." Ovation surveys address this limitation by being accessible and easy to complete, ensuring that a more comprehensive range of guests provide feedback. This diverse dataset equips restaurant owners with richer, more nuanced insights.
3. The 50-Question Receipt Survey: A Dismal Experience
Zack humorously refers to the dreaded 50-question receipt survey that many have encountered. The process involves typing a lengthy code from the receipt into a website with a convoluted URL, followed by a monotonous procession through 50 nearly identical questions in exchange for a meager reward. Zack aptly summarizes this ordeal, saying, "It's terrible! Very few people bother with these surveys (when was the last time you did?), and the data collected relies on a tiny percentage of guests willing to endure such a lengthy questionnaire."
In stark contrast, Ovation keeps its surveys concise, consisting of just two questions. The first question seeks open-ended feedback that gets to the core of the guest's experience. Zack elaborates, "Guests don't need to navigate irrelevant questions about napkin quality. They can provide meaningful feedback in seconds." Moreover, Ovation introduced the Custom Questions tool for those seeking more granularity, allowing restaurants to follow up with tailored inquiries the next day.
4. Ease of Use and Team Dedication
According to Zack, Ovation's success can be attributed to a dedicated team and a stellar product. The team comprises individuals deeply passionate about the restaurant industry, many of whom have firsthand experience in restaurant ownership. Zack emphasizes, "Our product resonates with restaurant owners and guests alike because it simplifies the feedback process. It's easy for guests to initiate through QR codes or text integrations, ensuring a snappy experience that takes less than a minute to complete. Management's responses are text-based, aligning with consumers' communication preferences in 2023. On average, restaurants using Ovation receive 18 times more feedback than with traditional receipt surveys."
Empowering Restaurants with Real-Time Feedback Responses
One of Ovation's most potent features is its ability to facilitate real-time communication between guests and restaurant managers. When guests leave feedback through Ovation, restaurant managers can instantly access and respond to it using either the desktop interface or the mobile app. Zack underscores this aspect, stating, "We've invested significant effort in simplifying and expediting the response process for managers. With AI-generated responses, templates, and the option to include redeemable offers, managers can address guest concerns with just a few clicks."
This real-time dialogue between guests and management leads to extraordinary and memorable moments for patrons. In an age where consumers often anticipate indifference when providing feedback, Ovation's swift and attentive responses shatter these expectations. Zack highlights the impact, saying, "It's not uncommon to find the word 'wow' repeatedly appearing in our data from guests after they receive a response through Ovation. This kind of engagement breeds loyalty."
One of Zack's favorite success stories revolves around Shawn Walchef, the proprietor of Cali BBQ. In the barbecue world, where taste preferences can be as nuanced as choosing between lean or fatty brisket, Shawn made a remarkable discovery through Ovation. For over a year, his online ordering platform had inadvertently neglected to offer guests the choice between these two brisket variations. This seemingly minor oversight went unnoticed through traditional channels, as it wasn't significant enough to trigger complaints via online reviews or emails.
However, Ovation provided a simple and accessible avenue for guests to voice their preferences. As a result, Shawn swiftly became aware of the issue and promptly introduced the necessary modifications, allowing guests to select their preferred brisket style. This small but impactful change showcased Shawn's commitment to delivering a guest-centric experience and exemplified how Ovation empowers restaurants to make data-driven improvements based on real-time feedback.
Elevating Online Ratings with Ovation
The Ovation feedback system is designed to capture valuable guest insights and empower restaurants to improve their online reputation. The journey begins with a simple but pivotal question on the Ovation survey: "How was your experience?" Guests respond on a scale of 1 to 5, where 1-4 prompts the second question, providing an opportunity to share feedback privately with the restaurant.
Zack elucidates this process: "When guests rate their experience as a 5, we invite them to consider leaving an online review. We provide convenient links to the review platforms chosen by the restaurant. It's important to clarify that we don't obstruct anyone from posting negative reviews online or provide incentives for positive reviews—both practices violate Google's terms of service."
This approach yields remarkable results, notably an increase in positive reviews—often 2 to 10 times more on average. The cumulative effect of this surge in positive reviews significantly enhances a restaurant's overall online rating. This increase in rating is a vital factor that drives new foot traffic to restaurants.
Zack exemplifies this success with a testimonial from one of Ovation's own Google reviews: "I have been using Ovation for almost a year now. I went from 4.0 and 26 reviews on Google to 4.7 and over 150 reviews." This transformation underscores how Ovation can be a game-changer in boosting a restaurant's digital presence and reputation.
Beyond amassing positive reviews, Ovation goes the extra mile by providing restaurants with powerful intelligence tools. These tools synthesize Ovation feedback and online review data into actionable insights, which are indispensable for restaurant operators. Zack elucidates, "At a glance, operators gain visibility into how each location performs across more than 35 critical categories, ranging from food freshness to the speed of service. We offer insights into overall strengths and weaknesses, satisfaction trends by dayparts, survey source data, review analytics, and more."
Seamless Integrations: Where the Magic Happens
Zack underscores the pivotal role of integrations in Ovation's success, stating, "We see a lot of success with all of our methods, but integrations are really where the magic happens." Over the years, Ovation has forged connections with over 50 of the most popular restaurant technologies, and the list continues to grow. These integrations encompass various facets of restaurant operations, including online ordering, point-of-sale systems, loyalty programs, and more.
The true beauty of these integrations lies in their ability to gather feedback from guests effortlessly. Zack explains, "When we integrate with these systems, the guest automatically receives a text with the survey link approximately 30 minutes after their meal. This seamless process results in a significant increase in survey participation. To provide context, traditional receipt surveys typically have a meager 0.1% take rate, while our integration-based surveys achieve an impressive over 20% take rate."
Driving Revenue through Multiple Avenues
Ovation empowers restaurants to boost revenue in several ways. First and foremost, it elevates their online review scores, a crucial component of restaurant marketing. Restaurants that achieve top positions in search engine rankings naturally attract more foot traffic, and Ovation plays a pivotal role in helping them achieve this coveted status.
Moreover, Ovation enhances customer retention by enabling managers to address guest concerns in real-time, potentially saving customers who might have never returned. The platform's text marketing solution is potent for enticing guests with limited-time offers and special occasions, further contributing to revenue growth. Additionally, Ovation provides operational insights to restaurants, equipping them with valuable data to make informed decisions and optimize their operations.
For instance, a well-known household-name client deployed Ovation in half of their stores and withheld it in the other half, with all other variables held constant. After just four months, the stores with Ovation witnessed an astounding 9% increase in revenue growth compared to those without it. This empirical evidence underscores the effectiveness of Ovation in driving substantial revenue growth for restaurants.
Adapting to Changing Guest Behavior
Zack emphasizes the evolving importance of collecting feedback from guests, regardless of their location or order method. The pandemic accelerated the need for such adaptability. For in-house dining, Ovation provides QR codes strategically placed within the restaurant, whether as table stickers, table tents, or preferred by the establishment.
For takeout or delivery orders, restaurants include cards with QR codes in the packaging, ensuring that feedback collection remains seamless. The most popular and effortless option, whether on-premises or off-premises, remains the integration with other restaurant technologies. In these instances, guests automatically receive a survey link via text approximately 30 minutes after their meal, provided they have previously shared their contact information with the restaurant.
Ovation has not only streamlined the feedback collection process but also made it adaptable to changing guest preferences, thereby contributing to an enhanced user experience and increased revenue for restaurants.
Growing Role in Restaurant-Guest Communications
One of Zack's key principles is a commitment to focus on solving one problem exceptionally well. Before the pandemic, Ovation offered a broader range of solutions, spanning feedback, loyalty programs, marketing, and more, catering to various industries such as healthcare and retail. However, the events of 2020 prompted a strategic pivot towards specialization. Ovation honed in on perfecting one particular area: guest feedback for restaurants. This shift in focus proved pivotal, leading to significant growth and success.
Ovation's commitment to improving the guest experience is evident in its ongoing efforts to add more channels for guest feedback. The goal is to make it as convenient as possible for guests to communicate with restaurants, regardless of their preferred method. This inclusivity ensures that valuable feedback can be collected from a wide range of sources, enabling restaurants to gain deeper insights into their performance.
In line with its mission to provide actionable insights, Ovation is working to make it even more transparent for restaurant owners about what steps they should take based on the feedback they receive. This strategic approach aims to empower restaurant owners with precise guidance on enhancing their operations and satisfying their guests.
Zack envisions Ovation's role evolving in the realm of communications between restaurants and guests. An example of this innovation is the introduction of "Call-to-Text," a customizable phone tree that instantly texts callers with requested information while seamlessly collecting feedback and integrating with Ovation. This feature has already proven a significant success and presents exciting opportunities for further development in improving restaurant-guest interactions.
Today, Zack's guiding principles of focused problem-solving, a supportive working environment, and constant innovation drive Ovation's growth and evolution. As it continues to refine its solutions and expand its role in the restaurant industry, Ovation remains dedicated to enhancing the guest experience and helping restaurants thrive in a dynamic and competitive landscape.
For More Info: https://ovationup.com/
Related Articles