The B2B marketing and advertising domain is continually evolving and becoming increasingly competitive in today's fast-paced world. B2B marketers face several challenges, with the topmost being reaching the desired target and global audience, generating traffic and leads, displaying Marketing Activities ROI, and scalability. Procuring quantitative leads is not the challenge we think it is today, but obtaining quality leads is what most organisations struggle with. Most marketers' lack of knowledge has them selecting the wrong medium and attracting the wrong prospects to fit their desired customer profile, ultimately leading to lesser conversion rates. Creating high-quality content that resonates with the targeted audience is imperative to achieving better conversion rates. Content, right from infographics, blog posts, videos, and webinars, needs to be developed based on the specific audience and strategy. Organisations today need to rethink their business marketing approach.
Elite Advertising, situated in Denmark, is perfectly poised in the B2B space, ensuring absolute customer delight by leveraging its comprehensive strategy with LinkedIn Advertising.
Offering a Comprehensive Suite of Innovative Services
One of the first certified LinkedIn agencies in the world, Elite Advertising's core offering, LinkedIn Advertising, comprises comprehensive management of LinkedIn ads, content creation, and accounts management; entire B2B marketing strategy. The team of experts at Elite Advertising takes their dedication to the next level by conducting post-implementation research with the end-users concerning relevance and customer satisfaction.
The company also facilitates its clients with LinkedIn Organic. The team assists fast-growing organisations with their personal or corporate pages. The company addresses the challenge of scalability that most brands encounter through its automated LinkedIn Messaging service, helping run innovative online campaigns that grow with them. "The organic part of LinkedIn is very scalable for the company's decision-makers. We are very well received in the advertising domain," informs Daniel Tonsen, CEO and Founder of Elite Advertising.
Additionally, the company perfectly understands the challenge of hiring skilled talent and offers recruitment services through LinkedIn. "We are very proficient at advertising, enabling us to do entire branding and recruiting. We usually work with fast-growing companies, generating a lot of leads and growth," says Daniel.
Partnering with Elite Advertising offers B2B companies a myriad of advantages. These quality ads can be designed to target specific decision-makers within the organisation, fast-tracking the process, thus helping redirect the saved time and resources elsewhere. With the promise of superior quality service delivery, the team consistently works toward establishing the client as the preferred choice in the industry to its customers. "In marketing, it is a huge issue for several companies to see the actual value and revenue generated. We look into the CRM system to provide a holistic view of how many leads that were generated provide real revenue ultimately funnelling through the sales pipeline," elucidates Daniel.
Assuring Complete Customer Satisfaction
Daniel and his team have worked with a gamut of flourishing organisations whose business has catapulted to even newer heights, having partnered with Elite Advertising. He fondly recounts having been approached by an umbrella sharing service company close to a year ago. With their limited knowledge, the founders of the company tried their hand at advertising, but to no avail. "We did all their campaigns. We advised them on how and what kind of content they should be creating. With our help, they created a lot of content, and their ads performed 20 times better than when they did it themselves. Right now, they have generated close to a million dollars in revenue," reveals Daniel.
Another interesting success story is about an American company dealing in the sale of oil that approached Elite Advertising to improve its sales performance. Belonging to a niche domain, the oil company's challenge was to make a 'boring' product interesting while targeting the limited 500 high-value clients available worldwide. The in-house team themselves struggled to make headway as each investment from its customers was close to 3 million dollars in revenue. They could not promote their 'market-viewed unappealing' product as a 'must-have' product. The team at Elite Advertising created unconventional ads and advertised the desired message to their customers. While signing on new clients can be a lengthy procedure that can take up to three years, nine targeted businesses have been in contact with the client and are currently in the sales pipeline. All this progress was possible with just a small fraction of the revenue generated. "We harnessed the power of LinkedIn Advertising and our skill set to help these companies revamp their approach and brand. For the first client, we advised them on their content and conducted their whole campaign performance marketing on LinkedIn. For the second client, we did all their content. We provided videos and graphic images along with copywriting. We also did campaign performance marketing for them. That means we are testing, analysing, using different strategies, and reporting on all the different campaigns," reveals Daniel.
Journey of Inception
Daniel's deep passion for B2B marketing led to Elite Advertising being born. He tried his hand at both B2B and B2C marketing and decided to pursue the former. The B2B segment is massive with high-priced products and solutions, making the customer journey that much harder, thus demanding advanced strategies to be put in place. Having studied this market, Daniel proceeded to test and analyse different social channels. While other social platforms, especially Facebook, churned out a host of leads, the conversion ratio was low compared to LinkedIn, which produced fewer but quality leads.
Moreover, LinkedIn targeting options are precise compared to any other advertising platform. One can even select the industry they would like to dive into. Daniel explains, "A lot of companies are still not looking at price per quality lead, which is the key metric we need to focus on. Their chances of success were better on LinkedIn than on other online platforms. So it made sense to us to direct all our focus on LinkedIn and become better on that platform. That is why we specialise in LinkedIn advertising. That was about two years ago. From there on, we have grown and continue to grow."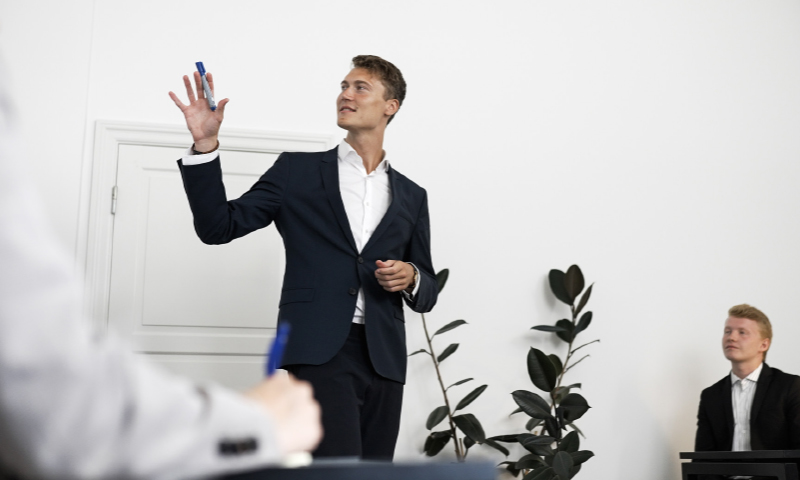 Dishing Out Much Needed Advice
Today, Elite Advertising is a proud team of 10 expertly skilled individuals and continues to grow. The company strives to stay abreast of market trends and promote employee engagement by networking within the team and sharing best practices. Daniel shares words of advice to young budding startups: "Use the Sales Navigator to save all the leads that are in your sales pipeline of the companies you would want to work with. You can save them as a particular target audience. Having established the organisation's presence through quality ads, the team can then connect with their audience. By then, they would have seen your ads everywhere. They would know who you are. I think that would be a good way of starting out."
Another strategy Daniel recommends, especially if they have a high lifetime value for a customer, is using account-based marketing. This approach is extremely specific and can prove to be very effective if done correctly.
Daniel, an advocate of creative advertising, shares his experience with us on how he and his team helped a business within the insurance industry connect with another company they wanted to partner with. The company had already tried and failed to connect through cold calling and messaging. Coming to their aid, Elite Advertising designed and developed an image with the company logos and the benefits of working together and ensured it reached the key decision-maker. "It was a success! They actually got a meeting with them," proclaims Daniel.
Having made significant advances in this domain, Elite Advertising envisions becoming the topmost leader amongst the LinkedIn agencies worldwide and diligently working toward it every day.
For More Info: https://www.eliteadvertising.dk/en
Related Articles