Mariana Torres is the Co-founder and CEO at Diversa Jobs. She is an Influencer Top Voice 2022 and Women In Tech LATAM Awards Finalist. She is also the Co-author of the book "Those Letters that women would like to have received before joining in the business market".
Recently, in an exclusive interview with Digital First Magazine, Mariana shared her insights on the post-pandemic labor market trends in Brazil, source of inspiration behind establishing Diversa Jobs, significant career milestones, personal role model, words of wisdom, and much more. The following excerpts are taken from the interview.
What is the labor market trend in Brazil, especially after the COVID-19 pandemic?
We have observed a strong trend in ESG practices and actions aimed at Diversity, Equity and Inclusion, related to maintaining people's relationship with labor. Both organizations and professionals are more aware of these issues. In this post-pandemic moment, there has been discussions about the future of labor, psychological well-being, and a search for balance between personal and professional life – strong trends nowadays, especially in the new generations.
When it comes to entrepreneurship, what are some of the main challenges faced by leading companies when doing business in Brazil?
Among the main challenges there is the lack of education for entrepreneurship: the culture and stimulus for entrepreneurship in schools are scarce and mostly absent. We also have high tax rates and for many people the high tax burden paid by entrepreneurs is considered a true nightmare, plus an excess of bureaucracy for both starting and maintaining companies. Brazil is one of the most bureaucratic countries in the world.
Mariana, please tell us a little about yourself, experience and areas of interest.
I am master's woman born on the outskirts of Rio de Janeiro, psychologist, Master in gender and diversity studies in the University of Málaga (Spain), specialist in social development and master's student in business administration. I am co-founder and CEO of HRtech Diversa Jobs, a startup that works on diversity and employability, in addition to being LinkedIn Top Voice, Finalist of the Women In Tech Award LATAM 2022 and Co-author of the book "Those Letters that women would like to have received before joining in the business market". Since a very young age, I have been interested and studied to understand human diversity and how complex and great it is. My goal is to enable a more equitable and fairer path for people and much more innovative for organizations. As an extra professional interest, soccer is a passion. I'm a great spectator, but a terrible sport athlete.
What was the inspiration behind establishing Diversa Jobs? What is the company's mission and vision?
Brazil is the country with the 10th largest economy in the world, but unfortunately with great socioeconomic inequalities and this, of course, is also reflected in the corporate environment. Organizations still lack diversity and inclusiveness, which means that talented professionals belonging to minority groups do not have opportunities to have access to the market. Diversa Jobs' mission is to make Brazilian companies incorporate the power and diversity of the Brazilian people.
In your current role, what kind of challenges do you face and how do you overcome them?
Diversity and ESG, for many people in the corporate world, is very attentive only to issues of socio-environmental commitment. We have a long way to go for companies to understand that DEI has to be a strategic area that permeates all sectors. This affects areas such as employer marketing, customer relationships, employee well-being, productivity and of course, the bottom line. One of the ways I overcome these challenges is by demonstrating to executives that Diversa Jobs can make their teams more heterogeneous, keeping up with market changes and trends, which means better financial results.
In your opinion, what initiatives can be taken to promote quality employment in Brazil?
Quality employment involves identification. I've seen great professionals rejecting offers because they don't feel identified with the company offering, and this has been very latent lately, especially among younger people. A few years ago, these issues were not so important, but there is an increasing awareness that work-related factors affect the health, economic, social, and psychological well-being of workers. People want to feel respected and welcomed in an environment based on their principles. This is where corporate practices, plans and policies can promote quality employment, gathering the best talents.
What's the one thing you've accomplished in your career that you're extremely proud of?
At Diversa Jobs we have given opportunities to people who could not even dream of. "I've never believed that I could be running in a selection process at this company" I was told once by one of our candidates. With great pride, we have a double impact: at the same time that we generate social impact, access to work, and income for people from minority groups, we also make the companies more diverse, innovative, and profitable. All of this gave us, in 2022, the great title of one of the startups with the greatest socioeconomic impact in Brazil, according to the Ministry of Economy.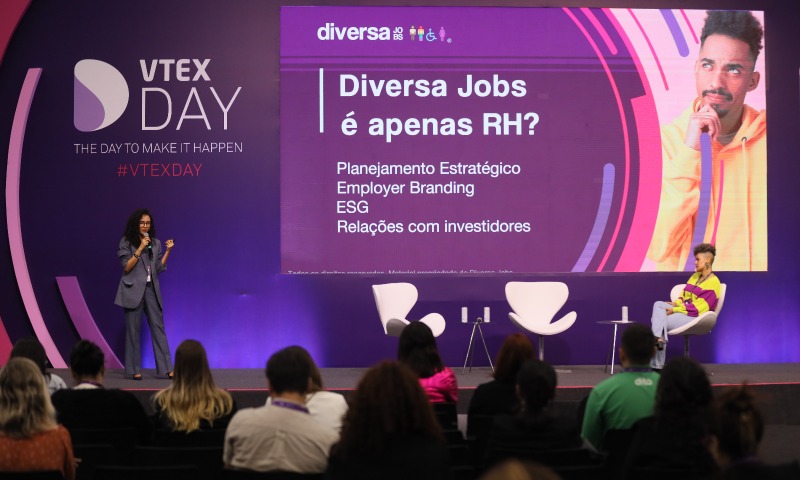 Can you name one person who had a great impact on you as a leader? Perhaps someone who has been a mentor to you? Why and how did this person impact your life?
Maybe she doesn't even know it, but Maya Colombani, Chief Sustainability & Human Right Officer L'ORÉAL plays an important role in my story. During a meeting she mentored me on leadership, career, and self-knowledge. Maya said, "I'll do for you what they did for me when I was starting out" and took her time giving me advice on how I could improve. It was a very significant moment for me both personally and professionally. She is certainly a leader whose generosity and professional career inspire me.
What is the one lesson learned that is unique to being a female leader?
Being a woman and occupying a leadership position means always having to demonstrate twice as much to get half, and this can often be tiring. Being a female leader is not easy anywhere in the world, but in Brazil it becomes especially difficult because we are still far from envisioning gender equity, especially in organizations. Less than 30% of leadership positions are held by women. So, in this scenario, I learned that it takes a lot of motivation and strength to overcome some barriers. It's not always easy, but undoubtedly, companies with women in leadership positions have superior results than their competitors.
What advice would you give aspiring professionals around the world?
It may sound very cliché, but if I could give some advice, it would be work with what moves your heart. I know it's not always possible, but acting in something that really makes sense to your life is infinitely rewarding. Besides, of course, never forget to seek a balance between personal and professional life. Work is part of life; it IS not life.
Related Articles