For Geeta Singh, establishing The Yellow Coin Communication (TYC) office in one of the most bustling commercial spaces in the national capital – Jasola, was the most significant milestone she achieved in recent times. "It matters a lot because I started TYC communication with just one other employee besides me in a room of 64 square feet. Now we have our own office space sprawling over 2500 square feet and a strong team of 30+ consummate professionals," shares Geeta. Besides, Geeta is also proud of TYC's overseas expansion. The firm has opened another branch in Estonia, Europe, to bring its top-notch communication services to foreign clients.
From then to now…
The genesis of TYC Communication was humble as it can get. It started with just Rs. 50,000 arranged from friends and family in a room of 8×10 feet served as the office. There was only one other employee besides the founder and one client. However, its unwavering commitment to quality soon spread the word about the organisation, and the business started booming. With growth and hard work as the only constants at TYC Communication, it has been on an upward trajectory since its inception.
Despite the growth that TYC Communication has experienced in recent years, according to Geeta, the journey had its fair share of setbacks. "One incident that comes to mind is when someone from the inside decided to betray the company. They left the company and convinced most of the workers to leave with them. It was a very crucial time for us. Still, thanks to the support I got from my employees, friends, and family, I managed to keep the organisation on its feet. What was once an extremely stressful situation is just a funny anecdote now. I must put it on the record that I hold no grudges now; life's too short for that," recounts Geeta. Regardless of the type of business, every firm is bound to run into an obstacle. The same happened with TYC Communication. However, looking back at that incident as a part of the journey, Geeta believes that it has only made her even stronger.
Geeta says, "I have always made it a point to surround myself with people who are better than me. It strengthens the organisation and allows me to learn and get better." Unlike typical Indian bosses, Geeta is not an advocate of micromanaging. Instead, she lets people take responsibility and trust in their abilities to get the desired results. "That's what I do, and it has worked wonderfully for me. I only intend to keep them motivated and help them see the bigger picture," pinpoints Geeta.
Women as leaders in India
Being a leader is all about standing on the frontline. That's what it means to lead, and that's what inspires people to follow. As a leader herself, Geeta always tries to make a conscious effort to stay in touch with the ground realities of TYC while juggling her executive responsibilities. "I have always believed that as a leader, it is my job to motivate my people so that they can become the best version of themselves. We may not notice it, but the leader's emotional state always reflects on the team's emotional state," opines Geeta.  With confidence, passion, enthusiasm, and dedication, Geeta continues to inspire people.
"As per the sixth economic census conducted by the Ministry of Statistics and Programme Implementation (MoSPI), women comprise as much as 13.76% of the total entrepreneurs in India," states Geeta. The statistic speaks for itself. Indeed, there are very few women in leadership roles in our country. However, Geeta believes that the tide is shifting now, as more women like Geeta are entering the industrial space with the determination to lead. She says, "If we want to increase the number of Indian women in leadership roles, we need to focus on their education." Education empowers a person to break their shackles and soar high in the sky. "We also need some structural reforms and government support. Thankfully, the current government has launched many schemes like Bharatiya Mahila Bank (BMB) business loan, Stree shakti Package, Orient Mahila Vikas Yojana, Dena Shakti Scheme, Udyogini Scheme, and Cent Kalyani Scheme, among others, which offer Indian women a shot at entrepreneurship," she adds. Hopefully, with this kind of active support and changing the societal mindset regarding gender roles, India will see more women in leadership roles.
On juggling through in the Media and Advertising Industry
As an SME leader, Geeta says that there is no fixed schedule that one can follow. She dedicates all waking hours to her work. "My day starts as often as 6 in the morning. It lasts till 10 or 11 or sometimes even later in the night. To be completely candid, I do not stay calm all day, as much as I'd like to. I always find myself a bit overcharged," shares Geeta. However, Geeta knows that she has to deal with pressure in a much better way over the years and tends not to snap anymore like she used to back in the day. She listens to motivational videos and spends time reading while introspecting and finding solutions by partially isolating herself.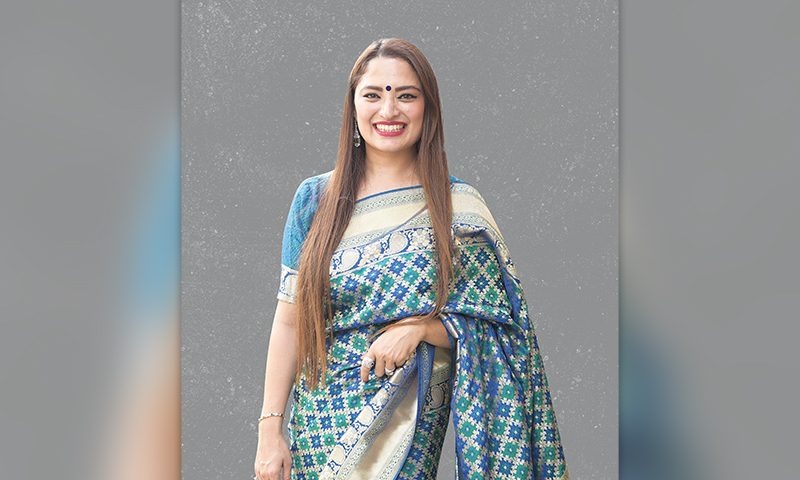 "It is a wonderful feeling, and it is a position that I have secured for myself through a lot of hard work and perseverance," says Geeta. She thinks that the industry has become a lot more receptive to women leaders. There are plenty of opportunities for young women entrepreneurs who dream of leading their organisation someday. "To them, I would say, listen to your heart! Listen to your heart and block out every negative remark and comment. The world is full of naysayers, but if you know deep down in your heart that you can do it, then, believe me, you can!" says Geeta.
Afloat amidst the Pandemic
The biggest problem for most businesses has been liquidity. As soon as the lockdown was imposed, many sectors suddenly witnessed a drop in their footfalls as people became stingier in terms of spending their money. Then came the challenge of retaining employees, keeping the business going despite abysmal circumstances. As a desperate measure for staying afloat, many organisations had to resort to pay-cuts and layoffs.
However, TYC Communication was partly shielded from the pandemic's fallout because its domain doesn't require it to work in the field exclusively. The work-from-home model allowed them to function, even when the situation got tough, and as a leader, Geeta made sure to stay in touch with her employees and keep them motivated. "We regularly organised zoom call meetings and interacted virtually with each other to maintain a sense of community and teamwork. We also conducted virtual talent hunts and games to boost employee morale. I would also like to thank my team for staying by my side during such a difficult time and taking responsibility for keeping the organisation alive." she adds.
Plans for TYC Communication
Today, TYC Communication has established itself as a reputed communications agency in the country and are looking forward to undertaking government projects to test its mettle. The team is also focusing on further overseas expansion. The firm's research and communications team is continuously studying the European market and charting the organisation's best course of action. TYC aims to offer its unparalleled services to clients in Europe and hopefully worldwide soon. "With our excellent business network, unparalleled PR and Digital Marketing services, and a team of dedicated professionals, we aim to help business organisations get the coverage they deserve," concludes Geeta.
Related Articles