CP Lee is a technically sophisticated and award-winning executive leader with an impressive 20+ years of dynamic experience leading engagements with potential and existing partners to source new business, inspire customer loyalty, and positively affect the top and bottom lines. He is the Chief Technology & Operations Officer at Mola, an upstart Indonesian TV streaming company.
Over the years, Lee's leadership journey has been focused on digging deep and self-discovering not just the how but the whys of things being done, technically and emotionally. Being true, authentic, and believing that nothing is impossible are the secret mantras behind Lee's successful career trajectory.
Humble Beginnings
Coming from a humble background, Lee studied in a simple school. He was, however, an academically bright student with a keen interest in science and technology. In college, Lee pursued a bachelor's degree in Computer Technology and a master's degree in Applied Sciences from Nanyang Technological University Singapore. He embodied all the key attributes necessary for a leadership role: honesty, focus, empathy, courage, and good listening skill. With encouragement from his lecturers, mentors, and companions, he transitioned from an introvert to an extrovert and began participating in various student leadership programs. For Lee, this was just the beginning. The tech world was his oyster, waiting to be shucked.
In 1997, Lee began his career as a research scholar at his alma mater, Nanyang Technological University Singapore, one of Asia's top universities. Afterwards, he worked with world-renowned companies such as Apple, Motorola Solutions, HBO Asia, and WarnerMedia. The diverse industry exposure presented itself as a unique opportunity for Lee to become widely acquainted with the different worlds, but a common underlying theme existed, i.e., change and transformation. In each professional role, he proved to have a keen aptitude for taking ownership of highly critical and visible projects and delivering optimal results in a fast-paced, deadline-driven environment.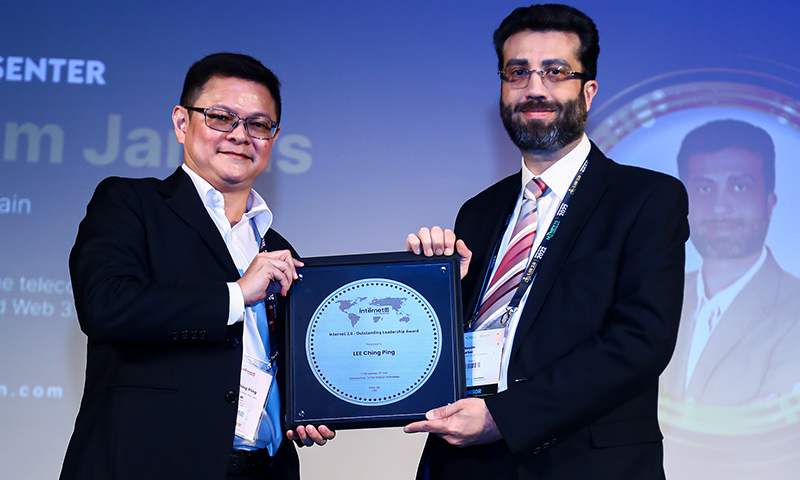 Leading Mola to Greater Heights of Success
In early 2021, Mola approached Lee to transform the development of its technology strategy and product roadmap. Recalling that time, Lee says, "Mola came as a unique opportunity to do something different and exciting, with the chance to help a domestic player trying to break into the international market." He further states, "For a CTO, it's not just about technology – it's about operational efficiency and performance. The will to make changes, juggling with risks while prodding on the way, is a fine act of balancing between innovation, stability, and efficiency."
Never being afraid to take on new challenges, Lee confidently took on the role of Chief Technology Officer and soon became an integral member in driving the company's success. As the CTO at Mola, Lee enabled the swift and successful expansion of the company's global footprint by creating and fostering a borderless workforce. He also spearheaded the launch of go-to-market strategies that yielded a 50% increase in consumer traffic across four distinct markets. He propelled the Mola app for the first time into the 'Top 10 OTT (Entertainment) Apps by Average MAU' chart in Q3 2021 by data.ai.
A year later, Lee assumed the role of Chief Technology & Operations Officer at Mola after leading the 3 divisions in the organisation – Technology, Content Management & Distribution and Operations Support. His responsibility now extends to optimising and developing media operations strategy, customer service, and compliance.
Mola: Indonesia's Fastest-Growing Entertainment Network
Incepted in 2019, Mola is an Indonesian subscription video-on-demand and over-the-top streaming service headquartered in Jakarta. The platform provides live sports content via mobile apps and set-top boxes to deliver live EPL matches on every screen, guaranteeing a superior viewing experience for fans. In a short period, Mola has become one of the fastest-growing entertainment networks in Indonesia and holds live and on-demand broadcasting rights for major sports competitions, including Premier League in Indonesia and Timor Leste.
What truly sets Mola apart from other market competitors is that it is far more than just an OTT platform. It is a finely curated blend of offline and online contributions and engagement with its users. Coupled with online outreach of shows, concerts, and live events, Mola is also heavily invested in offline sports involvement, music concerts, and physically bringing the best of Indonesia to the world stage through grooming new football players and/or MMA fighters.
While commenting on Mola's performance, Lee asserts, "Technically, the platform had achieved unparalleled stability compared to when we first started the revamp." He further adds, "Features enhancement such as 4K and Dolby has been progressively added to the platform to delight our users." Likewise, many unseen improvements have continuously been added to the platform to provide users with a seamless and pleasant experience, keeping them more engaged on the platform than ever before. Owing to this, viewership has been consistently improving since the multitude of UI/UX enhancements has been deployed under the charter of the new team.
Leadership Perspective
At Mola, Lee prefers to be a guide and teacher to his team members. As the saying goes, the teacher appears when the student is ready. Similarly, Lee's key role is to provide the correct guidance and offer the correct teachings to those who are willing to listen and learn. He strongly feels that leadership is not a given but a path not lightly taken and moulded.
When motivating his team members, Lee feels that different things encourage everyone differently. "The key is to be true and authentic in our dealings with the team so that there is full understanding and trust to be built into a cohesive team," explains Lee.
Stimulating Innovation Among Team Members
According to Lee, giving team members the freedom to speak, discuss, and be authentic are the keys to keeping innovative ideas flowing. He also feels that there are no stupid ideas, just bad implementations.
As Mola traversed through many adversities, from the instability of the original platform to the sub-standard planning of distribution, its technology and operations team regularly connected and collaborated despite the challenges of the pandemic, where physical meetups became impossible. They displayed the spirit of defying all odds.
A Day in the Life of a Tech Leader
Lee's day at work is anything but typical or boring. When one milestone has been successfully achieved, or a disaster averted, some new challenge or target appears before him. However, this has made his daily life very challenging and exciting – never a dull moment- and also helps keep the adrenaline pumping constantly.
Pearls of Wisdom
"Be true, be fair and be kind – a mandate I follow since, regardless of whether in a leadership position or otherwise," shares Lee.
For More Info: https://mola.tv/
Related Articles