Based in Austin, Texas, SkyGrid, a Boeing, SparkCognition company, is powering the next generation of unmanned aviation. As the only airspace management system built on AI and blockchain, SkyGrid is solving the industry's biggest challenges by integrating unmanned aircraft in the global airspace and executing autonomous operations at scale. It enables a wide variety of commercial drone operations, from package delivery to emergency assistance.
"At SkyGrid, our vision is to become the world's most trusted airspace management system that integrates all unmanned aircraft in the global airspace safely and intelligently," shares Zehra Akbar, Chief Strategy Officer, SkyGrid.
The Inception Story
It all began in 2018 when the advancements in unmanned aerial vehicles (UAVs) were underway. Looking towards a future where there are not just hundreds or thousands of aircraft occupying the skies but billions of UAVs of all sizes fulfilling commercial and personal transport missions, two companies recognized a gap in the industry. SparkCognition and Boeing knew that a comprehensive system to safely integrate and manage unmanned aircraft in the global airspace would be essential for urban aerial mobility.
To address this gap, Boeing and SparkCognition joined forces to form SkyGrid, an airspace management system focusing on innovation, agility, and, most importantly – safety. By combining Boeing's deeply rooted experience in the aerospace industry with SparkCognition's advancements in artificial intelligence, SkyGrid was born to build the digital infrastructure that accelerates the next generation of autonomous aviation.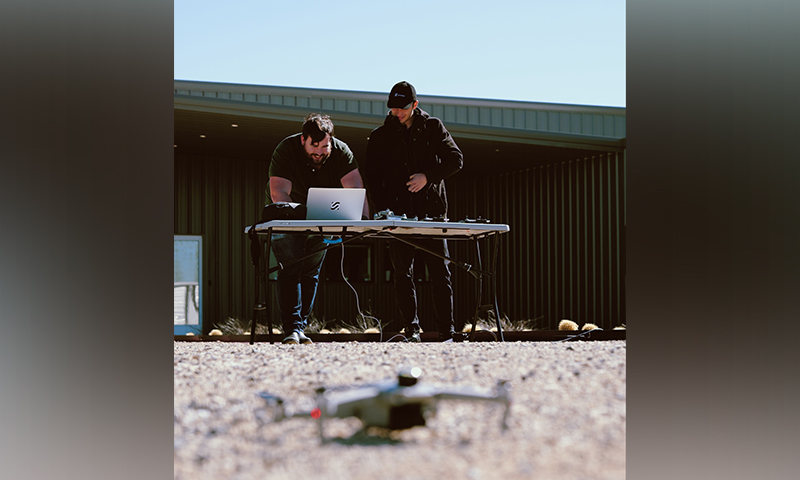 Service Offerings
SkyGrid's AerialOSTM is an airspace management system for drones, air taxis, and other unmanned aircraft. This system combines airspace awareness, flight planning, and fleet management in one integrated solution to execute autonomous operations at scale. The AI-powered map provides 2D and 3D visualizations of rich data layers, including airspace traffic, flight restrictions, weather forecasts, obstacle data, and much more. The AI-powered routing and deconfliction technology also autonomously adapts unmanned flights to avoid hazardous conditions and other aircraft.
Next comes the SkyGrid Flight Control™ application, which was launched globally in 2022. The all-in-one drone application makes it easy for operators and enterprises to explore the airspace, automate flights, and get real-time insights as one integrated solution, enabling safe, secure, and efficient operations. The SkyGrid Flight Control app features and functionality include airspace intelligence, weather layers, automated flight planning, real-time airspace authorization, and autonomous flight execution. What makes SkyGrid Flight Control app unique is being the only free (on the Apple App Store for iPhone and iPad users), all-in-one solution that is highly automated and powered by AI and blockchain.
Filling the Unaccounted Gaps with AerialOS™: The All-In-One Unified Platform
Even today, systems remain largely disconnected and rely on humans to manually plan their flights, comply with regulations, and adapt to changing conditions. Built on AI and blockchain, SkyGrid offers a smarter airspace management system to fill the gaps unaccounted for in traditional UTM solutions. SkyGrid's AerialOSTM monitors, predicts, and adapts to changing conditions to intelligently route, synchronize, and maintain unmanned aircraft.
For instance, in automated flights, AI algorithms can be trained to calculate the optimal route for one or more drones based on the mission parameters, such as the start and end point, desired cruise altitude, timeframe, and payload details. The AI models will monitor, predict, and adapt to changing conditions during the flight. Similarly, regarding regulatory compliance, blockchain augmented with smart contracts can encode the airspace rules, such as flying 400 feet below during daylight hours, as mandatory parameters in a flight planning system. Organizations can also use this technology to set additional company-wide safety standards for their commercial drone operations. Likewise, predictive AI technology can remove the burden on operators by analyzing sensor data across the client's fleet and flagging suboptimal operations. The blockchain technology, augmented with smart contracts, can also ensure the maintenance request is resolved and signed off by a technician's private key before the drone can operate again.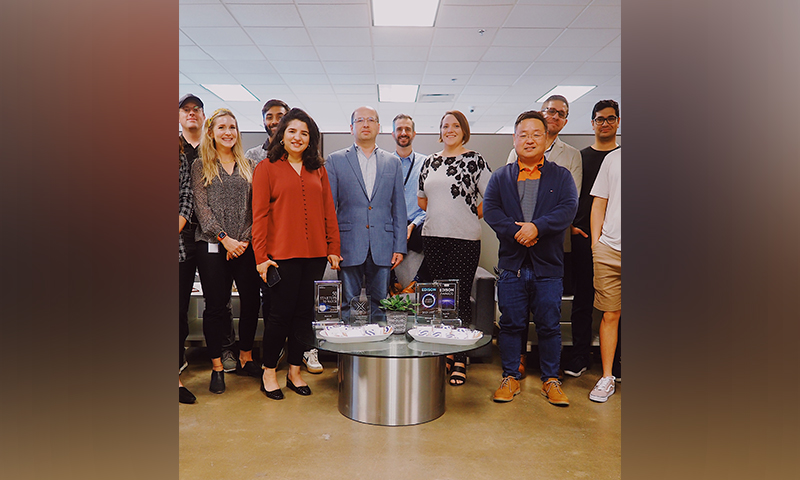 How Does SkyGrid Make the Airspace Safer?
SkyGrid incorporates and displays data layers from population density, weather, traffic patterns, flight tracking, and many others. This allows an operator to select a combination of data sources to create a custom situational awareness picture that suits their needs to operate most effectively and safely in the national airspace. Moreover, its unique AerialOS helps maintain the safety and security of airspace. AI algorithms can analyze crucial data required to make a safe flight, such as airspace traffic, weather forecasts, roadway traffic, and vehicle performance, among many others, to automatically generate optimal flight plans and autonomously route and reroute flight paths as conditions change.
At the core of SkyGrid lies digital ledger technology (DLT) that ensures the immutability and audit ability of the system. Blockchain technologies allow the platform to have an immutable log of all operations. Besides, smart contracts ensure that only mission-safe drones take flight. User-specific private keys ensure that the system is guarded against the unauthorized use of drones. Concisely, DLT provides regulators and organizations with the level of trust, safeguards, and traceability that aerial operations must maintain.
Key Partner Benefits
SkyGrid Flight Control provides value for both drone operators and enterprises. For drone operators who need to gain access to airspace and automate flights in the field, SkyGrid Flight Control automates flight authorization, planning, and execution in one end-to-end workflow. And for enterprises looking to deploy, manage, scale, or remotely manage their drone operations, SkyGrid Flight Control enables complete operational oversight, mission planning and rerouting, multi-drone missions, custom object detection and counting, micro-weather, geofencing and alerts, remote automation from the office, and more. SkyGrid uses AI and blockchain to provide a more intelligent, complete drone operating system, unlike existing UTM and fleet management solutions.
Apart from this, SkyGrid Flight Control is disrupting a wide variety of industries. It allows health officials to monitor social distancing in public places during the pandemic. It enables emergency teams to quickly assess damage following a natural disaster and inform a more effective response. It also allows wildlife managers to monitor endangered animals and protect them from poachers. And it enables security teams to survey critical infrastructure and identify intruders that may pose a security threat.
Keeping Customers Happy & Loyal
SkyGrid employs various strategies to ensure clients are delighted with its airspace management system, including providing excellent customer support and actively gathering customer feedback to improve the customer experience. The company prioritizes prompt and effective customer support through multiple channels, such as a customer support portal and emails. SkyGrid also actively seeks customer feedback through surveys and other forms of feedback collection to better understand the client's needs and expectations. This allows the company to improve the customer experience and address any issues resulting from which clients continue to bestow their trust on SkyGrid time after time.
Following are some of the client testimonials. RaySharp said, "SkyGrid Flight Control is a great app that will prove useful when preparing for work or fun. I love the available map layers, and the UI works great. SkyGrid has done a great job of recognizing and improving issues." Likewise, SmartSpice 3 shared, "I've been a part 107 pilot for a few years and have used several other apps in the market. But SkyGrid Flight Control is the best functionality free of cost app. I really like the flight planning capability."
Creating a Dynamic, Innovative, & Engaged Workforce
"At SkyGrid, we understand and respect the importance of work-life balance and the benefits of having the flexibility to work from home a couple of days a week," shares Zehra. "That is why we have adopted a Hybrid schedule so that employees can still enjoy the camaraderie that in-office coffee talk brings while also taking advantage of skipped commute days and quiet days at home to focus."
Moreover, SkyGrid places a strong emphasis on transparency and open communication. There are all-hand meetings where SkyGrid's leadership team shares information about the company's performance, strategy, and upcoming initiatives. Similarly, SkyGrid focuses on employee empowerment and provides team members the freedom and resources to make decisions and take ownership of their work.
Another management idea that SkyGrid practices is fostering innovation. The management sets a clear vision for innovation by emphasizing the importance of experimentation, encourages employees to think outside the box, and rewards those who come up with innovative solutions. These management ideas help SkyGrid create a more dynamic, innovative, and engaged workforce and better serve its customers and achieve business goals.
Effective Marketing Strategies
One of SkyGrid's key tactics is digital marketing, which involves utilizing search engine optimization (SEO), pay-per-click advertising (PPC), social media marketing, and email marketing to drive traffic to the company's website or landing page. In addition to digital marketing, SkyGrid also utilizes content marketing, event marketing, and influencer marketing. By implementing all these strategies, SkyGrid has effectively reached potential clients and promoted its airspace management system that integrates all unmanned aircraft in the global airspace.
Furthermore, the team of SkyGrid recommends tech startups experiment with different marketing tactics and measure their effectiveness to determine which ones work best for their companies.
Something Exciting is Coming Soon
The team of SkyGrid is working towards enabling its long-term mission to help passenger-carrying flights and better enhance its current small UAS operations. "We are currently working on something exciting and, more importantly, something crucial that the industry requires to move forward, so stay tuned with SkyGrid," concludes Zehra.
For More Info: https://www.skygrid.com/
Related Articles