Carl Anthony Osborne, a visionary leader in the realm of health information technology (IT), has spent over a decade and a half revolutionizing electronic health records (EHRs) and spearheading the development of cutting-edge mobile applications and clinical user dashboards. With a remarkable track record and an unwavering commitment to improving the healthcare landscape, Mr. Osborne has emerged as a revered expert in healthcare application development and HL7 FHIR APIs. His contributions have earned him numerous accolades, including four prestigious clinical application developer awards.
As the co-founder and CEO of seeCOLe, Mr. Osborne has harnessed the power of augmented reality to create a groundbreaking health app, empowering clinicians to interact with EHRs using voice commands while seamlessly accessing patient data. Alongside his role as a health IT consultant, he has collaborated with diverse healthcare systems, working on an impressive portfolio of 23 applications for over 25 organizations. With a profound passion for reshaping the healthcare industry, Mr. Osborne's visionary work and wealth of experience continue to propel the field into a new era.
Driving Innovation in the Healthcare IT
Innovation is the driving force behind progress, and for entrepreneurs like Mr. Osborne, it holds a special significance in the health IT arena. By finding novel and creative ways to solve problems, Mr. Osborne has dedicated himself to improving the world and the lives of countless individuals. "The most rewarding part of my role as an innovative business leader has been seeing the positive impact that my ideas and products have had on people's lives. Whether it's helping patients communicate more effectively with their healthcare providers through Patient Orator or helping people learn a new language with the My Native Tongue game, seeing how my work can make a real difference in people's lives is incredibly fulfilling," says Mr. Osborne.
Moreover, as an entrepreneur, Mr. Osborne has had the privilege of assembling a team of like-minded individuals who share his passion for innovation and creating positive change. He adds, "Building a team and working together to bring new ideas to life is an incredibly rewarding experience, and I feel lucky to have been able to do so with such talented and dedicated individuals." By embracing innovation, Mr. Osborne has been able to make a meaningful difference in the lives of individuals, revolutionizing the way healthcare is delivered and experienced. Through his work and collaborations, Mr. Osborne stands as a testament to the transformative power of innovation in shaping a brighter future for us all.
The Making of an Innovator
Growing up in a culturally diverse environment, Mr. Osborne developed a strong sense of empathy and a desire to make a positive impact. His career in health IT began at a Brooklyn hospital, where he observed the challenges clinicians faced with electronic health records (EHRs). Mr. Osborne recounts, "I learned and observed how clinicians interact with electronic health records and quickly started to assess pain points and how technology might help physician burnout and improvement in healthcare outcomes."
After winning a hackathon, Osborne launched seeCOLe, an augmented reality app that integrated FHIR APIs to streamline clinical workflows. The seeCOLe app won first prize at the Oracle Health Cerner code app challenge and demonstrated how FHIR (Fast Healthcare Interoperability Resources) APIs could be integrated with devices to streamline clinical workflows. His expertise with FHIR APIs led to collaborations on applications like WellnessWits and Patient Orator, addressing social determinants of health (SDOH) and improving patient-provider interactions. Osborne's life experiences have shaped his innovative approach to health IT, making a lasting impact on the industry.
In addition to his work in health IT, Mr. Osborne expanded his innovative ventures into other domains. Inspired by his machine learning course at Duke University, he launched TAMARA (Text Analysis and Message Aide Review Assistant), an artificial intelligence app that aids in effective communication via emails, social media, and text messages. Recognizing the need for a tool that ensures clear and professional messaging, TAMARA was developed to review and refine messages, providing users with confidence in their communication.
Mr. Osborne's innovation also extended to the realm of gaming with the creation of "My Native Tongue." This project emerged from a collaboration with 1804 Media and Jonathan Calonge of Calonge Enterprises. The objective was to develop a mobile game of charades that exclusively utilized terms, phrases, and languages from players' native tongues. "It was my first time designing and developing a game. It was fun and challenging, and I am looking forward to the success of this group," says Mr. Osborne.
Throughout his career, Mr. Osborne has collaborated with top companies in the health IT industry, including Oracle Health Cerner, Epic Systems, and InterSystems, as a consultant. These experiences have equipped him with a deep understanding of the challenges faced by the healthcare sector, enabling him to develop innovative solutions that address these issues effectively. Mr. Osborne shares, "As a leader, I believe that my life experience has taught me the importance of collaboration, empathy, and persistence. I know that the best ideas often come from working together with a diverse group of individuals, and I always strive to create an inclusive and supportive environment that encourages collaboration and creativity." Mr. Osborne's career in mobile application development and health IT has been immensely rewarding. He remains committed to leveraging his skills and experience to continue making a positive impact on the world.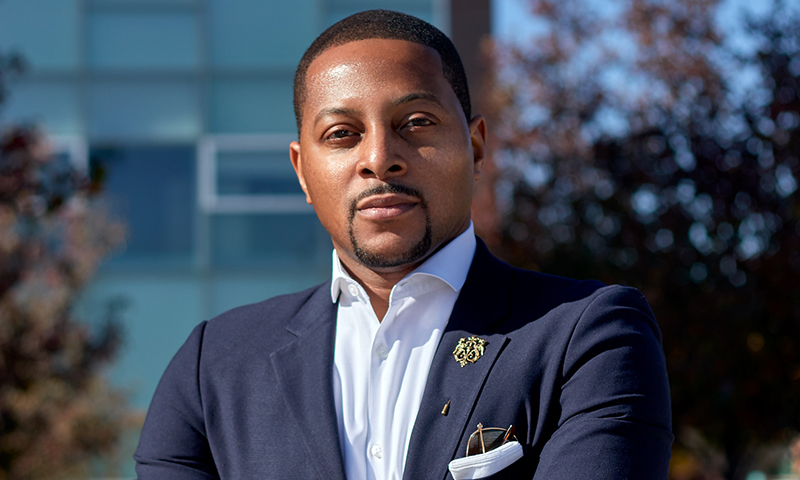 Entering Wearable Technology Sector
The wearable technology sector has experienced remarkable growth, and seeCOLe is poised to capitalize on this trend. Mr. Osborne observes, "With a projected global market value of USD 87 billion by 2027, wearables have become increasingly popular for health and fitness tracking, remote patient monitoring, and smartwatch functionalities." seeCOLe, an augmented reality solution, offers a unique proposition by seamlessly integrating with wearables. This integration empowers clinicians to access and interact with patient data through an augmented reality interface, eliminating the need for traditional computer interfaces.
"seeCOLe can save time, improve clinical workflows, and reduce the risk of physician burnout. Additionally, seeCOLe can integrate with various wearables, including smart glasses and other devices, enabling clinicians to access patient data in real-time while keeping their hands free," claims Mr. Osborne. As the demand for healthcare solutions utilizing wearables and emerging technologies continues to surge, seeCOLe's integration with wearable technology positions it as an innovative and adaptable solution. The company is well-positioned to leverage this growing market and make a lasting impact in the healthcare industry.
seeCOLe was born from Mr. Osborne's experiences as a healthcare IT consultant, observing the challenges clinicians face with electronic health records (EHRs). He assembled a team to develop an augmented reality solution that integrates with EHRs, improving clinician workflows and patient care. "Our goal was to create a solution that could integrate with existing EHRs and allow clinicians to view patient data through an AR interface. The solution had to be easy to use, intuitive, and customizable to meet the specific needs of different healthcare providers," shares Mr. Osborne. seeCOLe's launch received positive feedback, reflecting its ability to address pain poi
Disrupting the Healthcare IT Sector 
seeCOLe is dedicated to enhancing clinical workflows and patient care through its augmented reality (AR) technology solutions. Its flagship product integrates seamlessly with electronic health record (EHR) systems, providing clinicians with real-time access to patient data in an intuitive and efficient manner. By minimizing the time spent on EHR interaction, seeCOLe enables physicians to prioritize patient care, reducing the likelihood of burnout. The solution enhances patient outcomes by offering critical information at the point of care, facilitating quicker decision-making and personalized treatment plans.
"In addition to our AR solution, seeCOLe also offers consulting services to healthcare providers looking to implement innovative technology solutions in their clinical workflows. Our team of experts works closely with clients to assess their needs and identify opportunities for improvement, offering customized solutions tailored to their specific requirements," says Mr. Osborne. seeCOLe differentiates itself by offering user-friendly and customizable solutions that seamlessly integrate into existing clinical workflows. Mr. Osborne and his team remain at the forefront of emerging technologies and healthcare trends to ensure their solutions are cutting-edge and impactful. "By prioritizing customer satisfaction and focusing on continuous improvement, we aim to establish seeCOLe as a trusted and innovative leader in the healthcare technology space," he adds.
seeCOLe partners benefit from a range of key advantages. Firstly, its augmented reality (AR) solution optimizes clinical workflows by streamlining EHR interaction, reducing physicians' time spent on administrative tasks, and allowing them to focus more on patient care. This improved efficiency leads to enhanced productivity and a more seamless clinical experience. seeCOLe empowers clinicians with real-time access to critical patient data, enabling informed decision-making and personalized treatment plans that ultimately improve patient outcomes. Additionally, seeCOLe helps reduce the risk of physician burnout by alleviating the burden of EHR documentation, allowing clinicians to maintain job satisfaction and overall well-being.
"Our approach emphasizes customization, as we closely collaborate with partners to understand their specific needs and deliver tailored solutions that seamlessly integrate into their workflows and processes. Partners also benefit from the guidance and support of our team of healthcare and technology experts throughout the implementation process, ensuring a smooth and successful deployment," states Mr. Osborne. Overall, seeCOLe's partnership promises improved efficiency, productivity, and patient care through innovative solutions, expert guidance, and a commitment to excellence.
Today, seeCOLe recognizes significant growth opportunities in the global market, particularly in the adoption of wearable technology. With the increasing use of wearable devices for health monitoring, there is a rising demand for solutions that can effectively analyze and utilize the generated data, making seeCOLe well-positioned to meet this need. "Ultimately, our goal is to become a leading provider of healthcare technology solutions worldwide, and we are committed to investing in the people, technology, and infrastructure necessary to make this happen. We believe that our innovative approach to healthcare technology, combined with our deep expertise in the field, will enable us to achieve our goals and make a lasting impact on the industry," pinpoints Mr. Osborne.
Expanding strategically, seeCOLe is actively forming partnerships and targeting key markets, including the European market, through its involvement with the Caelestinus Central European FHIR Health Tech Incubator. Additionally, seeCOLe is continuously developing new products and services to stay ahead of competitors and address the changing requirements of its clients.
An Inspiring Innovator
As the founder and CEO of seeCOLe, Mr. Osborne is seen as a leader due to his unwavering passion for the company's mission. His strong belief in the transformative power of technology in healthcare inspires others within the organization. "I also believe that my ability to lead by example is something that inspires others. I am always willing to roll up my sleeves and work alongside my team to tackle whatever challenges we face," says Mr. Osborne.
Moreover, Mr.  Osborne's commitment to innovation and creativity sets him apart as a leader. He constantly seeks new and improved ways to address healthcare challenges, encouraging his team to think beyond conventional boundaries. By fostering a culture of innovation and embracing creativity, Mr. Osborne aims to drive positive change not only within the healthcare industry but also in other spheres. He adds, "By fostering a culture of innovation and creativity, I believe that we can continue to drive positive change in the healthcare industry and beyond."
As a leader, Mr. Osborne prioritizes the creation of a supportive and inclusive environment where every team member feels valued and empowered to contribute their unique ideas and skills. He explains, "I also believe in leading by example and being a positive role model for my team. This means being transparent and honest in communication, showing empathy and understanding, and actively working to build trust and respect among team members." At seeCOLe, Mr. Osborne creates a safe space for brainstorming, values diverse perspectives, and provides the necessary resources and support for innovation to thrive.
Mr. Osborne has a busy and varied working day. He starts early, checking emails and addressing urgent tasks. His time is primarily dedicated to consulting projects with healthcare systems, app maintenance, and participation in industry events. To manage the workload, Mr. Osborne prioritizes tasks, stays organized with tools like calendars and to-do lists, and takes breaks for family, reading, and running to recharge. "In addition to my consulting work and app maintenance, I also participate in the Caelestinus, Central European FHIR Health Tech Incubator accelerator and hackathons to stay up-to-date on emerging technologies and industry trends. For example, I am currently working on an augmented reality and scanning eCommerce solution for the Square Developer Hackathon this summer."
Mr. Osborne advises leaders to prioritize communication, collaboration, and empathy. He states, "Good leaders must be able to effectively communicate their vision and ideas to their team members while also being open to feedback and new perspectives. Collaboration is key to fostering innovation and driving success, and it is important to create an inclusive and supportive environment where everyone feels valued and heard. According to Mr. Osborne, continuous learning and staying updated with industry trends are vital. Upholding values and making decisions in the best interest of the team, clients, and community is essential. "Finally, always remember to stay true to your values and principles. As a leader, you have the power to make a positive impact on the world, and it is important to use that power for good," adds Mr. Osborne.
Goals for the Future
Mr. Osborne is currently focused on several key projects and goals. One of his main priorities is expanding the company's reach into new markets and growing the customer base. This involves developing strategic partnerships, attending industry events, and staying updated with the latest trends in the health IT space. "I am focused on further developing and enhancing our existing products and services, including our FHIR-based API platform and our AI-powered communication tools. This involves working closely with our development team and collaborating with healthcare providers to ensure that our solutions meet their needs," shares Mr. Osborne.
Preparing for the upcoming submission to the Square Developer Hackathon, Mr. Osborne coordinates efforts with the development team to create an innovative and competitive submission aligned with the company's vision and goals. They are optimizing the artificial intelligence text solution TAMARA to incorporate exciting features and integrations. Mr. Osborne also continues to work with healthcare clients, optimizing systems, enhancing patient safety, and reducing clinician burnout while effectively capturing the patient story. "Overall, I am excited about the projects and goals that we are currently working on, and I am confident that we will continue to make a positive impact on the healthcare industry through our innovative solutions and a strong commitment to customer satisfaction," concludes Mr. Osborne.
For More Info: https://www.seecole.app/
Related Articles