The SBA 7(a) Lending Market is poised to reach a staggering $29 Billion by the end of 2023. At the forefront of this growth is iBusiness Funding, a leading technology and services provider supporting lenders with their SBA programs.  They are redefining the lending landscape through their innovative use of technology and commitment to time-tested loan underwriting methods.
"Our goal has always been to help businesses of all sizes get access to capital efficiently and transparently," says Justin Levy, CEO of iBusiness Funding. "Big changes must be made to broaden access to capital for small businesses. There is still a big disconnect between a business' credit profile and the rate and type of financing product they are offered. In the consumer lending space, borrowers will receive nearly identical offers for credit from any institution they choose to use for something like a mortgage. This just isn't the case for small businesses looking for funding, and the market has a long way to go to get there. This isn't the fault of the banks or lenders; it is entirely due to the complexity of the problem. With a mortgage, there is a single or joint guarantor, with a single piece of collateral. With a business loan, there can be dozens of guarantors, business entities, and/or affiliates, along with hundreds of pieces of collateral having many different uses for the funds, and several different income streams to analyze. If mortgage and consumer lending is arithmetic, business lending is advanced multivariable calculus. "
Unlike most FinTech companies, whose sole goal is to boil a business' financial health down into a single score, iBusiness Funding takes a comprehensive approach to loan underwriting on behalf of their lender clients. The company paints a holistic picture of a business's financial health, in many cases reviewing dozens of documents like tax returns, debt schedules, financial statements, and projections.  By using time-tested traditional underwriting methods, made faster and easier through its proprietary technology, it enables them to make informed lending decisions for their partners, and build multivariate models rooted in proven risk-predictive practices though many economic cycles that can be applied to its technology in the future.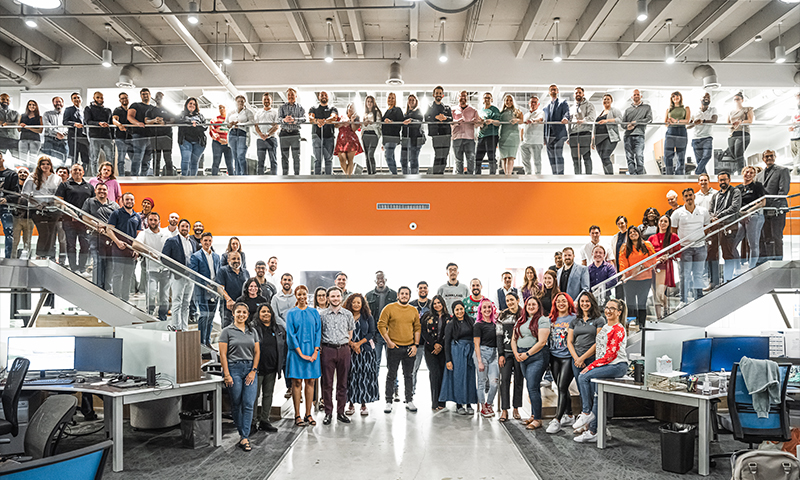 "We evaluate a business as a sum of all its parts, rather than relying solely on a single score to predict the risk for the entire business," explains Levy. "This approach not only benefits the lenders we serve, but more importantly, it helps us provide capital to the businesses who need it in an efficient, transparent, and cost-effective manner."
To achieve this, iBusiness Funding has invested heavily in technology and processes. Following its acquisition by Ready Capital Corporation in 2019, the company began revolutionizing the SBA lending space by partnering with SBA direct lenders. iBusiness Funding's initial focus was on serving the most underserved market – small SBA 7(a) loans of ≤$350,000.
"Many lenders considered these small loans unprofitable due to the extensive due diligence, reviews, and paperwork involved," shares Levy. "But we saw an opportunity to develop a system and processes that would support lenders, while enabling them to scale without compromising diligence, compliance, or prudent lending practices."
Through their meticulous approach, iBusiness Funding emerged as one of the largest processors of small SBA 7(a) loans. Their success in this segment paved the way for them to originate and fund larger SBA 7(a) loans through direct SBA participants, up to the statutory maximum of $5 Million in 2022.
The company's commitment to leveraging technology while utilizing traditional loan underwriting methods has significantly impacted the lending space. By blending AI and other technologies with a deep understanding of the products their partners provide, iBusiness Funding has not only improved the efficiency and transparency of the lending process, but also widened the opportunities for businesses to access the capital they need.  With this unique approach to loan underwriting, technology, and commitment to empowering businesses, iBusiness Funding is shaping the future of the SBA and conventional lending markets.
Partnership with Ready Capital Corporation and Success during the Pandemic
Founded in 2015 as the technology and processing arm of Knight Capital, iBusiness Funding has emerged as a leader in providing efficient and transparent capital solutions to small businesses. With a strong focus on leveraging technology and streamlined processes, iBusiness Funding has revolutionized the alternative finance industry, earning its place as a top player in the field.
In 2019, iBusiness Funding and Knight Capital caught the attention of Ready Capital Corporation (NYSE: RC), a multi-strategy lending company. Recognizing the immense potential of iBusiness Funding's suite of software and services, Ready Capital sought to leverage its expertise to enhance its SBA lending division. The acquisition marked a significant milestone for iBusiness Funding, propelling them into a new phase of growth and diversification.
"Being part of Ready Capital Corporation has allowed us to expand our reach further and bring technology-driven enhancements to the SBA and other conventional lending sectors," affirms Levy. "Together, we are focused on optimizing origination, processing, funding, and servicing, ensuring businesses have efficient access to the capital they need."
However, just as the synergies with Ready Capital Corporation took shape, the unforeseen COVID-19 pandemic swept across the United States. This global crisis presented a formidable test for iBusiness Funding's agility and adaptability. Swiftly, they rose to the occasion, recalibrating their software and processes to handle the Payroll Protection Program (PPP) effectively.
"Our team demonstrated remarkable resilience and adaptability during the pandemic," explains Levy. "We quickly modified our systems and processes to support the PPP, enabling us to process a significant number of loans through ReadyCap Lending during the first and second rounds. We were determined to provide crucial capital to small businesses when they needed it most."
A Proven Track Record of Success and Ongoing Adaptation
Over the years, iBusiness Funding has built an enviable track record, originating, funding, and servicing more than $7 Billion across a diverse array of loan products. Their commitment to delivering the right loan product and the optimal amount of capital remains unwavering. By continually adapting their processes and systems, they strive to support additional products and services, widening the opportunities available to small businesses.
"Our ongoing focus is to adapt to the evolving needs of small businesses and provide efficient and transparent capital access," states Levy. "We combine innovative technology with a deep understanding of the challenges entrepreneurs face to ensure they have the financial support required to thrive."
With iBusiness Funding at the helm, small businesses can rest assured that their goals and aspirations are supported by a company driven by integrity, innovation, and a relentless pursuit of excellence. As they continue to revolutionize the lending space, iBusiness Funding remains a trusted partner, empowering entrepreneurs to seize opportunities, fuel growth, and build a brighter future for their businesses.
Continued Innovation in Lending Solutions
iBusiness Funding offers a range of solutions in two categories: self-service and full-service, helping clients broaden capital access for small businesses. On the self-service side, their end-to-end SBA lending software, LenderAI, streamlines operations from origination to servicing, providing a streamlined and cost-effective solution.
Key highlights of LenderAI include:
Enhanced UI and reduced borrower friction: Digitized complex lending and SBA forms, seamless document collection, and integrated signing functions.
Enhanced data collection: Efficient data collection supports AI capabilities and multi-factor decision models.
Enhanced Lender UI reduces processing friction: Integrated data flows, auto-spreading, and pre-screening tools streamline the process.
Integrated ecosystem: Advanced integration with external systems like the SBA's E-Tran, Experian, Thomson Reuters and other third-party integrations.
For lenders seeking a full-service solution, iBusiness Funding's Lending as a Service (LaaS) handles the entire lending process, ensuring compliance with underwriting standards and the SBA's SOP. LaaS utilizes LenderAI and experienced professionals, providing transparency and expedited lending at a cost-effective rate.
"With our LaaS product, we provide lenders and borrowers full transparency into the lending process while ensuring compliance and efficiency," says Justin Levy, CEO of iBusiness Funding.
Empowering Partners for SBA Lending Success
Partners of iBusiness Funding gain access to a wide range of services and support specifically designed to help them grow their SBA lending business. These partnerships have several key benefits that drive efficiency, productivity, customer experience, risk management, and dedicated support.
Increased Efficiency: Utilizing iBusiness Funding's innovative software and services, partners can outsource time-consuming tasks and reduce paperwork. This streamlines the lending process, making it more efficient and reducing unnecessary delays in processing times.
Improved Productivity: iBusiness Funding's software is built to enhance productivity by eliminating manual processes, reducing errors, and accelerating the loan decision process. This allows partners to handle a higher volume of loans without compromising quality.
Enhanced Customer Experience: With iBusiness Funding's customer-facing portal, borrowers enjoy a transparent and efficient lending experience. This improves customer satisfaction and retention, benefiting partners in the long run.
Risk Management: iBusiness Funding provides underwriting and verification services enabling partners to assess borrower risk accurately and efficiently. This helps reduce loan losses and improves the overall performance of partners' loan portfolios.
Dedicated Support: iBusiness Funding is committed to providing partners with dedicated support throughout their journey. From onboarding and training to ongoing technical support, their team of experts is readily available to answer questions, offer guidance, and ensure partners extract the maximum value from their software and services.
By partnering with iBusiness Funding, lenders can leverage their expertise and experience in various lending products, including SBA 7(a) loans. This collaboration empowers lenders to enhance their operations, expand their business, and achieve their desired goals.
"At iBusiness Funding, we are dedicated to supporting our partners' growth and success in SBA lending," says Levy. "We provide a comprehensive suite of services and support to help lenders thrive in today's competitive landscape. We want to enable lenders to profitably originate and fund any size business loan, including serving the smallest of small businesses.  With our services, we ensure that happens"
Through this partnership, lenders can leverage iBusiness Funding's industry knowledge, underwriting services, and technological advancements.  This allows lenders to gain a competitive edge, at a locked in cost, while delivering efficient and transparent lending solutions to their clients.
Achieving Remarkable Success with a Client-Centric Approach
iBusiness Funding has quickly established itself as a leader in the SBA lending industry, achieving remarkable success in a short period. Within three years of implementing their LaaS (Lending as a Service) product, the volume for their SBA lending client bases has grown by an average of 900%. This growth has propelled ReadyCap Lending, the Small Business Lending Company (SBLC) of Ready Capital Corporation, to become one of the top 5 SBA lenders.
The loan volume that iBusiness Funding originates through its lending partners ranks among the top 25 producers in the entire market, all while maintaining industry-low default rates and serving underrepresented businesses.  In fact, over 65% of loans originated are for Women, Minority, and Veteran-owned businesses. Its LenderAI software platform has also experienced rapid growth with hundreds of users benefiting from its innovative features.
iBusiness Funding's commitment to client satisfaction is unwavering. They prioritize exceptional customer service and support, focusing on delivering measurable outcomes aligned with their clients' goals. With a dedicated support team available for onboarding, training, and ongoing technical assistance, iBusiness Funding ensures its clients get the most out of their software and services. They emphasize transparent communication, keeping clients informed throughout the process, and providing real-time access to loan/product information.
Justin Levy, CEO of iBusiness Funding, emphasizes the company's client-centric approach: "Our client's goals and objectives are always our top priority. We strive to deliver exceptional service, transparent communication, and the desired outcomes. Our success is directly tied to the success of our clients, and we remain fully committed to their growth and satisfaction."
With its focus on driving client success, iBusiness Funding continues to solidify its position as a trusted partner in the SBA lending space, empowering lenders to achieve their goals, streamline processes, and deliver exceptional results for their borrowers.
Expanding Small Business Lending: iBusiness Funding's Vision
According to Justin Levy, CEO of iBusiness Funding, their goal is to expand by bringing efficiencies to the otherwise highly inefficient small business lending market in the U.S.  With operations in all 50 states, iBusiness Funding leverages its dynamic workforce to provide cutting-edge solutions to bring efficiency to lenders who in turn deliver the right capital to the right businesses.
"iBusiness Funding has digitized and enhanced the document gathering, underwriting, closing and servicing process, which can bring the cost to banks and lenders down substantially – enabling them to originate smaller and different types of loans profitably" Levy states, "Our goal is to increase lenders capacity for lending through our products and services, enabling borrowers to access much-needed capital." By onboarding more lenders, iBusiness Funding strives to empower small businesses and increase the ability for traditional lending to compete with FinTech companies.
Levy highlights the challenges faced by small businesses in the current lending market, saying, "Many small businesses are forced to turn to FinTech lenders because they are not able to get financing from traditional lenders, mainly because those lenders cannot profitably offer them financing options.  When they do fund with a FinTech, they often pay higher rates for the funding than they would through a traditional lender, because the FinTech's "single score" underwriting methods ultimately result in higher fees for their borrowers.  Traditional underwriting has stood the test of time and has shown resilience through many market cycles and downturns. During the pandemic, hundreds if not thousands of FinTech lenders failed.  If it wasn't for  the PPP stimulus package, almost all of them would have gone out of buisness. Cutting corners on underwriting and regulatory oversight isn't the answer, making conventional underwriting methods faster and easier through technology is."  iBusiness Funding aims to level the playing field and push for transparency and efficiency similar to what has happened in the personal loan market.
As iBusiness Funding expands its reach, Levy affirms their commitment to transforming the small business lending landscape. "We are dedicated to creating a thriving environment for entrepreneurial success, which is the backbone and main competitive advantage of the U.S. economy," he states. By providing access to capital, enhancing transparency, and empowering borrowers and lenders, iBusiness Funding seeks to revolutionize small business financing.
iBusiness Funding's Marketing Strategies: Reaching Out to Potential Clients
iBusiness Funding company employs various effective marketing strategies to connect with potential clients. Levy explains, "We believe in a multi-faceted approach to reach our target audience and showcase our solutions."
One of the critical strategies iBusiness Funding employs is attending industry events and conferences. Levy emphasizes the importance of networking, stating, "Tradeshows and conferences provide us with valuable opportunities to meet potential clients, showcase our solutions, and stay informed about industry trends."
Content marketing plays a vital role in iBusiness Funding's strategy. Levy explains, "We create informative and valuable content such as webinars, case studies, and whitepapers that address the pain points and challenges of our target audience." By establishing themselves as thought leaders and providing valuable insights, iBusiness Funding aims to build trust and credibility with potential clients.
Leveraging social media platforms, particularly LinkedIn, is another essential aspect of iBusiness Funding's marketing approach. "We utilize social media to share our content, engage with our audience, and increase brand awareness," Levy states. Through strategic social media marketing, iBusiness Funding generates leads and fosters connections with potential clients.
For tech startups looking to establish a strong marketing presence, Levy offers valuable advice. "There is no short cut in marketing and building a business, you have to put the work in. The more you do the more opportunities come your way. ," he recommends. Attending industry events and conferences can be particularly beneficial for startups to network and generate leads. Additionally, Levy suggests identifying and nurturing partnerships and collaborations with other companies in the industry to expand their reach and generate new business opportunities.
Expanding Features and Partnerships
iBusiness Funding has an ambitious product and service roadmap ahead. Justin Levy, the CEO, highlights some exciting developments in the works, including expanding LenderAI features and enhancing the Lending as a Service offering. Here are a few highlights:
Business Loan Marketplace: iBusiness Funding aims to create an efficient and connected market by bringing together buyers and sellers of business loans in a mass-scale marketplace. This initiative aims to streamline the lending process and foster a more connected ecosystem.
Real-time Communication Platform: A fully connected communication and phone platform is in alpha testing, enabling real-time call, text, and email data tied to individual loan applications. This feature will enhance transparency and enable users to track the loan journey at every stage.
Expanded Partner Offering: Recognizing the importance of partnerships for lenders, iBusiness Funding plans to introduce parallel partner portals. These portals will facilitate increased connectivity between lenders and their partners, reducing friction and expediting loan processing.
Broader Loan Product Offering: iBusiness Funding is expanding its loan product offering in both LenderAI and the Lending as Service divisions. This expansion aims to provide small business clients with access to a wider range of loan products and complimentary services.
iBusiness Funding actively seeks partnerships with organizations like the SBA, government agencies, fintech companies, lenders, and non-profit organizations that share the mission of supporting small businesses. Collaboration with multiple parties who are aligned towards the common goal of efficiently and transparently providing capital to businesses is a top priority for iBusiness Funding.
Through its ability to make the complicated underwriting process for business lending faster and easier with technology, iBusiness Funding is poised to continue to change the SBA and conventional lending markets for the better.  By making it easy for traditional banks and lenders to compete with FinTechs, their technology and services will help more businesses get the funding they need in an efficient, transparent, and cost-effective manner.
For More Info: https://ibusinessfunding.com/
Related Articles