Society for Automotive Fitness & Environment (SAFE), an initiative by India's automotive industry body SIAM (Society of Indian Automobile Manufacturers), celebrated World Environment Day 2022 with a host of environmentally responsible activities along with automobile dealers, across service stations in India.
This year's theme of World Environment Day was "Only One Earth", with the major focus being on "Living Sustainably in Harmony with Nature". As natural resources become more and more scarce, sustainable value chains are becoming more and more important for the automotive industry. They are based on the principle of reusing and recycling resources. SIAM emphasises on sustainability and as a responsible organisation, it has been conducting multiple mass awareness campaigns among commuters to drive sustainable development across the industry. Indian automobile industry is dedicated towards clean and sustainable environment, following the 3R theme Reuse, Recycle and Recover, the industry has taken steps towards the green future.
Some of the special activities that were conducted during the Day included, free day-long PUC (pollution under control) check-up for vehicles, followed by issuing of free PUC certificates at the authorised centres. Free saplings were also distributed to customers.
Speaking on the occasion, Mr Rajesh Menon, Director General, SIAM, said "At SIAM, we are involved towards sustainable environment and therefore we stand in solidarity with this year's World Environment Day". Sustainability being our prime focus, we will take every measure to move towards a healthy and sustainable world. Contributing to that view, SIAM with its SAFE Initiative, has taken several steps in the direction of spreading awareness about sustainable mobility. Our member's dealers and their service station are participating in the drive by checking the pollution level in vehicles and providing customers with free PUC and sharing knowledge on proper maintenance of their vehicles. The nationwide campaign helped us in educating the vehicle users and make them aware about the sustainable and green future."
Several unique initiatives – such as environment related awareness campaigns for kids, creating awareness about dry washing technique for vehicles at dealership level, environment conservation tips for customers, sapling distribution, tree plantation, green processions, awareness rallies, etc. – were conducted at the dealership outlets.
The automobile sector has been proactively working towards compliance of all statutory stipulations, particularly relating to sustainability. The automotive sector is regularly and systematically assessing, evaluating and taking all necessary measures to minimize the negative impact of automobiles on the environment, human health and climate change, at every stage of its life cycle. All SIAM members came together to organise various drives during the World Environment day to spread the message of environment protection.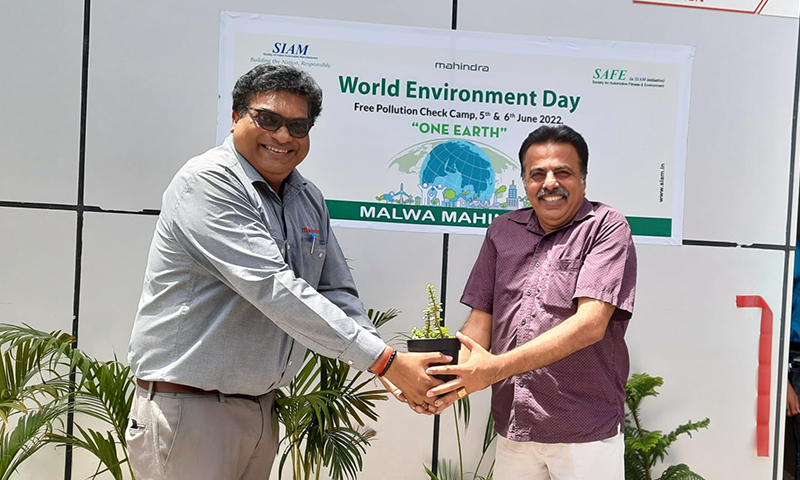 Several manufacturers such as Ashok Leyland Ltd, Bajaj Auto Ltd, Hero MotoCorp Ltd, Honda Motorcycle & Scotter India Pvt Ltd, Hyundai Motor India Ltd, India Yamaha Motor Pvt Ltd, Hyundai Motor India Ltd, Mahindra & Mahindra Ltd, Maruti Suzuki India Ltd, Piaggio Vehicles Pvt Ltd, Renault India Ltd, and Tata Motors participated for the common cause through their dealerships.
Related Articles