In 1996, TEKNOPAR was incepted on a mission to improve advanced engineering solutions by making system design and to compete in the national and international sectors by ensuring quality and reliable products, systems, and customer satisfaction. Dr. Perin ÜNAL as Managing Partner and R&D SVP of TEKNOPAR is spearheading the company's vision to become a global success. Her responsibilities include contributing with information systems capabilities, embedding high-level software development with big data, artificial intelligence, digital twin, and computer vision capabilities to the ability set of the company.
A Myriad of Offerings
Under its umbrella of services, TEKNOPAR provides end-to-end solutions that incorporate state-of-the-art technologies in mechanics, hydraulics, electric-electronics, software, and robotics. These Industry 4.0 compliant end-to-end systems are designed and developed by TEKNOPAR to fulfill the different expectations of clients from industrial facilities, energy sector, mobility, and defense sectors. The integrated solutions are also modular, interoperable, and generate synergies when used together in control, PLC SCADA software, IoT Platform development, and cognitive digital twin development.
In 2017, TEKNOPAR's 10 R&D projects received funding from European Union, and as a result, its existence and impact in the European countries have ever since accelerated.
Happy Customers Equals Happy Business
According to Dr. Perin, through the company's motto stating, "TEKNOPAR provides advanced engineering solutions," her team is able to address customers' needs in the best and most advanced way, which in the end supports customer retention in the long run.
A systematic quality assurance system is also constructed at TEKNOPAR, which follows well-defined processes, procedures, and documentation cycles. "Another solid indicator of TEKNOPAR's quality and customer satisfaction may be that some of our customers have been working with TEKNOPAR since its establishment," further adds Dr. Perin.
Likewise, companies partnering with TEKNOPAR are entitled to numerous benefits. "Our partner companies enjoy low-cost benefits and improved robust quality of the sustainable systems developed by TEKNOPAR. Additionally, utilizing TEKNOPAR's solutions for optimization, the clients tend to gain monetary, quality, energy, and sustainable business benefits," explains Dr. Perin.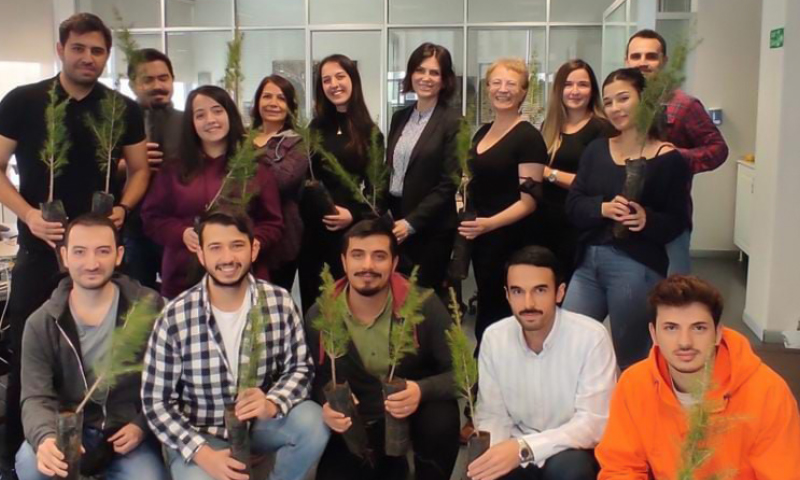 Giving Value & Showing Respect to Employees
At TEKNOPAR, employees are treated with respect and given value for their work and dedication. In addition, the Turkey-based company has implemented a reward & recognition system through which employees are honored for their extra efforts and time given towards innovative activities. During special days and events, the entire team of TEKNOPAR also socializes and exchanges gifts with one another. Therefore, the employees, who are its internal and primary customers, also hold their end of the bargain and give their maximum efforts to drive the company towards success. In this way, Dr. Perin and her management team maintain a positive spirit in employees and foster a healthy workplace culture at TEKNOPAR.
As a technology company, TEKNOPAR is committed to UN sustainability goals and build its processes and operations on this pillar. TEKNOPAR supports eight out of 17 UN Goals such as Quality Education, Gender Equality, Affordable and Clean Energy, Decent Work and Economic Growth, Industry, Innovation and Infrastructure, Reduced Inequalities, Responsible Consumption and Production, Climate Action.
Marketing Goals
TEKNOPAR has always put the customers at the heart of its business strategy. In return, customers have never failed to vouch for TEKNOPAR's services and remain loyal customers. Until recently, the company focused on technology development and technical work to satisfy the customers' growing demands, rather than emphasizing marketing activities such as advertisements and social media. With this new inclusion of Business Development Management as a separate responsibility, more focus was required on exploitation activities. As a result, TEKNOPAR created synergies with its existing capability and technology portfolio and current and future expectations. "We overcame the challenge of combining multi-technologies applied to different domains," asserts Dr. Perin.
Sharing her words of wisdom with aspiring entrepreneurs, Dr. Perin says, "I would recommend the automation companies "to think big," "to start small," and "to start immediately." Because if they think small and become late, it may be likely that they may fail. Starting with a small-scale, work-first attitude minimizes risk and increases the possibility of success. TEKNOPAR too started locally and then acted globally to confirm the global standards and expectations."
Growth Over the Years
In the past 3 years, despite COVID and related problems in several industries, TEKNOPAR has kept its financial strength and is debtless.
"Concerning the R&D performance, in Turkey , TEKNOPAR's R&D has become the top 2nd company whose number of accepted proposals are granted by European Union within Horizon Europe project application in Cluster 4," shares Dr. Perin with pride.
There are trademarks, international academic publications, patents and utility models owned by TEKNOPAR engineers. The company has successfully completed more than 500 projects in 27 countries located on five continents.
TEKNOPAR has developed a new digital platform, TIA Platform, an intelligent digital platform consisting of an IOT platform, digital twins, artificial intelligence applications, and user interface applications. The platform provides real-time status monitoring for fixed assets, like machinery, land vehicles, critical facilities. It also provides tools to support forward-looking strategic/operational decision-making processes by analyzing data sources and using artificial intelligence algorithms and models.
The focus of the TIA Platform is the development of the internet of things platform (IoT), big data analysis (DATA), artificial intelligence technologies (AI), cognitive digital twins (DT), and related visualization systems (UX).
Global Success on the Horizon
TEKNOPAR has made successful strides in various endeavors for more than 25 years, both within and outside Turkey. It has emerged as a trustworthy, innovative, ambitious, and mature company. Looking at its upward growth trajectory, Dr. Perin and her team focus on expanding client partnerships and building relationships with investors from special industries to enlarge its market access globally. Moreover, TEKNOPAR has recently set up a manufacturing facility in İzmir and started producing its own designs in metal hydraulic manufacturing.
In the coming future, sustainable global success is expected from TEKNOPAR, and it wouldn't be a surprise.
For More Info: https://teknopar.com.tr/en
Related Articles