The BSFI industry is undergoing a transformation from being based in physical branches to using information technology (IT) and big data, together with highly specialised human capital. Even before this transformation began, banks and markets had become intertwined, with a higher proportion of intermediary activities becoming market based. Setting the stage for an incredible transaction throughput scalability, Cognitive Automation, a union of RPA, Artificial Intelligence (AI)/ Machine Learning (ML), API, Blockchain, and Analytics, is upsetting the change in the financial industry. Tackling many financial issues like fraud and risk evaluation, AI and ML are analysing masses of information and data to discover correlations between events happening and their effect on asset price. Natural Language Processing is starting to revolutionize complex searches and data reporting.
As this technological sector grows, so does the need for up-to-date cybersecurity. With the number of connected devices continues to skyrocket, financial technology becomes cheaper and easier to use, and processes and services which were once monopolized by banks are now much more accessible to companies and the wider public. Cyber attacks have surged multiple times, ranging from phishing attempts that play on people's concerns and desire for information, to more sophisticated attacks on networks and information flows. Cybersecurity is also a key part of this pandemic crisis management because there can be additional vulnerabilities in the middle of a storm. "This is because of significantly higher levels of remote access to data and core systems, and because employees and management could be more susceptible to social engineering efforts in the midst of a crisis. We are shoring up cyber defenses and educating employees, at all levels, to the emerging risks", says Ashish Bajaj, CTO, DSP Mutual Funds.
Ashish opines that one of the biggest cybersecurity risks in FinTech today is due to inexperienced users. FinTech has allowed for a cheap expansion of access to banking institutions in previously underserved comments worldwide. Encompassing almost every part of an individual's life, financial literacy is of grave importance. The vast majority of people don't know that there are four broader ways of making money—employment, self-employment, business, and investing. Furthermore, it is sort of like a ladder; you can work your way up to being an investor. "Conversing to an experienced advisor can help people understand how to budget and save. An advisor can likewise see how to handle credit and debt and make suggestions on the most proficient method to pay off, and manage finances with a plan for achieving a goal", says Ashish.
As the demand for Advance Analytics and AI increase, quick POC's are being carried out using digital tools and new technologies to derive instantaneous insights. Use cases and preferably opensource technologies are selected from a probabilistic perspective rather than a deterministic way to produce results. "Also keeping the ever-evolving workplace, technologies like fog computing, better-known Cloud computing, has helped evolve as quickly as new opportunities crop up to meet growing business demands", opines Ashish.
COVID-19 has certainly affected the financial industry forcing to rethink the future of the workplace and what this means for operating models. Revisions to the operating model, given the impact and lessons learned from this crisis, e.g., acceleration of digital transformation, organizational agility, future of work, and increased focus on cybersecurity are being carried out. "Impact of continued reduction of interest rates, reduced business activity, and largescale non-performing loans may lead towards recession. Possible regulatory changes along with enhanced and new requirements may be faced by the financial industry", remarks Ashish.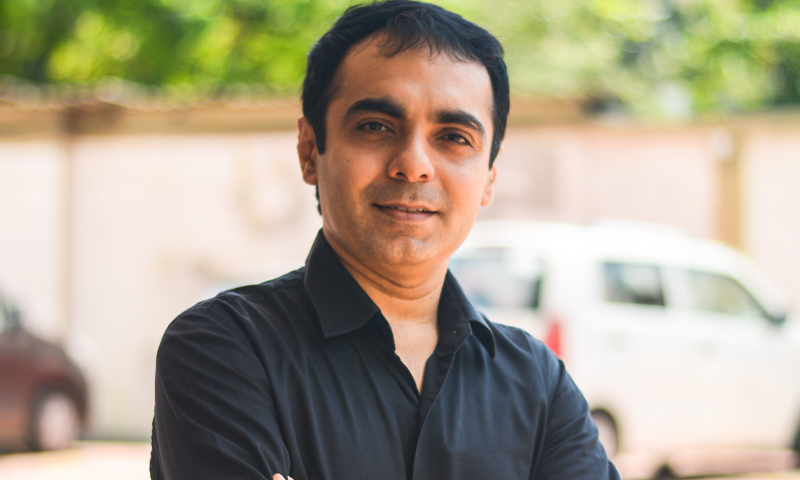 Revolutionizing Digital Transformation
As the velocity of innovation has increased across technologies such as mobile, internet & computing, demand for continuous innovation has heightened. Changing customer expectations, increasing regulatory complexity, the pressure to optimize operations are driving the push for reinvention, and innovation. "We drive continuous innovation by utilizing the latest technologies to remain current with the processes and experiences that customers and employees demand", he says.
Digital transformation is less about revolutionary technology than it is about changing the way we work. It's a mindset shift that hinges not on digital capabilities but the adoption of those digital capabilities by the end users—employees and customers— and business enablement. "Our digital transformation is driven with a very clear objective to impact top line or bottom-line. Keeping a holistic view of interoperability and reusability, the app modernization journey modeling into building a 'microservices farm' enhanced the pace of deliverables along with standardization", says Ashish.
Ashish points out that the biggest concern when it comes to the implementation of microservices is the right segregation of data and a clearly defined data ownership. Abstracting data is critical to ensure that the external world has access only through predefined integration touchpoints. As a proposed solution, data is being replicated across all dependent microservices, keeping in sync with the golden source of data. The custodian of the microservices broadcast is backed by a messaging queue that helps maintain consistency. "We built a strategy for cultivating this shift to inspire organizational behavioral change, bundling it with the pace of technology innovation and now moving from digital transformation to digital intelligence".
With intuitive technology, and self-learning software, that will allow banking offerings to be enhanced and added in response to customer needs, new technologies are bringing new value and entirely new customer experience. With digital banking embedding customers' everyday needs, lifestyles and life-stages, Ashish concludes, "I believe that Cloud, explainable AI, and Open Banking APIs together will drive the customer's digital banking needs".
AWARDS AND RECOGNITION
• IDC Insight Award 2019 & 2018
• CIO Power List 2020 & 2019
• IT Genius Awards 2019
• Dynamic CIO Innovation Heroes 2020
• Innovative CIO Award 2019
• Express Computers 2020 & 2019
• Economic Times Innovation Awards 2019
Related Articles