An app for the explorer in you, Explurger is a social media app that connects you with people, forge bonds, network, and travel, explore. A portmanteau between explore and urge, Explurger helps you keep a track of all your travels, explorations in the form of automatic Travelogue, it gives you statistics of how many miles you have traveled, cities you have visited, countries, continents, or even a café, and it won't let your sharing of pictures just die down as history or forgotten memory after a few likes.
Built on a very smart AI and backed by some of the best IT brains and hearts, Explurger has harnessed the power of India's skill, backed by Indian brains to make a cutting-edge Indian app for the world to use. It goes beyond sharing and posting. Presenting features that leading international apps in this category offer, Jitin Bhatia, Founder, Explurger, points out, "You can, of course, Explurge-in, post a picture, update your status, and you can also access your Travelogue which is created automatically for you. It also lets you create a BucketList, where you add places you want to visit, or simply add a place your fellow Explurger has posted about to your BucketList. Next time you are around that place, the app reminds you to visit the place and can even guide you to reach it".
Adding gamification to its features, a user or 'Explurger' gets points with every kudos they get, and every post they make, based on the number of points, the users get an Explurger level and compete with friends and fellow Explurgers to reach the level before them. "It's completely built by Indians, but very global in its appeal. It's for the world to connect. A true embodiment of PM Narendra Modi's call 'Made in India for the World', a step towards AtamNirbhar Bharat", opines Jitin.
Leadership has never been easy, but in the present scenario, a leader ought to be a compassionate leader and has to care for the well-being of the product as well as the team, along with acknowledging the tough times for his employees and customers. "I truly believe that my job is to give my best, backed up with good intentions of everyone's well-being, the rest is not in my hands. So, I am here trying to build something exceptional for everyone to use", says Jitin.
A team of passionate individuals who come with tons of practical knowledge and understanding of domains. Young, dynamic, and compassionate, the team at Explurger are helping each other build something amazing and grow. "We need to give our best and also care for each other, more so now when mental health is becoming even more important due to the development induced by lockdown and the pandemic. That doesn't mean we don't give each other feedback which might not always be positive, we just ensure it's given in a positive spirit and taken well", opines Jitin.
Globalizing an Indian App
Understanding the power of the Indian IT brain, Jitin was dejected to find that there no social media app which was global in its appeal but truly made in India. This thought made him want a social media app built in India for the world to use, even if he had to build it himself. "In 2017, when I returned from a business trip, my staff told him that it was my 30th business trip that year. That had me thinking that if there were a way to keep a count of the number of times one traveled away from home or told people how many miles they have traveled, that would be a great asset. That was my 'Eureka moment'", reminisces Jitin.
That's how the idea of Explurger was born. It had to be a very chic social media app that would offer features beyond what the other leading social media apps offer; it would be built on cutting-edge Artificial Intelligence (AI) and would be for the travelers at heart, too. In the next 3 years, Jitin put all his resources and focus to materialize his vision for this app on a very smart AI. "The next six months, I worked on developing the concept of Explurger, detailing features (such as automatic Travelogue creation, gamification, Bucket List, etc.) and algorithms needed for it", says Jitin.
By 2018, Jitin has a completely developed concept in hand. He decided to take the leap of faith, and out his energy, savings, and heart into making Explurger. An all-Indian team that is exceptionally talented and passionate, the beta version of Explurger was released in August 2019, where they worked to incorporate features and suggestions in the app they received from the users.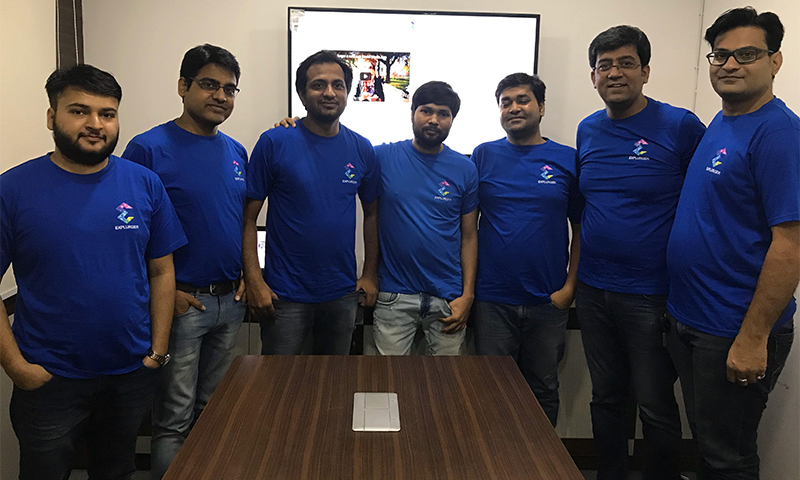 Finally, in July 2020, Expulrger was ready for the release. Although it was the peak of the pandemic, the lockdown was still to be understood as to how it was impacting the market and economy, but Jitin decided to launch it anyway. "This truly Indian app deserved a very special day for Indians, so, I decided to launch the app on August 15, 2020, which was India's 74th Independence Day. An Indian app for the world to sit up and take notice, and, of course, use. Explurger is our gift from India to the world", remarks Jitin.
Jitin was told to put a hold on the launch during the pandemic, but he decided to go with anyways and the response has been quite overwhelming. He says, "We have had downloads from more than 50 countries around the world, including the United States, France, Germany, Australia. Many actors and celebrities from India are also connecting with their fans on Explurger. The media has covered us well. However, I truly wish to see PM Modiji and Mark Zuckerberg explurging and connecting with their followers on Explurger".
Having not raised any funds, Explurger was built of Jitin's investments completely. From developing to maintaining, running, and marketing the app, he took care of it. However, now Explurger is in talks of discussing offers from interested investors and look for other potential funding. Planning to make Explurger the leading social media app in the world, Jitin hopes that the users love what they have done with the app so far. "We also plan to raise funds, we are already in talks with some interested investors. I request all the lovely readers to download Explurger, spread the word about it, and get your family and friends to do so too", concludes Jitin.
Related Articles