According to Denise A. Sangster, President& CEO of Global Touch Inc., technology is all about disruptive innovation, and it is the heartbeat of the IT industry. Current technology driving market dynamics include artificial intelligence, machine learning, robotics processing, automation, big data, security, multi-cloud, managed services, and more. In a way, these technologies are vehicles to enable disruption in business models and competitiveness delivered to customers.
When it comes to Global Touch and its position in this disruptive market, Denise elaborates by saying that it's methodology has been developed over three decades and is based on a combination of science, art, and deep IT industry knowledge. For instance, the company measures key touchpoints as 'before,' 'at,' and 'after' the deal signature to understand how they drive customer lifecycle to success and provide sustainable partner profitability and predictable revenues for its clients. Denise further adds that few companies know how to use data to tell a meaningful story that resonates both intellectually and emotionally with their stakeholders and the people who need to use the story narrative to achieve their company's goals.
A Wide Range of Offerings
Established in 1990, Global Touch provides 360° synchronization between IT companies, customers, and partners to drive and deliver transformational competitive advantages. Since its inception, Denise and her team have focused on breakthrough innovation embedded in Global Touch's core 'step-ahead' philosophy, continually redefining their clients' expectations to eliminate boundaries, all while balancing performance and disruptive innovation. In fact, Global Touch's "Partner Profitability Calculator" was the first in the IT industry. This unique calculator provides a snapshot of success to IT companies of their current investments and strategy.
Over the last three decades, Global Touch has partnered with numerous leading organizations from start-ups to Fortune 500, FT 500 companies, and Nikkei 100 companies. Its clients are located in more than 20 countries, with engagements spanning more than 100 countries. This successful track record is built upon working closely with clients to help them balance scaling revenue through a productive global partner ecosystem, while helping their partners realize strong profit earnings around products and services. "We have a strong track record of success and what really distinguishes us is that we help clients refine programs to achieve planned and opportunistic success. We do this by leveraging our deep global field experience and operating in a data-centric culture wrapped in data storytelling," states Denise.
Helping Clients Push Boundaries to Achieve Success
The numero uno problem faced by Global Touch's clients' executive teams is the lack of predictable partner revenue. Denise and her team help address this issue through data and data storytelling, disruptive innovation to engage partners, and brainstorming with partners, customers, and their clients to optimize success. They do this by balancing current performance with the need to transform, so Global Touch's clients' can be ready for future opportunities and threats. Furthermore, the team is always looking for new avenues to market products, including leveraging emerging routes to market (i.e., marketplaces, managed services, etc.) and embracing traditional (distribution, resale, etc.) and atypical routes (i.e., OEM, white labelling, etc.). "We are always evaluating impactful opportunities to generate a unique value for our clients, their partnerships, and their mutual customers," continues Denise.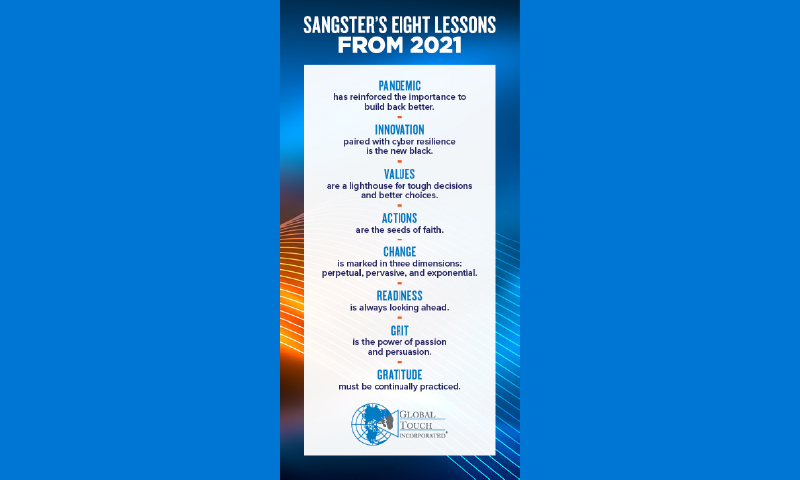 Novel Services Coming in the Future
"Our expertise is grounded in global field experience, expansive global relationships, and our data-centric culture," remarks Denise. When it comes to partners and partnerships, Global Touch knows the best through first-hand field experience acquired over many years. Denise and her team are constantly brainstorming about how they can update their existing services to deliver maximum value to their customers. "We treat our clients as clients for life, so if new issues pop up, we can help our clients anticipate challenges and see around these curves," says Denise.
For More Info: https://www.globaltouch.com/
About Denise A. Sangster, President& CEO
Denise Sangster is a global expert on developing profitable IT partner ecosystems to "unleash" the power of partner ecosystems, accelerating IT company-partner success, and establishing predictability of growth, revenue, profitability, and value between IT companies, customers, and partners through 360° of alignment.
For over 30 years, she has advised the world's most innovative technology companies, helping and inspiring them to build cutting-edge disruption through next-generation partner ecosystems, while identifying partner economic metrics wrapped in data storytelling. She has been a featured columnist in IT publications in the US, Australia, England, France, and Germany. She is currently a member of the Forbes Business Council and a contributor to Forbes.com. Denise is a frequent speaker at IT companies, partners, and Wall Street events worldwide.
Related Articles