Passion is born out of something that is intensely close and meaningful to us. What makes passion even more meaningful is when it is led by a mission. Huntsville, Alabama-based R2C Inc., a full-service Aerospace & Defense Company, was incepted on similar lines of passion led by a mission. Robert R. Wilson (Founder, CEO, & President of R2C) comes from a U.S Army background. Given his years of experience, Mr. Wilson understood the roadblocks that could hinder the progress of a mission and the kind of capabilities required by a Warfighter. High Technology led defense and aerospace solutions could provide avenues in keeping the Warfighter safe and furnish them with the equipment needed to successfully prosecute their mission.
Established in 2011, R2C Inc provides the highest quality of products and services to its clients to ensure the Warfighter receive the most advanced, technologically superior tools to perform their mission by which they can defend the country's freedom and save lives. R2C's wide range of services includes aerospace, support services, and technical solutions.
Today, R2C Inc. exceeds Mr. Wilson's expectations as its performance continues to flourish and expand to multiple disciplines and geographic locations across The United States and around the world. R2C employees now provide premier customer support at military installations in Alabama, Florida, Maryland, Nebraska, Colorado, Louisiana, North Carolina and OCONUS locations. "We continue to perform above the call of duty, and our progress has an onward and upward trajectory," adds Mr. Wilson.
Highest Commitment to Clients' Success
Serving clients with the highest quality, responsive solutions has been R2C's first priority. This is where customers are heard and their requirements are fulfilled. Their 'ifs' are always turned into 'cans'. Through collaboration and continuous improvement, Team R2C is dedicated to performing in a legal, ethical, and moral manner to meet and exceed all customer expectations. Moreover, R2C's workforce continues to envision and create innovative approaches that increase efficiencies and optimize technical capabilities that enable it to stand out and succeed in the market.
R2C's recent venture into construction management projects at multiple military installations and its exemplary, innovative approach in supporting the U.S. Army's Radio Frequency IDentification (RFID) efforts are testament to its commitment to serving clients. Even though RFID technology has existed for a long time, it is yet to be part of the mainstream in Department of Defense (DoD) logistics and supply chains operations. Presently, R2C is working with Redstone Arsenal to improve its overall inventory and processes. The adoption of RIFD technology enhances inventory accuracy, order processing and most importantly, the ability to track each asset throughout the complete cycle in the supply chain. Another advantage of using RFID technology is its ability to perform physical inventories in minutes, decreasing time to completion and overhead costs. R2C's automation of the RFID infrastructure has proven a phenomenal success for Redstone Arsenal and the U.S. Army. As a result, R2C's commitment towards supporting the U.S army's Warfighter is also achieved.
Values-Centric Foundation Nurturing Healthy Work Culture 
Core values are like a heartbeat for an organization. It creates a sense of purpose & commitment, improves team cohesion, and focuses the company and its employees towards a common goal. R2C's core values are based on service, professional competence, integrity, trust, can-do attitude, loyalty, and family. Based on these, this Defense and Aerospace company can successfully serve its clients, create a healthy work culture, achieve goals, and continue to drive forward with its mission.
At R2C, employees are regarded as 'family' (one of the core values) since almost half of their waking time is spent together at work. Mr. Wilson and the management team of R2C place tremendous value in creating and maintaining a positive work culture. Employees at R2C celebrate victories, mourn losses, and build trust and commitment with each other to form a team that focuses on supporting America's Warfighter. This constitutes a strong bond that lasts a lifetime.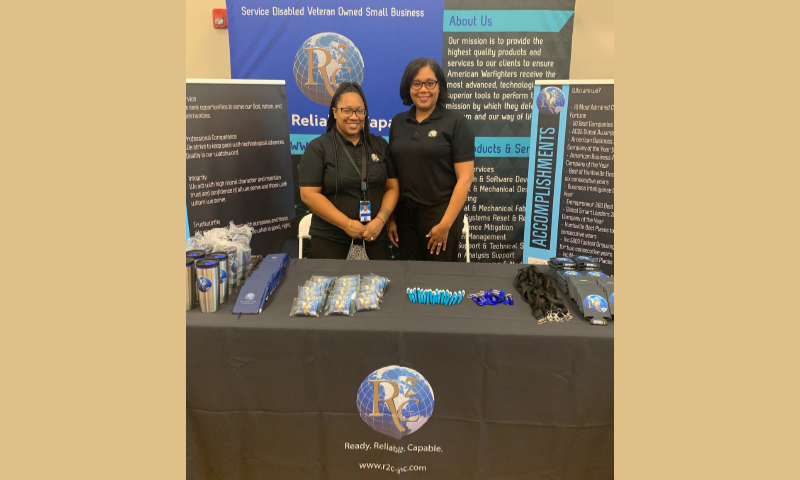 Marketing with a Mission
In today's customer conscious environment, organizations have to update their marketing and advertising strategies to remain relevant and successful. R2C follows the primary marketing strategy, a competent formulation of good old-fashioned network and referral approaches. Over the years, the award-winning company's reputation and its people, processes, and products speak for themselves and make them the best marketing tools. Besides these, R2C utilizes gorilla marketing techniques, human interaction, media, multi-media, and a solid social media presence, allowing it to move into a more significant presence in the global market space.
A Purpose-Driven Future
The coming years are going to be very exciting for R2C Inc. Mr. Wilson shares, "If we are so blessed by Our Creator to continue to support America's Heroes, I have no doubt that R2C will continue to provide unparalleled solutions and support to America's Warfighter around the world."  R2C's strategy in achieving this goal is to work alongside its customers to gain a greater understanding of necessities to support the DoD, Other Government Agencies (OGA) as well as America's friends and allies and turn those necessities into deliverable, high-quality products.
For More Info: https://r2c-inc.com/
About Robert R. Wilson, Founder, CEO and President
Mr. Robert R. Wilson, a combat Veteran, is the founder and Chief Executive Officer of R2C, Inc., an award-winning Service-Disabled Veteran-Owned Small Business headquartered in Huntsville, AL. Mr. Wilson provides strategic leadership and oversight for all aspects of the business. He ensures compliance of laws, regulations, and other applicable obligations in which R2C, Inc. conducts business. Mr. Wilson formulates and determines the company's values, mission, vision, and short-term and long-term goals. He facilitates the company's integration into the community's fabric by using effective marketing and communication activities. Mr. Wilson leads and motivates team members to develop, establish, and maintain our award-winning corporate culture, ensuring employee engagement and a high-performing team.
Related Articles