Everyone loves ice cream. What if the ice cream is freshly freezing right in front of your eyes, and what if you are told it is low in calories, with no added preservatives or coloring, and you get to choose from a vast flavor range; amazing, right? This is precisely Ice Cream Lab's USP, and it never falls short of delivering a lip-smacking & unique experience.
The Concept behind Ice Cream Lab's Franchise
The Ice Cream Lab is based on an innovative International Ice Cream concept that originated in California, the USA, in 2013. It applies molecular gastronomy's flash-freezing technique, utilizing liquid nitrogen as the style of preparation, to instantly freeze different natural ingredients into ice cream. "We started franchising in 2019 with Oman, Bahrain, Saudi, and then continued with Nigeria, Daouk (Iraq), Malaysia (Penang & Ipoh), Europe (Sweden & Portugal), and India (Mumbai, Bangalore, Andhra Pradesh, Hyderabad, and Kolkata)," shares Sachin Pradhan, Operations Director, Ice Cream Lab. In just two years, it expanded to over 10 international markets with 25 plus stores currently opened across the globe. Even during the COVID-19 pandemic, Ice Cream Lab continued to witness an impressive turnover in the following years— 4.21M (2018), 6.11M (2019), 4.5M (2020), and 5.2M (2021).
In terms of flavor profile, at Ice Cream Lab's first operational base, UAE, around 16 flavors are offered, catering to suit the diverse tastes of the market. Additionally, milkshakes are available for those who want to sip their desserts. "When we started in November 2014, we only had 7 flavors, and then based on the UAE culture and taste, we developed yogurt ice cream, yogurt base acai ice cream, and came up with eight more. Through our R&D department, we can come up with 1000s of new flavors suiting customers' taste from various cultures fitting to the market's taste," mentions Sachin.
An Open-Door Policy at the Workplace
Ice Cream Lab believes in an open door management style where employees are encouraged to openly communicate, share feedback, and discuss issues or queries with their managers. Moreover, focus meetings are conducted at timely intervals where team members can share innovative ideas, recipes, or suggestions to elevate existing recipes or flavors.
"We ensure any good ideas provided by our internal or external employees are implemented and based on the outcome same are implemented as policies and shared with all our Franchise Partners across the globe. The ideas implemented by employees also get awarded with recognition," adds Sachin.
How Ice Cream Lab Creates a Buzz Through Social Media?
Sachin considers social media as the best platform for marketing and branding goals. Through this platform, Sachin and his team educate their customers about Ice Cream Lab's ice creams being healthy, made with a natural ingredient base, with no preservatives, no additives, and no artificial flavor & colors.
Sachin further reveals that almost every customer clicks pictures and makes videos of their ice cream since the entire process is very theatric and captivating. They also tag Ice Cream Lab on their social media handles, thereby providing free and personal advertising and endorsement. Therefore, this is one of the most essential reasons behind Ice Cream Lab's quick brand awareness.
Partner Franchisees get Continuous Support & Guidance
Ice Cream Lab offers an excellent opportunity to aspiring entrepreneurs who wish to start a business by franchising a revolutionary product utilizing unique technology. It all begins with 9 steps-based approaches, including inquiry and discussion, request for consideration, franchise disclosure document, on-site tour, signing of the franchise agreement, site selection, design and construction, on-floor training, and grand opening & 365 days of continuous support.
Sachin says, "We personally ensure that we at least visit our franchisee twice a year for surprise audits and sit to analyze their performance and furnishing necessary guidelines to improve our franchisee's overall profitability. We also provide them with newly introduced and customized recipes as per the local market needs. We also help them with social media marketing which is done by our central marketing team."
Altogether, a single-store franchisee benefits from year-round continuous support and guidance from Ice Cream Lab's team. However, as a Master Franchisee, the client automatically becomes Ice Cream Lab's 50% partner. The first outlet is given free, and from the first outlet onwards Master Franchisee gets rights to sub franchisee outlets across that country. This is how a mutually benefitting and supportive relationship is established and maintained between Ice Cream Lab's franchisor and franchisees.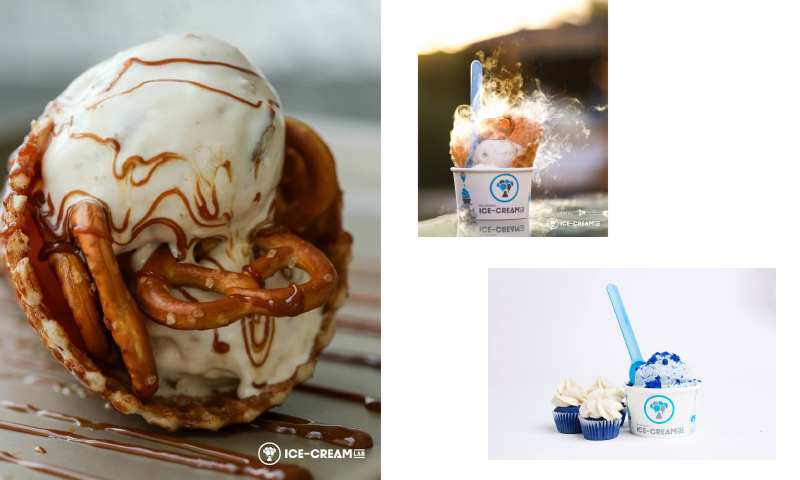 Testimonials by Other Franchisees
Mumbai-based Ice Cream Lab's Franchisee, Lalit Mohan Srivastava, said, "I would highly recommend ICL brand to everyone who wants to become a next-generation entrepreneur with an innovative brand because it's an awesome ice cream with no ice crystals and no preservatives, no additives, low sugar and which is recommended by many health-conscious customers in Mumbai."
Venu Madhav, Ice Cream Lab's Hyderabad Franchisee, commented, "Firstly, I am glad that I am a part of such an amazing team. I can confidently state that Vikrant sir and Sachin sir motivated me, were responsive to every question I had, and most importantly, they understood who we are and what we are trying to do. They were with me in every step of the way, providing valuable guidance. They helped me throughout this journey, and I am sure they will be at my side supporting me till I become successful!!"
Aiming for a Higher Growth
"Our aim is to spread our wings across the globe and to have a minimum of 200 outlets by 2025," reveals Sachin. Ice Cream Lab conducts various campaigns on its social media platforms and collects franchisee queries through its official website to attract prospective franchisees and customers. Until now, Sachin and his team have successfully expanded Ice Cream Lab's wing without any external help. However, they are prepared to work with professional consultants to achieve faster growth.
Ice Cream Lab's loyal customers are in for a big treat in the coming days. They can visit new outlets in Germany, Belgium, Israel, Bangladesh, and other parts of India. The expert team of Ice Cream Lab is also working on a few different models for cities where Liquid Nitrogen is unavailable or very expensive. So, keep an eye on Ice Cream Lab's website for the latest updates on new outlets.
For More Info: http://www.icecreamlab.ae/
Related Articles