The story of Meghna Agarwal's journey from a small-town girl in Alwar, Rajasthan, to becoming an entrepreneur is an inspiring one. It gives a valuable message – if you are persistent in your efforts and chase your dreams; you are bound to inspire others to follow your path. Meghna was only 25 when she co-founded HirePro Consulting. She was at the helm of the manufacturing industry with her next venture, UltraFine Minerals. Then she and Rishi co-founded IndiQube, a co-working space provider that onboarded companies like Bluestone, KPMG, Freshmenu, Cohesity & TMF at the initial stages.
Meghna and Rishi secured a USD 15 Mn Series A round of funding in a matter of time, scaled up IndiQube to six cities, 3.5 Mn SQ.FT. & 50+ properties. Now, IndiQube is ranked #20 in Economic Times India's Growth Champions 2020 & Ranked #112 in the Financial Times list of 500 high growth companies in the Asia Pacific region. Onboarding large enterprises such as Myntra, Philips and companies like Hitachi and Eli Lilly, Elanco are among the many milestones surpassed in this journey.
"Space has always been close to my heart, and I understood how space worked for diverse companies. I found that millennials and startups face challenges like volatility, high Capex and long-term leases from traditional landlords during my entrepreneurial journey. It instigated me to start my journey with IndiQube as the flexible workspace provider catering to the holistic needs of Enterprises, Offshore Development Centers, SMEs and Startups," shares Meghna. With large clients buying into its vision in the very initial days, coupled with the positive feedback they received about their product, Meghna's belief in this model was reinforced, and IndiQube got the ammunition to go big in this space.
The journey to the top
"In a career, spanning nearly 15 years from HirePro Consulting to IndiQube, I have had many learning opportunities. The most important lesson that I have learnt from these opportunities is the importance to 'Balance Time and Speed'," says Meghna.  While it might sound simple, Meghna knows that the timing of your decision and the speed with which you execute your decision makes all the difference. She adds, "Even if you miss out on either time or speed, you are bound to miss the bus."
Fortunate to have a supportive ecosystem – both at work and home – Meghna considers her core team as her family. For her, just like a typical family, there is no hierarchy in interactions among the team, as they are always focused on a common goal – the need to grow together as one single family. Meghna opines, "When you fully trust a core team and encourage them to work together and build a result-oriented culture, the team often comes up with innovative solutions." From the very outset, Meghna believes in the concept of 'learning together.' She ensures employee interactions, especially with the core team, are at a "Peer-to-Peer" level rather than as a boss and a subordinate. "These sorts of interactions created an environment of constant learning on both sides. It has led to the creation of a culture of learning together. When the core team is such closely knit with the leadership team, each of us inspires the other," adds Meghna.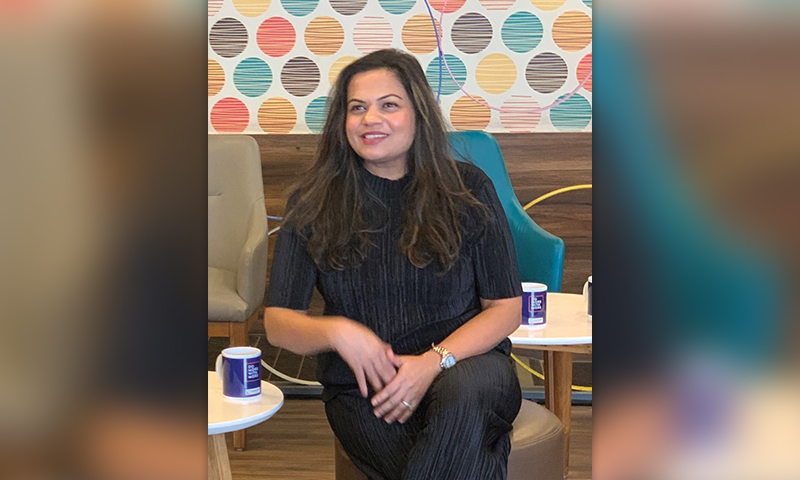 Carrying on Innovation amidst the Pandemic
The COVID-19 pandemic has posed a host of challenges to business leaders across industries. It has increased the need for business leaders to be conservative with costs, flexible with business models and empathetic with employees, all at the same time. "Commercial real estate has been one of the sectors that have got impacted significantly due to the increased adoption of Work From Home. Our occupancy rate that was 90 per cent pre-COVID-19 slumped to 75 per cent during the pandemic, with many firms vacating their office spaces to save costs in the early part of the year," shares Meghna. However, once the initial euphoria around working from home started to diminish, enterprises realized that office spaces would continue to remain an integral part of professional life.
"We have realized that in the post COVID era, enterprises will be more cautious about their commercial real estate costs and would prefer flexible workspaces that minimize their exposure to high Capex and long-term leases," says Meghna. IndiQube has now come up with innovative solutions around Walk to Work, Satellite Offices, Distributed Centers and Remote Working solutions to cater to enterprises' unique needs. The company has also invested heavily in technology to develop on-demand solutions like Hot Desks, Pre-booked Parking Slots and Smart Meeting Rooms. "The pandemic has taught me many lessons on Crisis Management, the importance of flexibility in business models, client relationship management in addition to the vitality of employee productivity and wellbeing," she adds.
Women in leadership roles in India
Globalization, increased awareness, emphasis on education for girls have led to a marginal increase in women's leadership opportunities; however, there is still a long way to go. While government initiatives have increased emphasis on girls' education at the grass-root level, Meghna believes that it is upon each of us to ensure that women pursue higher education in prime universities to equip them with the necessary skills for senior management roles.
Shedding light on women leaders in real estate space, Meghna says, "commercial real estate is tough and highly competitive. There are very few women like me in leadership roles in this space. So, to all the women readers, I urge you to instil in your mind the fact that 'You can have it all.'" She believes that gone are the days where women had to always choose and prioritize one passion over the other. There should be an increased emphasis among women to develop leadership skills at the grass root levels. In addition to this, women should also acquire skills pertaining to emotional intelligence, self-awareness, change management and problem-solving.
To all the women reading this, says Meghna, "Follow your dreams, there would be many hurdles on your path and each hurdle would teach you a new lesson but do not stop dreaming and don't let anyone dictate what you can and can't achieve."
Plans for Tomorrow
Currently, IndiQube has successfully established leadership positions in the startup and IT hubs of Bangalore and Pune and began operations in other metros of Mumbai, Hyderabad, Chennai & Noida. From the building perspective, the team at IndiQube is focusing more on integrating IoT and further strengthening its Smart Building Experience. "A key focus area for us has been on sustainability. We have started installing solar rooftops and should be having 4 MW of power generated from solar rooftops. 80 per cent of power consumption in Bangalore is targeted to be drawn from solar," claims Meghna.
Over the next two years, IndiQube plans to reach 1,20,000+ seat capacity. Beyond that, the aim is to add at-least 30,000 seats year-on-year. On the one hand, this growth will be fueled by a deeper penetration in existing cities, 70+ micro-markets in Bangalore, Pune, Chennai, Hyderabad, Noida and Mumbai. On the other hand, the team at IndiQube has plans to expand into Tier II & Tier III centres by leveraging partnerships and exploring acquisitions of smaller players in these markets. The company is also looking to expand its  Value-Added-Services to strengthen its position as a one-stop-solution for clients. "We are also planning to raise INR 300 crore this calendar year from equity investment to further our expansion plans," concludes Meghna.
Related Articles