In his most famous book, The Alchemist, Paulo Coelho says that it's the possibility of having a dream come true that makes life interesting. The life of Mehrnaz Campbell, Founder and CEO of Cheemia and Cheemia ReSET, exemplifies the journey of Santiago in Coelho's Alchemist. In fact, Cheemia (kee-mia) is a Persian word for chemistry or alchemy, and it perfectly fits her company. Translated into English it means chemistry or alchemy. Mehrnaz says, "Chemistry is the ability of people to have a good relationship, and Alchemy is a seemingly magical process of turning an ordinary substance into a substance of extreme value. These definitions encompass the values of Cheemia."
Born in Iran, Mehrnaz moved to the UK at the age of 21 to pursue her higher education and career ambitions. She has worked in UK healthcare for over 36 years, initially as a nurse and then for 30 years in various sales and marketing leadership positions with pharmaceutical companies. In 2017, Mehrnaz founded Cheemia, which specialises in pharmaceutical salesforce effectiveness. "Cheemia was set up as a remote pharmaceutical market access agency in 2017, and we have a proven track record in delivering outstanding results for our clients in possibly the most complex pharmaceutical market – the UK National Health Service," shares Mehrnaz.
Doing It Differently with Confidence
Cheemia is an innovative and independent healthcare company based in Edinburgh, specialising in market access and pull-through for small but growing pharmaceutical companies. Working remotely, both in the UK and from the USA, has enabled Cheemia to deliver outstanding results for clients.
Cheemia helps its clients grow their brands by aligning with the priorities of the NHS and creating relationships that work for healthcare professionals, patients and clients alike. "When our competitors talk about the number of engagements, we focus on the quality of relationships. Our values are to 'deliver and delight'. Yes, results matter, and so does how we go about achieving those results. To our clients, we become part of their team. By working together, we achieve something spectacular we can all be proud of," shares Mehrnaz.
The aim to deliver and delight has helped Cheemia earn innovative pharmaceutical companies as partners. One of them says, "We have all tried Contract Sales Organisations that say they can. But then can't. Cheemia says they can and then deliver. Mehrnaz and the team take a strategic view of the marketplace and then develop logical action plans to implement, track, and re-evaluate. This inevitably leads to progress. A key component of the promotional mix is remote selling – easy to talk about but less easy to deliver. This is a Cheemia core competency that has been refined over several years to become effective. These are not just words – this is our real-world experience."
Cheemia has successfully gained market access for pharmaceutical brands through its relationships with key decision-makers within the NHS. Mehrnaz shares, "We identify which local ADTCs will provide the quickest route to market access (whether NHS England, NHS Scotland, NHS Wales or NHS Northern Ireland) and ensure clinicians and senior pharmacists are aware of the opportunity. We provide them with the relevant information, so they can write a submission." Mehrnaz and her team always ensure medical information requests are responded to quickly and stay connected to ensure the successful submission process.
"Once the pharma brand is listed on the local NHS formularies, we agree on joint implementation and pull-through with the local Medicine Management team and the key stakeholders to communicate that the brand is on the formulary to GPs and Primary Care practices," explains Mehrnaz. Cheemia uses a variety of channels to ensure the message is received and habits are changed. In fact, Cheemia's approach to investment is focused and clear. Mehrnaz says, "Regarding implementation, our strategies and tactical plans are less complicated and require less financial and human resources investment. The net result is faster growth and higher profitability."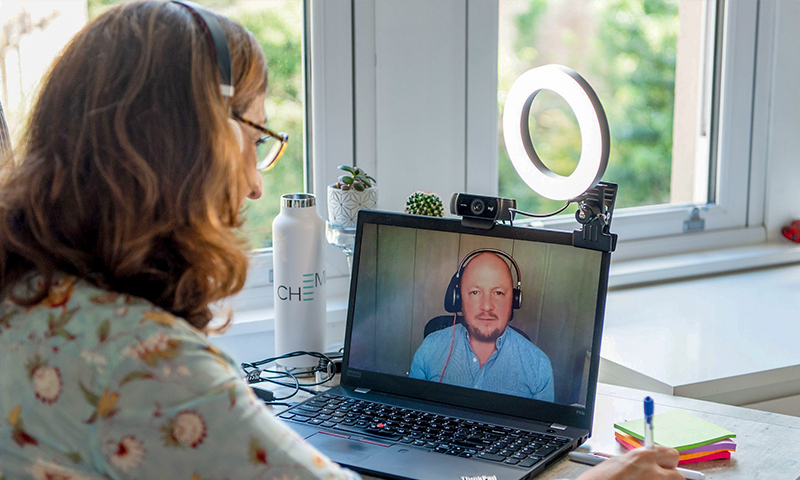 Creating Remote Selling Experts
In August 2020, Cheemia created Cheemia ReSET, a remote sales engagement training platform to help fellow pharmaceutical sales professionals who have seen remote selling become essential to creating better omnichannel relationships with healthcare professionals. "The role of the pharma sales rep within the healthcare industry has changed dramatically since 2020. One of their challenges is communicating effectively with healthcare professionals in an omnichannel world. That's where we come in," states Mehrnaz.
Mehrnaz wants to share everything she has learned about making remote sales engagement effective with the rest of the industry through her award-winning training platform Cheemia ReSET. "
Cheemia ReSET is one of the most comprehensive remote pharmaceutical sales training tools in the marketplace. The platform has already been used globally and has closed caption subtitles in five languages, making it accessible across Europe. Mehrnaz explains, "Our approach has been unique and disruptive because, unlike other training providers, we reimagined training from the user's perspective. Our video-based platform gives control to the end user, allowing them to learn at their own pace."
There is an emphasis on implementation of the new skills and techniques with Cheemia ReSET. Many of the other training programmes provide a lot of one-off information, which the sales teams are then left with to work out how to implement. Cheemia ReSET provides worksheets with every module to help put the training into action.
Alongside Cheemia ReSET, Merhnaz created Cheemia ReINSPIRE, a unique management suite, designed to help sales managers inspire their sales team to get the best out of Cheemia ReSET. "Sales managers have years' of experience of face-to-face sales meetings. But there are new skills and techniques required for remote selling that they are going to have to learn and understand," explains Mehrnaz. "Suddenly, they were expected to mentor and coach their sales team through this new way of selling."
Cheemia ReSET and Cheemia ReINSPIRE have helped global sales teams across many countries in Europe, Australia and New Zealand to survive and thrive. "We acknowledge our skill in remote selling as the core competency that brings them exponential growth," adds Mehrnaz.
At Cheemia, Mehrnaz and her team aim to continue helping their clients to establish relationships with the NHS. Through Cheemia ReSET, they look forward to supporting more pharma sales teams across the globe with the behavioural change required to become orchestrators of the omnichannel experience.
For more information about Cheemia, visit cheemia.co.uk. For more information about Cheemia ReSET and Cheemia ReINSPIRE, visit cheemiareset.com
Related Articles