According to the US Federal Highway Administration (FHWA), nearly 21% of accidents every year are caused by adverse weather conditions in the US alone. Most of these weather-related crashes happen on wet pavements and during rainfall. Therefore, improving safety on wet roads is pivotal for reducing accidents for both human drivers and autonomous driving cars.
Headquartered in Rivoli, Piedmont, EasyRain is one of the most innovative companies focusing on road safety for human-driven and autonomous vehicles, with expertise for hazardous wet road conditions and other grip-related issues. Founder & CEO Giovanni Blandina established the company in 2013 to give autonomous driving a fresh and strong solution to achieve never-before-seen levels of safety. "Our mission is saving lives and making driving safer," states Giovanni.
Innovative Product Ecosystem to Reinvent Safety for Cars
EasyRain is the first startup in the world to develop a complete, modular automotive-oriented ecosystem that can change road conditions immediately. EasyRain's product ecosystem consists of a hardware, software, and data platform described as follows.
Aquaplaning Intelligent Solution (AIS): EasyRain has developed the first active safety system to restore grip in hazardous wet road conditions. Through high-pressure water stored in the accumulators placed ahead of the front tires, AIS sprays water jets to break the water layer restoring the tire contact to the road. The system is immediately activated without driver intervention. Moreover, AIS can be integrated into vehicles independent of wheel drive, size, and human/autonomous driving. It is fully modular and can be optimized for space available, performance, and/or product cost. The system can provide synergies for ADAS sensor cleaning functions. This technique is patented.
EasyRain Digital Platform (EDP): EDP is a platform hosting software-based virtual sensors to recognize road hazards like water, snow and ice, potholes, and gravel. The virtual sensors analyze existing vehicle information and provide alerts, enabling a wide range of new safety functionalities in the ​ Along with virtual sensors for low-grip roads, the auto-tech company is developing a new software feature to detect any asymmetry in the vehicle behaviour, e.g., wrong camber and toe angles, leading to irregular tire wear and sudden increase in fuel consumption, excessive exhaust pollution and unsafe vehicle behaviors. In addition, EasyRain's virtual sensors provide warning levels to the vehicle, which OEMs can use to create new safety features and functionalities, such as adjusting the speed of Adaptive Cruise Control (ACC) automatically and many others.
EasyRain Cloud (ERC): It is a cloud service to expand and enhances the potential of AIS and virtual sensors, providing extended analysis and services. ERC validates systems and helps improve vehicle dynamics. ERC shares OEMs' and customers' data on dangerous driving conditions (heavy rain, aquaplaning, snow, ice,) coming from EasyRain virtual sensors, providing the foundation for connected and autonomous vehicles. Likewise, ERC boosts safety functionalities beyond vehicle level evaluations, i.e., integration of multi-vehicle input with external data such as weather or road conditions.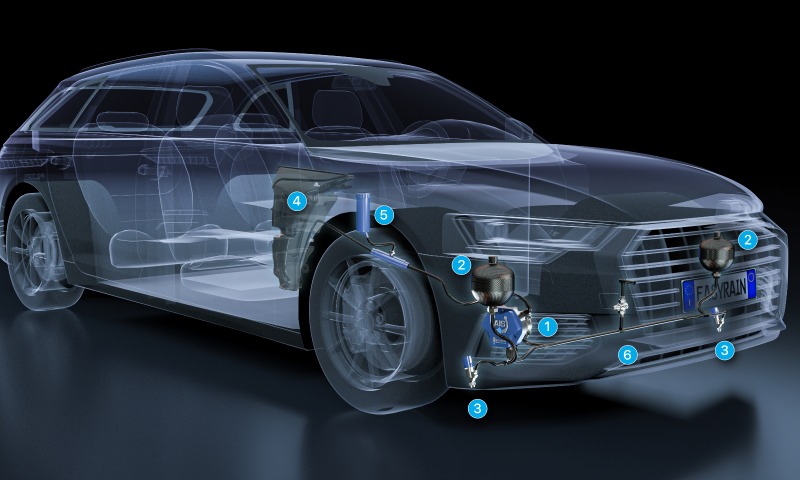 What Makes EasyRain Unique?
Since 2013, EasyRain has been the only company that provides specific hardware systems designed to contrast and prevent aquaplaning. More specifically, 2020 and 2021 have been milestone years for EasyRain as the company got the opportunity to fit AIS in a production car and also established a collaboration with a carmaker. Today, EasyRain has become the leader in researching and developing revolutionary safety systems for hazardous wet road conditions and other grip-related issues.
Expert Team
The EasyRain team comprises industry experts with extensive experience and know-how. The company also consists of technical leaders, manufacturing specialists, and a renowned race-car driver with the right expertise to strengthen team dynamics. With their competence and ingenuity, the EasyRain team continues developing, simulating, and testing solutions by launching their ideas into production.
Tackling Challenges Head On
Right from encountering industry mistrust to difficulty attracting investors to undertake R&D to going against the grain and creating hardware systems, the team of EasyRain has tackled numerous challenges along the way. EasyRain, nevertheless, has been successful in emerging stronger from the challenges every single time, like a phoenix rising from the ashes. Moreover, the realization that no one walked on the similar path that EasyRain did mature, taught and trained Giovanni to listen and be open-minded to change his company's strategic direction.
Looking back, the Founder of EasyRain says, "What these challenges have taught me is to listen to those who think that your idea may not work, but you have to be persistent and strongly believe in yourself when your own has been validated, despite everything, when you are told that it will never work."
Fostering a Mission-Driven Workplace Culture
As the Founder & CEO of the company, Giovanni's goal is to assist his team in reaching their true potential and pursuing personal growth. Each day, he makes it clear to them that they are not just working on a project but on a greater mission to save lives and make driving safer. Moreover, the highest ethical regard is given to each team member irrespective of race, gender, or color. As a result, there is a healthy, mission-driven working environment at EasyRain where employees are motivated, challenged, and inspired.
Prestigious Awards & Recognitions
Throughout the years, EasyRain has witnessed a steady flow of innovations and continuous expansions organically, without compromising its mission of saving lives and reducing road fatalities. During this time, EasyRain has been bestowed with numerous awards and accolades. To name a few: 10 Best Companies of the Year, 5 Best Auto Companies to Watch in 2022, 2021 Most Innovative Auto Safety Systems Dev. Europe, 2021 First prize for Safety in SME by CLEPA, Recognition in 2020 WCX World Congress Experience, and 2020 Special prize for Safety in SME by CLEPA. Likewise, Founder & CEO Giovanni Blandina has received prestigious awards: CEO of the Year, Italy, 10 Best CEOs to Watch in 2022, and 10 Most Inspiring CEOs in Business, 2022.
Taking Steps Towards Vision Zero
Going forward, EasyRain will continue to develop, innovate, and enhance new and existing anti-aquaplaning solutions and lead efforts towards achieving the EU Goal for 2050, i.e., zero road fatalities.
For More Info: https://easyrain.it/
Related Articles