In today's rapidly evolving business landscape, many IT organizations face challenges in effectively managing and optimizing their technology systems and digital presence. One of their primary concerns is the lack of visibility and insights into their systems and applications' performance. This can make it difficult to identify performance bottlenecks, resolve hidden issues, and improve the overall user experience. To help tackle such challenges, a full-stack monitoring tool comes to the rescue. "Full-stack monitoring provides organizations with end-to-end visibility into their systems, from the underlying infrastructure, the applications, and even the experience of individual end-users. Organizations can now easily detect and resolve problems with full-stack monitoring before they impact their customers, leading to increased uptime and reliability," says Mike Riegel, CEO of TelemetryHub.
Launched in 2022 by Scout APM, TelemetryHub is an advanced full-stack monitoring and observability platform designed to help companies optimize their digital presence. With its innovative approach, TelemetryHub provides modern development teams with the tools and data they need to make informed decisions about their system's performance. This platform collects all the complex telemetry data into a single pane of glass view by leveraging the power of OpenTelemetry. It not only simplifies observability but also makes it affordable for those needing reliable transparency in their distributed systems. Moving forward, TelemetryHub's vision is to foster a culture of observability at client organizations by leveraging the open-source project, OpenTelemetry, to support their engineering team with powerful tools that are simple to configure, implement and use.
Answering the Need for Affordable and Easy to Use Tools
As technology and systems are becoming increasingly complex, monitoring has become a critical aspect in ensuring the success of a company's digital presence. Far too many developers and companies struggle with expensive, complex sets of tools that don't help them quickly identify and resolve issues.
TelemetryHub was created to enable companies to achieve their full potential by equipping them with easy-to-use and affordable tools they need to optimize their systems. With its simple approach, this tool makes it possible for developers and organizations to understand how their applications and services are performing and quickly resolve issues as they arise to help drive great digital experiences. In this way, TelemetryHub stands out by providing an intuitive and cost-effective solution for modern development teams to monitor, debug, and optimize their entire technology stack.
"Today, we see lots of traction with software as a service (SaaS) companies already as they really love our product and tools," said Mike Riegel. "Additionally, we leverage the power of OpenTelemetry to offer a flexible and cost-effective solution that enables customers to install the open-source agents and avoid ongoing vendor lock-in."
Unique Features
TelemetryHub's unique features include being affordable and easy-to-use, with no user fees, and the ability to save thousands of dollars per month compared to other monitoring tools. It allows organizations to quickly start by instrumenting only part of their environment. The correlated logs, metrics, and traces provide a full view of the system, helping the dev team to identify and resolve hidden issues efficiently and quickly.
For instance, imagine a scenario where customers encounter difficulties when trying to check out and pay for their shopping cart. Instead of receiving numerous support tickets and spending hours trying to diagnose the problem, TelemetryHub provides a proactive solution by alerting the development team before it becomes widespread. TelemetryHub's connected logs, traces, and metrics functionality also help dev teams quickly identify the source of the problem and the users who may be affected, enabling the team to resolve the issue more efficiently. As a result, TelemetryHub can significantly reduce the time and effort spent on troubleshooting and improve the mean time to resolution (MTTR) for businesses.
What do Clients have to say?
Clients love TelemetryHub for its ease of setup, affordability, and the control it provides to gain the maximum visibility into the client's entire IT stack. The process of getting set up is straightforward and hassle-free and can be done in just an hour or two. Clients also really like TelemetryHub's "see similar traces" feature that helps them zero in on similar issues as part of their problem exploration and resolution. Additionally, TelemetryHub supports every major language and cloud platform.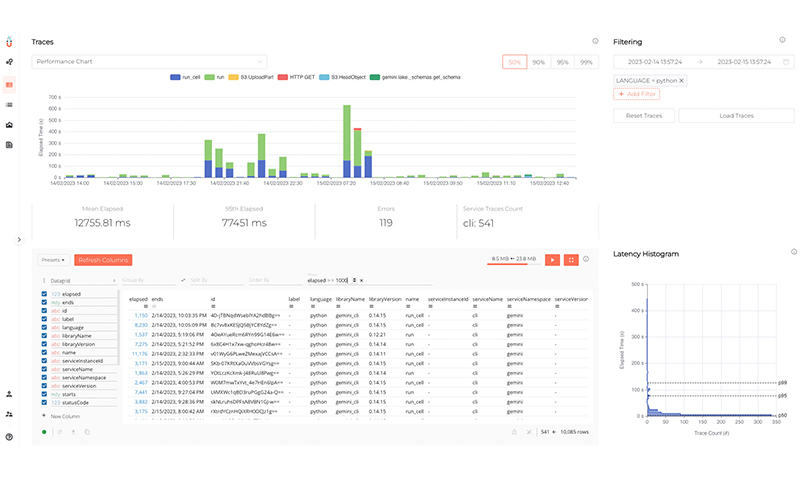 Roadmap to the Future
The ultimate goal of TelemetryHub is to empower modern development teams to achieve operational excellence through its innovative, easy-to-use, affordable full-stack monitoring platform. Moreover, Mike and his team continually strive to make TelemetryHub the most trusted partner for organizations looking to streamline their monitoring processes, debug issues more efficiently, and make data-driven decisions.
"Our relentless commitment to customer success and our ability to stay ahead of the latest industry advancements will fuel our continued growth and establish us as the go-to solution for advanced monitoring and observability," concludes Mike Riegel.
For More Info: https://telemetryhub.com/
Related Articles